Football Roundup
The U11s football team travelled the short distance to Shalfleet last Wednesday for their first league fixture. In goal, making his debut was Harry, swapping the position with Will who went into midfield for this match. Early on in the match it was clear that Shalfleet had a strong team this year and the team were having to defend their goal constantly. An early goal for Shalfleet was followed by several other shots all kept out by Harry's saves. Harry was the team's man of the match for his many stops in the goal. 1-0 down at half time. The team did have chances to score an equaliser, forcing several corners too. Two more goals came for Shalfleet however before Joey scored the goal of the game to make the final score 3-1. Shalfleet were presented with the new Federation Cup for their win.
Well done everyone!
Tag Rugby Roundup
The U11s rugby competition was held at Barton school on Wednesday, a mixed team took part and performed very well. Playing Barton in the first match, we gained a 3-3 draw with Summer scoring tries. 
Games against Wootton, Newport, Shalfleet and Hunnyhill followed with results which didn't go our way, despite Scarlett and Rosie scoring further tries.
The team improved throughout scoring tries in all games against strong opposition. With six girls playing in our team which far outnumbered any other teams' representation, the team have gained valuable experience from the competition.
Cricket News
On Friday 5th of May, Freshwater & Yarmouth travelled to Cowes Cricket Club for a cricket skills day delivered by coaches from the Chance to Shine cricket programme. The team of 11 were firstly spoken to by Andy Day the lead coach about how the day was going to look.
There were ten different skill based games that the group were able to have a try at including throwing/batting/bowling and catching, all of the skills required to play cricket. The day ended with some games of diamond cricket against the other schools that attended.
On Wednesday 28th September the football season began for Yarmouth and Freshwater U11s. The competition is the newly named Pokémon Cup in which we were to play Brighstone and Niton on the same afternoon. The matches were played at Brighstone and it was the home team we were up against first. Kicking down the hill in the first half there were plenty of chances for Yarmouth and Freshwater but the only goal came from Jacob to lead 1-0 at half time. The second half, although it was up the slope brought four more goals including strikes from Joey and Olly, the game ending with a great result of 5-0.
The second match was against Niton and it was a similar story with Yarmouth and Freshwater having much more of the ball and chances and leading 1-0 at half time. Despite having most of the second half another goal didn't come and Niton snatched a late equaliser and the game ended 0-0. This result meant whoever would go through to finals day would depend on if Niton could beat Brighstone and also by how many….that match ended 2-0 to Niton so Yarmouth and Freshwater go through to finals day. A great start to the season!
Cricket Competition
On Wednesday 14th June Freshwater & Yarmouth U11's was involved in a cricket competition at Lanesend Primary School. The team played in a round robin competition with Lanesend, St Saviours and St Thomas of Canterbury. The team hadn't previously played any cricket and were first to play Lanesend, the game was very close and with good performances throughout the team. They were narrowly defeated.
In the second game St Thomas of Canterbury were the opponents and with good batting throughout the team, particularly from Archie, the team came out as winners. The last match saw us take on St Saviours who had already won their first two matches. Batting first, Freshwater & Yarmouth set a score that was to prove competitive, the team bowled really well and against a good team were only defeated by 5 runs.
A great afternoon in the sun where all teams had fun.
Cricket News
On Friday 5th of May, Freshwater & Yarmouth travelled to Cowes Cricket Club for a cricket skills day delivered by coaches from the Chance to Shine cricket programme. The team of 11 were firstly spoken to by Andy Day the lead coach about how the day was going to look.
There were ten different skill based games that the group were able to have a try at including throwing/batting/bowling and catching, all of the skills required to play cricket. The day ended with some games of diamond cricket against the other schools that attended.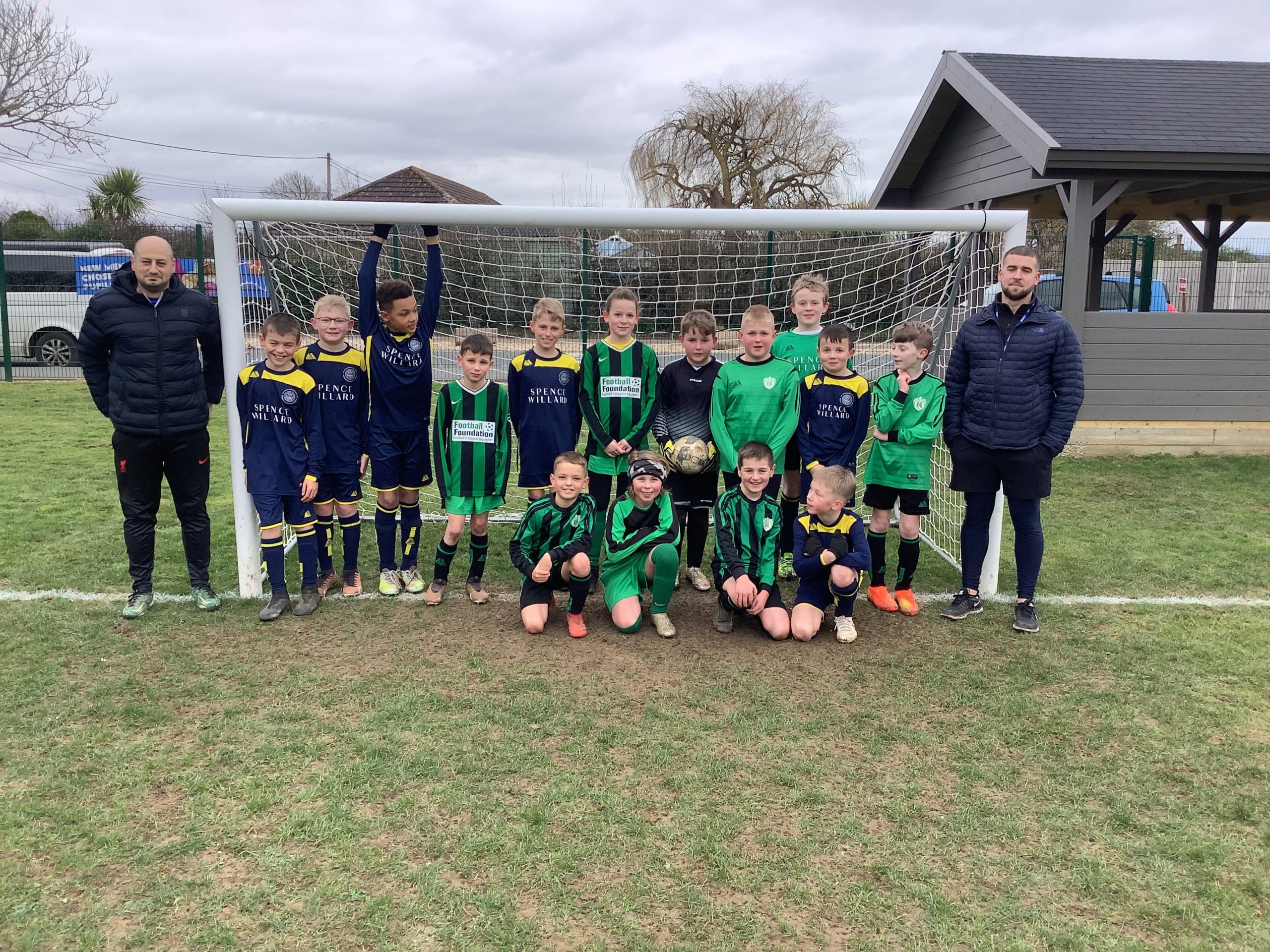 U11 Boys V Shalfleet
Yarmouth U11's travelled to Shalfleet for the next stage of their football season, the league format has finished and by finishing top of their respective league the team qualified for the quarter finals.
The team started well and quickly went two goals up, Malachi causing problems for the oppositions defence alongside Archie who both had several other shots on target. Ronnie
added a goal to take the team in at half time 3-0.
The team as a whole played very well and whilst having the better of the game they also defended nicely when needed, a fourth goal came and the game ended 4-0. Onto the
semifinals where we await our opponents. Well done Boys and good luck for the next match!
U11 Boys V Priory
The U11s faced The Priory school on Friday, it was the school's first fixture at West Wight Sports Centre. The match went ahead with the assistance of Ben from West Wight Youth football club, Ben also volunteered to referee the game so thank you to him.
Yarmouth had most of the possession in the first half but couldn't turn the chances into goals. The second half started well for Yarmouth with a goal coming from Ronnie and with further goals including one from man of the match Jenson!
Yarmouth ended winners 3-0.
The team have performed very well this season and have now completed their group stage of the league remaining unbeaten, winning two and drawing one. The team now goes onto the knockout stages.
Well done boys!
U11 Girls V Priory
Yarmouth U11s girls travelled to play the Priory school on Friday for a football fixture, it was the girls first ever match on an Astroturf pitch. The Priory started well and scored quite early in the match with a lovely goal, the girls recovered from this and played well for the remainder of the half. After a tactical team talk at half time including a goalkeeper change the girls started well, the girls scored through Daisy which was her fourth goal in the last two games. Despite playing very well and
being very organised for the second half The Priory added a further two goals to win the match 3-1.
The improvement within the players in the last two
matches is clear and the future looks encouraging.
Well done Girls!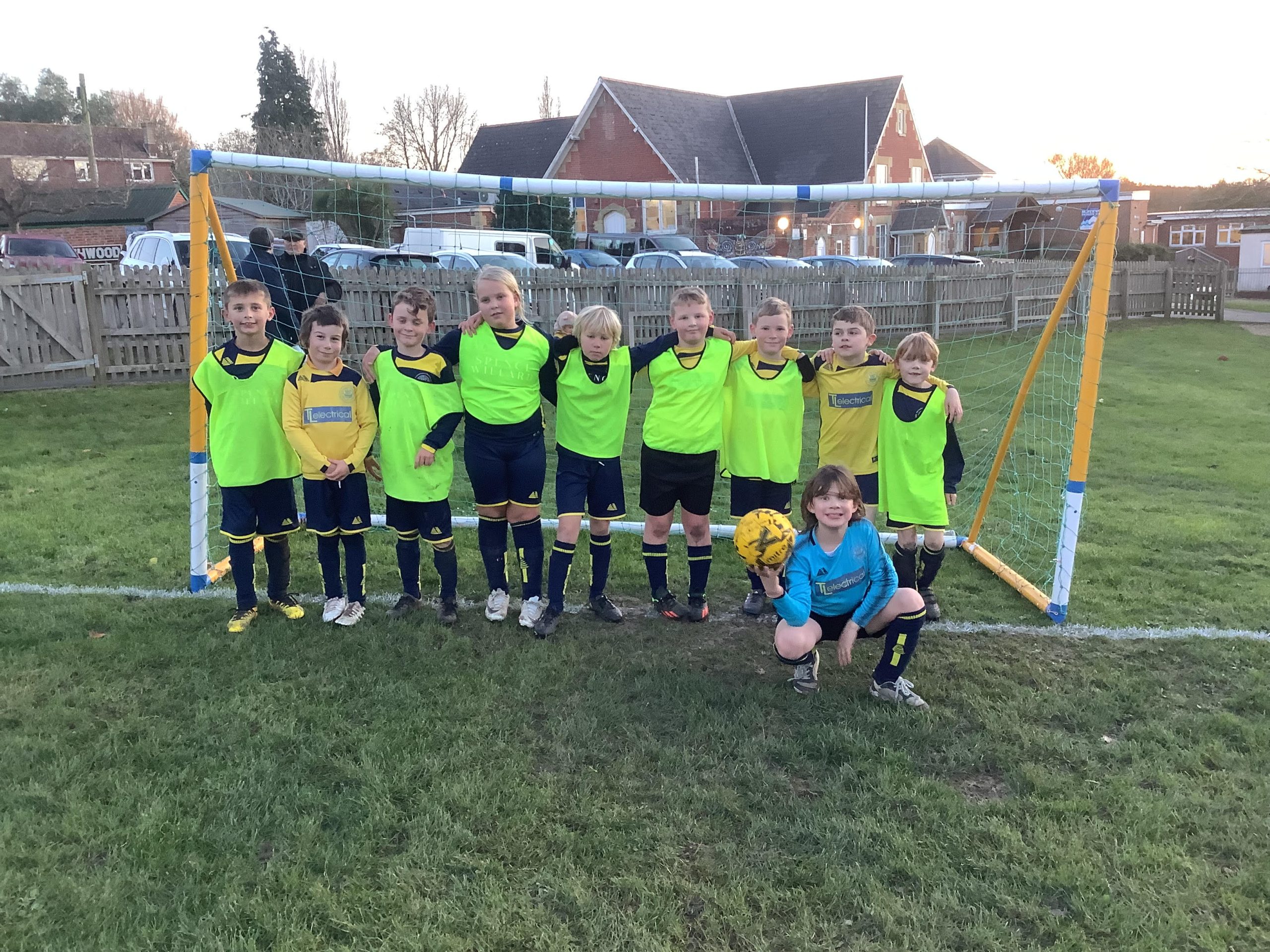 Football Round Up
Yarmouth U9s played two football matches this week, playing Shalfleet away and Northwood away.
Yarmouth played very well against Shalfleet winning 6-0, George, Olly and Nina amongst the scorers.
In the fixture against Northwood away, the team were up against a very good side, Northwood scored four first half goals playing down the hill.
Charlie in goal had an excellent game saving his team on several occasions and
although Yarmouth created chances to score the result ended 4-0 to Northwood.
Well done to all the teams that have represented Yarmouth this term!
Girls U11 Football
The girls U11s football team had a fixture
on 22/11/22 against St Thomas school. The match was played at Shalfleet. The girls had only played one fixture prior to this match and were beaten by a very good Holy Cross team. The girls started very well and went into a 2-0 lead with goals from Daisy.
St Thomas then scored before half time to make it 2-1. After a quick team talk, the team started the second half well and further goals from Daisy and Sienna secured a 4-1 win. The girls really enjoyed the match and thoroughly deserved their win.
U11 Boys v Wroxall
On Monday 3rd October the U11's football team played against Wroxall at Shalfleet school in a league game.
We won 3-2 with Ronnie scoring two goals and Malachi scoring one. It was a team effort with all the boys playing really well. We look forward to our next game.
WELL DONE TEAM
Boys Football Tournament
There was a football match at Brighstone school.
The teams were Yarmouth, Shalfleet, Brighstone and Northwood.
The players were Ronnie as goalkeeper, Malachi, Archie and Dylan played midfield, Lukas and Jacob played in defence and Rileigh and Kaden were our strikers.
First match was Yarmouth vs Shalfleet. Kick off started and Malachi ran so quick with the ball, he took a shot and he scored in seconds.
It was 1-0 for Yarmouth. Then there were some good tackles from Lukas and some great saves by Ronnie.
Then we played Northwood. We were good with the pressure and tackles. Archie was running down the wing and then slide tackled.
Malachi took the free kick. He took a shot and scored top bins like Wayne Rooney. We celebrated together.
fter half time, we got a bit too excited and they scored, but we kept our heads up and didn't give up. Later on, a foul was given to
them. It was going in top but Ronnie did a dive and saved it. It was a good match.
We waited for one more match to play Brighstone.
Ronnie and Dylan swapped places in goal. Ronnie went in midfield, showing some good skills. Archie was going to pass to Ronnie in the box, but he got tackled and they scored. The matches all finished.
YARMOUTH ARE IN THE FINALS AGAINST HOLY CROSS!!!!
U11 Cricket
Sports Report
Written by Summer & Harrison
On Wednesday 15th June, Yarmouth year 4 played cricket against Shalfleet & Brighstone. The 1st pair were Summer & Harrison. Summer & Harrison lost 3 wickets & had 4 runs. The next pair was Dylan & Nina, they lost 0 wickets & gained 8 runs. The final pair was Harry & Rileigh,
they lost 4 wickets & got 8 runs. Sadly, we lost, the score was 241 – 210.
Our next match was against Brighstone. The first pair was Harry & Harrison. They lost 2 wickets & had 4 runs. The next pair was Summer & Nina. They lost 0 wickets & got 4 runs.
The last pair was Dylan & Rileigh, they lost 0 wickets & gained 8 runs.
When we were fielding, Nina & Summer bowled 2 people out!
Team: Summer, Harrison, Harry, Dylan, Nina & Rileigh
U11 Cricket
Sports Report
Written by Kaden, Year 5
THE FIRST TEAM WE PLAYED WAS LANES END. LANES END WON THE TOSS AND CHOSE TO BOWL FIRST.
THE FIRST PAIR TO BAT WAS TOBY AND KADEN. WE DID SOME GOOD SHOTS BUT LANES END BOWLING WAS VERY GOOD. SECOND PAIR WAS MALACHI AND HARRISON MALACHI HIT THE FIRST 6 OF THE MATCH AND HE GOT SOME 4'S. THIRD PAIR WAS ARCHIE AND SUMMER ARCHIE'S BATTING WAS VERY IMPRESIVE AND SUMMER DID WELL. FINAL PAIR WAS RONNIE AND LOUIE RONNIE HIT SOME FOURS AND LOUIE HIT SOME RUNS. THEN WE BOWLED, MALACHI BOWLED THE FIRST OVER HE DID GOOD BUT LANES END BATTING WAS VERY GOOD. WE WERE VERY HOPEFUL THAT OUR BOWLING WAS GOOD BUT LANES END HAD GOOD BATTING SKILLS. WHEN SUMMER BOWLED SHE BOWLED FOUR WICKETS AND KADEN HIT ONE OUT, THAT BROUGHT THE GAP DOWN BUT SADLY LANES END WON ON 247 RUNS AND WE AMAZINGLY GOT 240 RUNS. GOOD RESULT BUT WE STILL HAD TO PLAY SHALFLEET THE NEXT DAY.
U9 Girls Friendly
The game started at 3:30pm. A few minutes later Rosie scored her first ever goal for Yarmouth.
Shortly after, Shalfleet scored. We needed to act fast! Rosie excitingly scored AGAIN……..We
went wild!
Now it was half time, but after Shalfleet scored 2 goals. Summer then scored 2 epic goals, then
Shalfleet scored again 😪. Summer then cornered it to Rosie, who scored again!
The game was now ended, we had drew 5 all.
Team: Summer, Rosie, Maddie, Nina, Scarlet, Sophie, Olivia, Evangeline
Written by Summer & Maddie.
Yarmouth v Holycross: U9 Girls Football
It was the day of the match, everyone had butterflies but they were really excited. We got there very early but Holycross were very late. We snuck in a quick practice before they got here. Then they finally arrived!
They all came out looking posh. Then we saw someone familiar……it was Mr McCormack! We treated him like a celebrity!!!!!! We started the match.
Rosie got shoved by another player. Scarlett was kicking the ball the other way.
Eveline started tackling her team & forgot about our team. Then Holycross let us in again but they scored a goal, & another, & another until they got 6 – Nil. So we lost!!!!!
Team: Summer, Scarlet, Sophie, Nina, Eva, Rosie, Olivia, Isla, Maddie, Tilly
Written by all the girls in the team
Yarmouth v Arreton
Our Yarmouth year 5 and 6 football team went to Newchurch to play Arreton.
We played badly in the first half, giving the away possession in dangerous areas and letting them get through our defence, we tried to defend until a Arreton player got in behind and drew Malachi out, unfortunately we didn't mark the other players very well and the player passed to one side and Arreton got the first goal of the match. Near to half time another Arreton attack gave them the chance to add to their lead and Arreton scored again. In the second half we dominated the play and a low cross played into the box by Ollie caused an Arreton player to chip their own goalkeeper into the goal. But we couldn't equalize and with a final shot, the match ended at 2-1. Though a good effort by the team.
Team: Ollie, Molly, Archie, Ronnie, Malachi, Esme, Lukas
Special thanks to Molly and Esme for stepping in at the last minute.   
St Thomas v Yarmouth
St Thomas v Yarmouth – Thursday 13th January
Wow! What a match, we couldn't find the kit so had a bad start, having to borrow one from the opposition.
Things then got better & better! Jacob scored twice, as did Olly. George, Dylan & Rileigh got one & Joey scored a hattrick. Making it an impressive 10 – 0 win! Hugh thanks to Joey's dad for coaching the team so well!
Team: Harrison, George, Owen, Dylan, Joey, Jacob, Olly, Rileigh
Spence Willard Sponsorship
We are delighted to receive sponsorship for our new football kits from Spence Willard. The children are going to look extremely smart in their brightly coloured kits with the Yarmouth C.E. Primary School and Spence Willard logos. We are very grateful to Spence Willard for their contribution and we know the children will get a huge amount out of their football this year. It is lovely to be part of the community and to create links with local businesses. All we need now is to win some matches!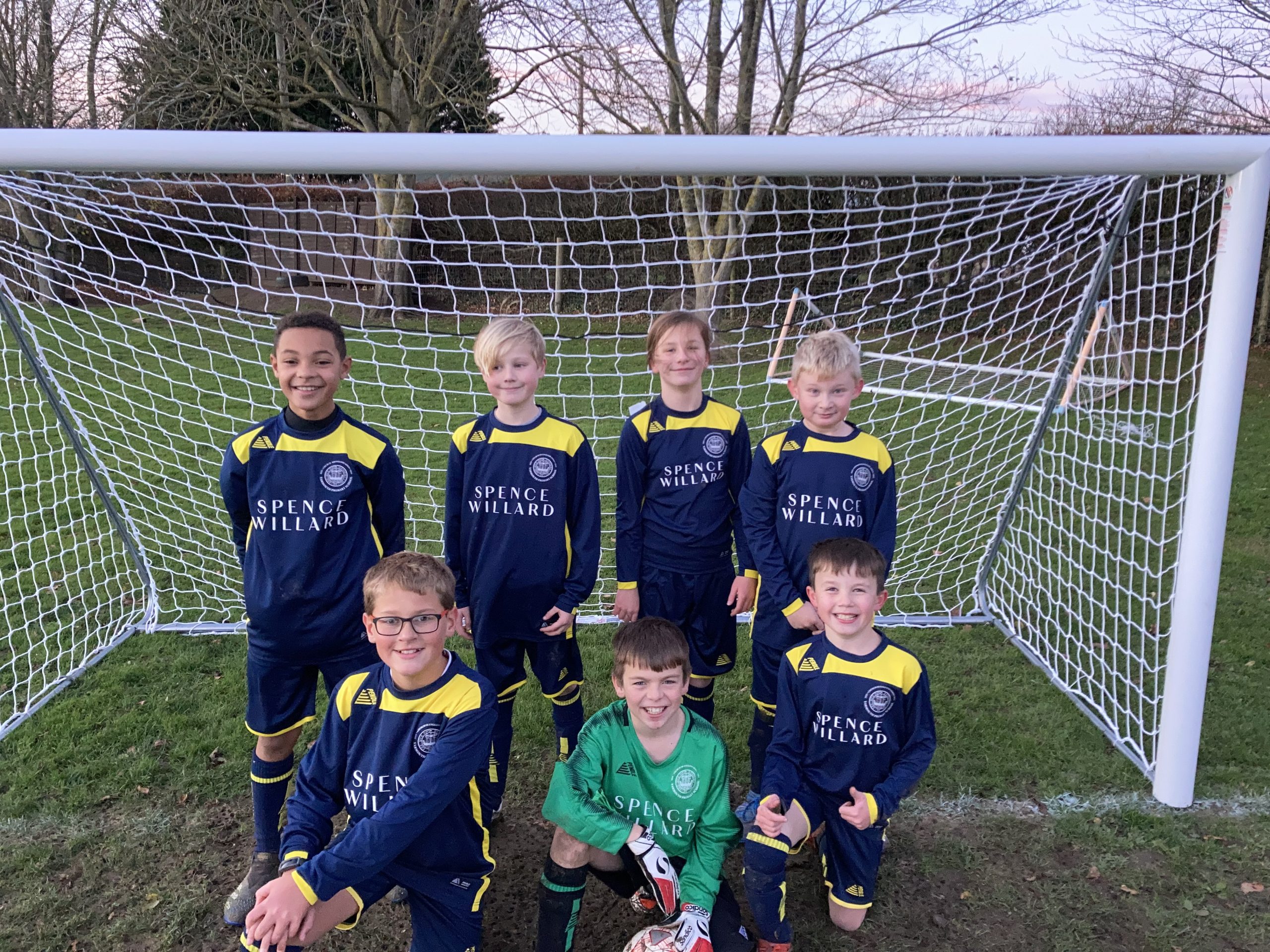 Yarmouth V St Thomas's
Yarmouth 5-1 St Thomas's
Yarmouth progressed to the next round of the cup with victory over St Thomas of Canterbury.
Two goals from Malachi and 1 each from Archie, Seth and Olly saw us through where we face a local derby against Shalfleet in the next round.
Team. Ronnie, Lucas, Daisy, Malachi, Olly, Archie, Seth
Tag Rugby
On Thursday afternoon Yarmouth took part in the heats of the island tag rugby competition. We played 4 games, winning one and narrowly losing the other 3. The team did a great job at listening and learning on the job, scoring some great tries, from Malachi, Archie and Ronnie in particular. The children were all a credit to the school and thoroughly enjoyed themselves. Huge thanks to all the parents and family members who gave lifts and supported the team.
Team. Oli, Malachi, Jenson, Archie, Reece, Ronnie, Ryleigh, Daisy, Neve, Theo
Official team photographer, Rosie.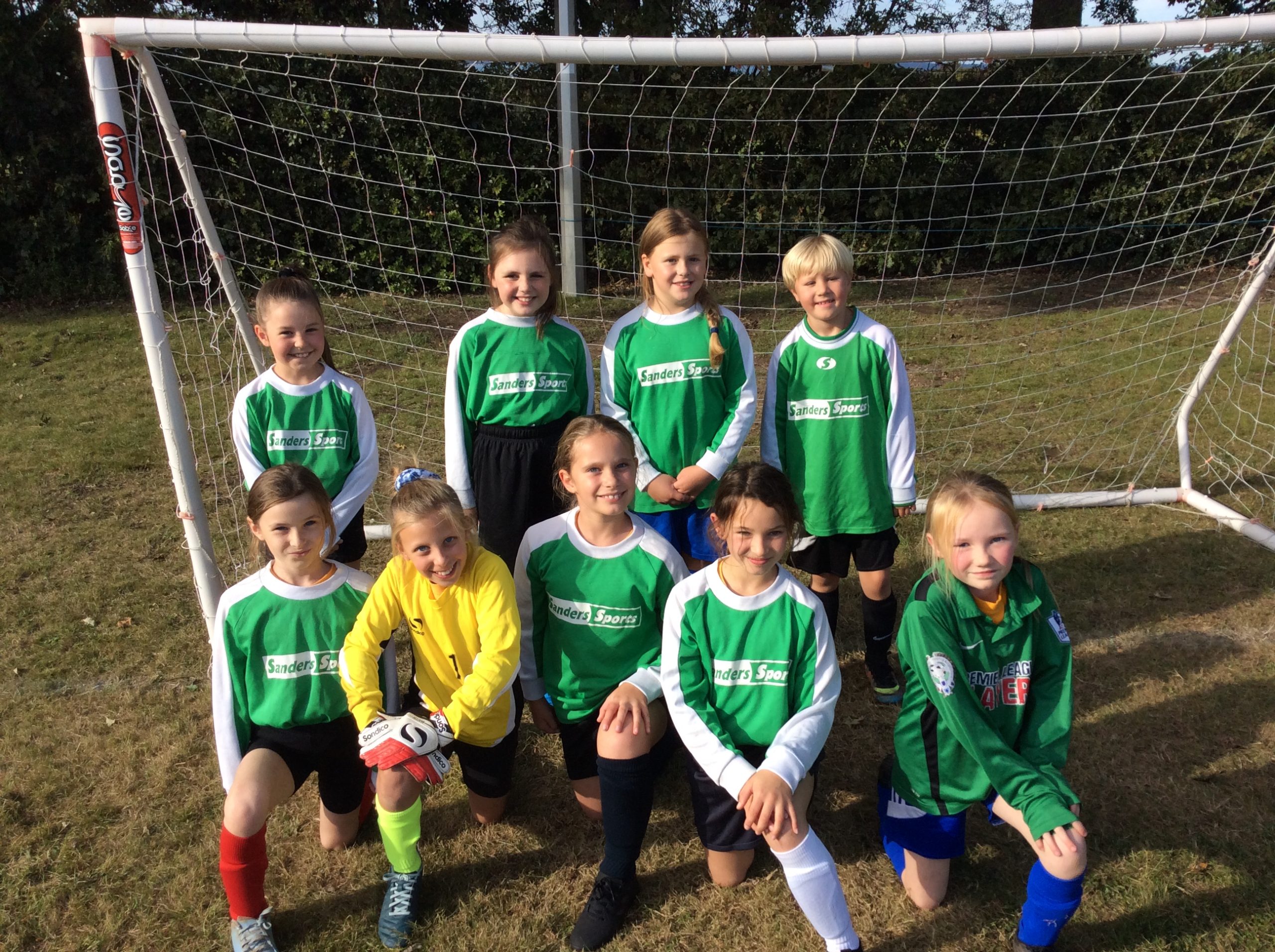 The Under 9 girls played their first game on Wednesday afternoon against Holy Cross. The game was fairly even to start with, Summer making a good save and the the Holy Cross keeper just saving from Olivia. However, Holy Cross' star player then started to run the game. She scored 4 goals and set 1 up and despite their best efforts the girls couldn't get any back. Maddie, Summer and Nina all made some great saves during their stints in goal and the girls didn't give up and had a smile on their faces throughout.