What have Little Stars been up to this week……
"Diwali celebrations have been in full flow this week! Little Stars & Reception Class made Diwali lanterns & rangoli patterns to decorate the EYFS areas ready for a day of fun together! Diva lamps were moulded out of clay then painted; Rama & Sitas temple was built out of giant blocks; stories were shared; hands were drawn round & decorated with henna patterns; a variety of different shaped pasta was used to create more rangoli patterns to be painted; chai milk was mixed up to warm our tummies; bread sticks were dipped in chocolate & coated with sprinkles to create a tasty Diwali sparkler snack; samosas & other Indian food were cooked & enjoyed by all; samples of coconut ice & turkish delight were offered as a sweet treat; Diwali songs were sung; rice was dyed bright colours; working collaboaratively the children used the rice to make a giant rangoli pattern; and lots more!  Little Stars & Reception Class are fortunate to enjoy much time together doing amazing things, Diwali celebrations was definitely enjoyed by all! Lots of smiles, giggles, & happy memories made"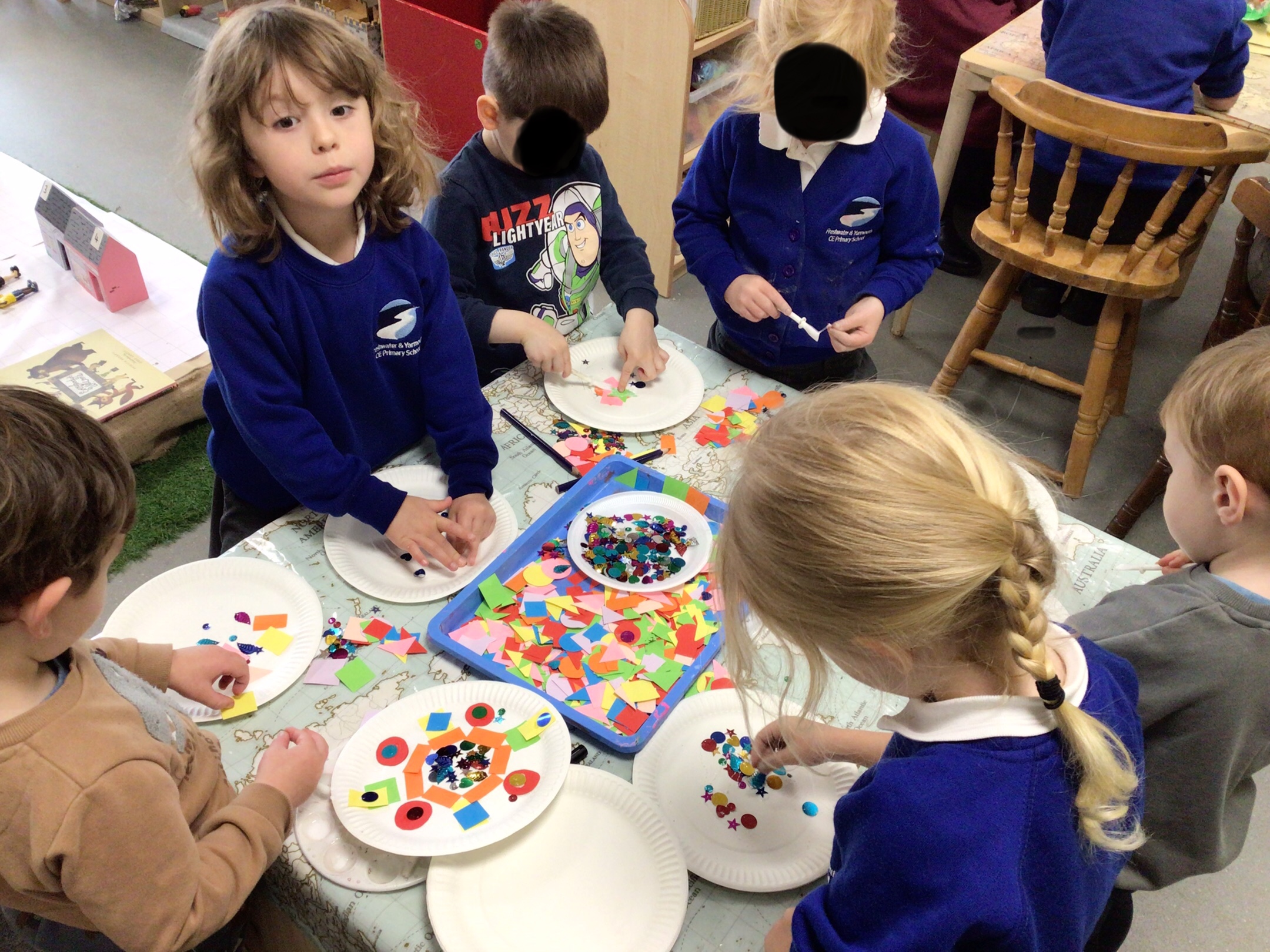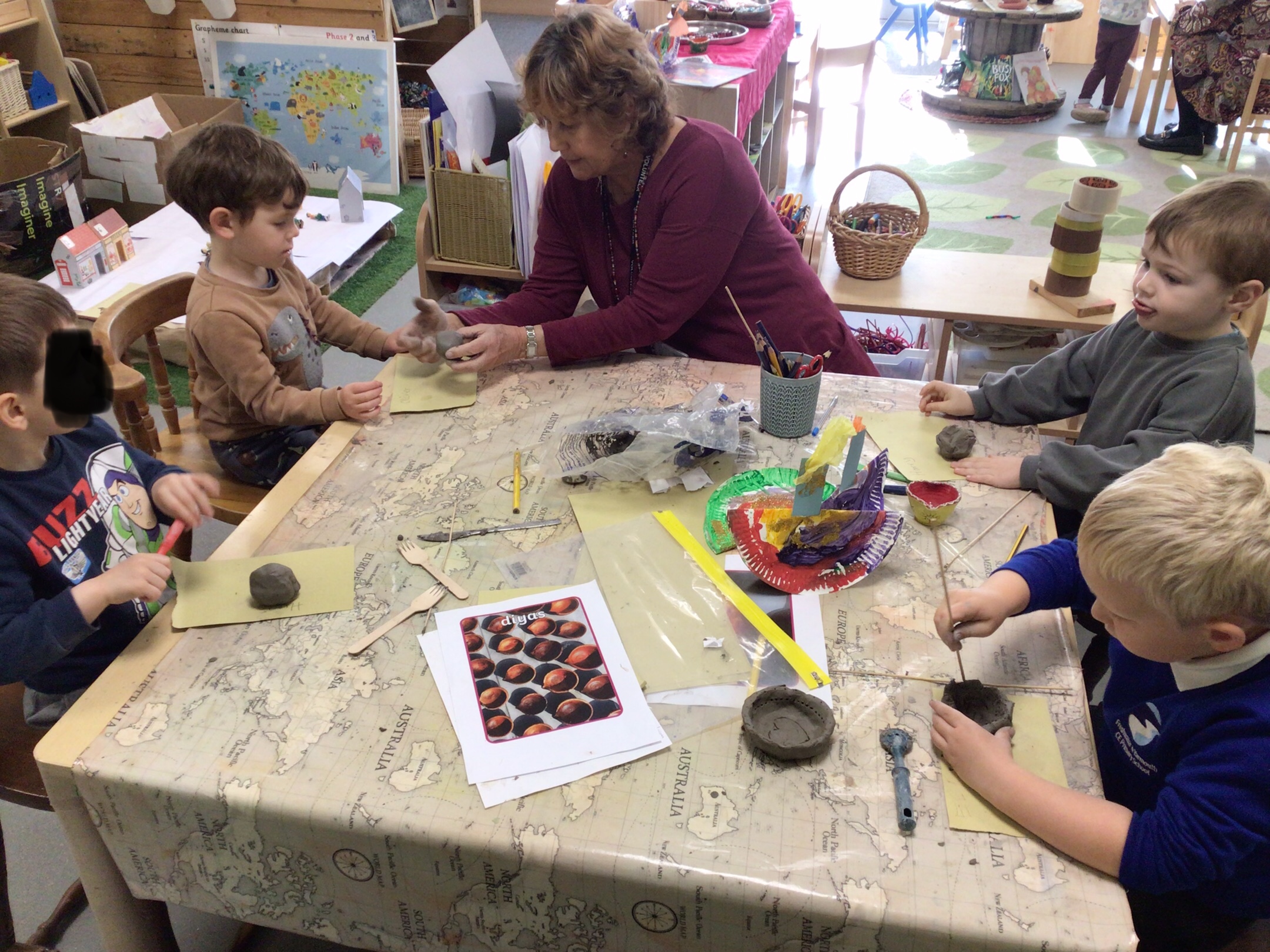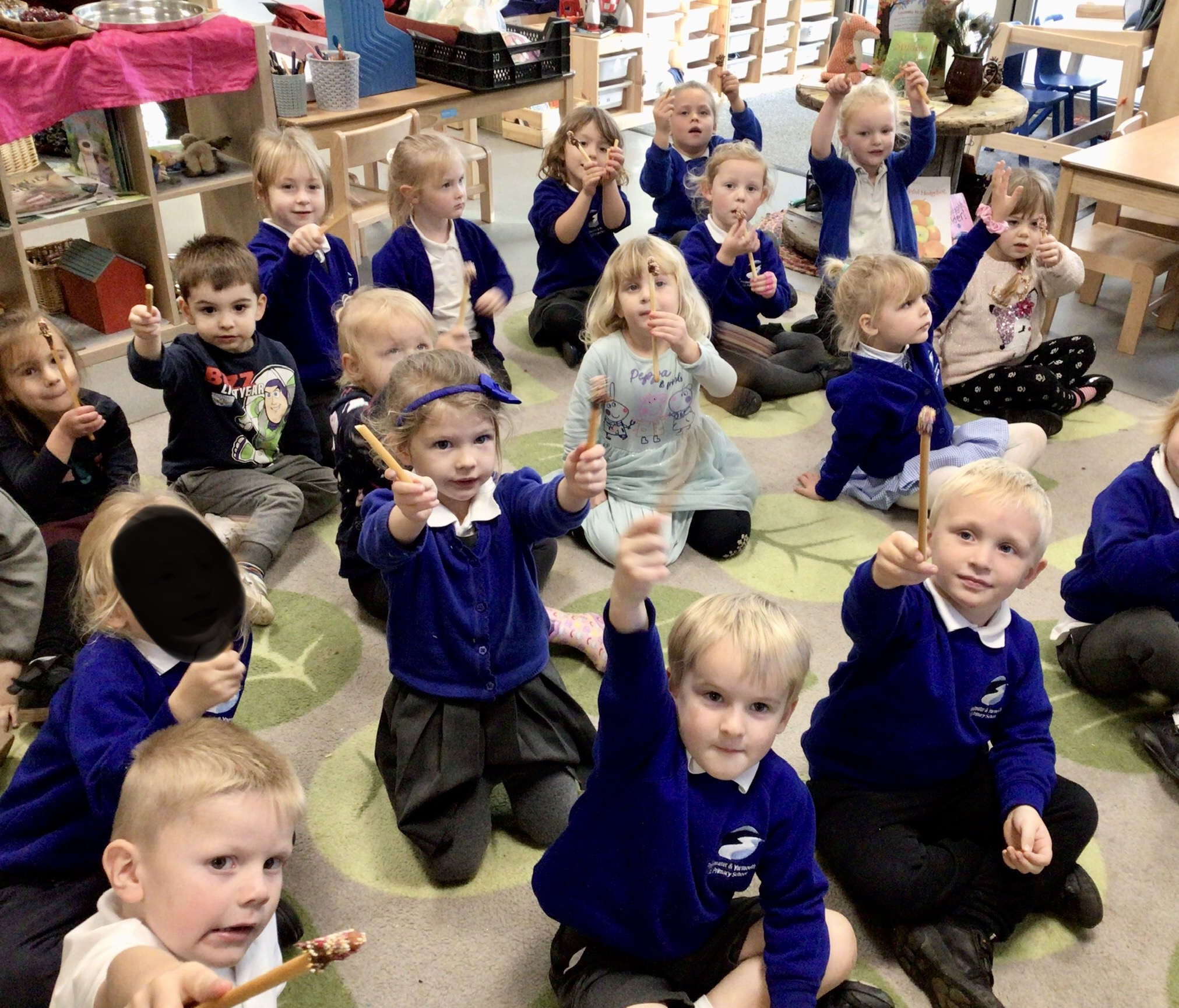 What have Little Stars been up to this week……
"It's been a busy week full of fun! We got to meet some lovely African people & watch them as they performed in their Ugandan Choir! Wow they were amazing! Banging drums, dancing and singing, all with such enegy & big smiles on their faces! As a thank you the children in Little Stars made them a card & sang them Twinkle Twinkle! It was exciting looking at all the handmade African items they had for sale too, the children selected some handmade musical instruments to add to our instrument collection.
To finish off our Guy Fawkes celebrations the children helped prepare a little fire to toast some marshmallows! There was lots of excitement as the marshmallows started to melt! Once the marshamallows were just right the children sandwiched them between biscuits & then enjoyed their tasty treat sat around the fire 🙂
For Remeberance Day we have been looking at Poppies & talking about how they are a symbol to remember those that fought in the war. As part of this the children created their own poppy pictures.
Other things we have been up to; mixing colours & printing, exploring trajectory, joining Reception for PE, counting songs, hand & foot painting"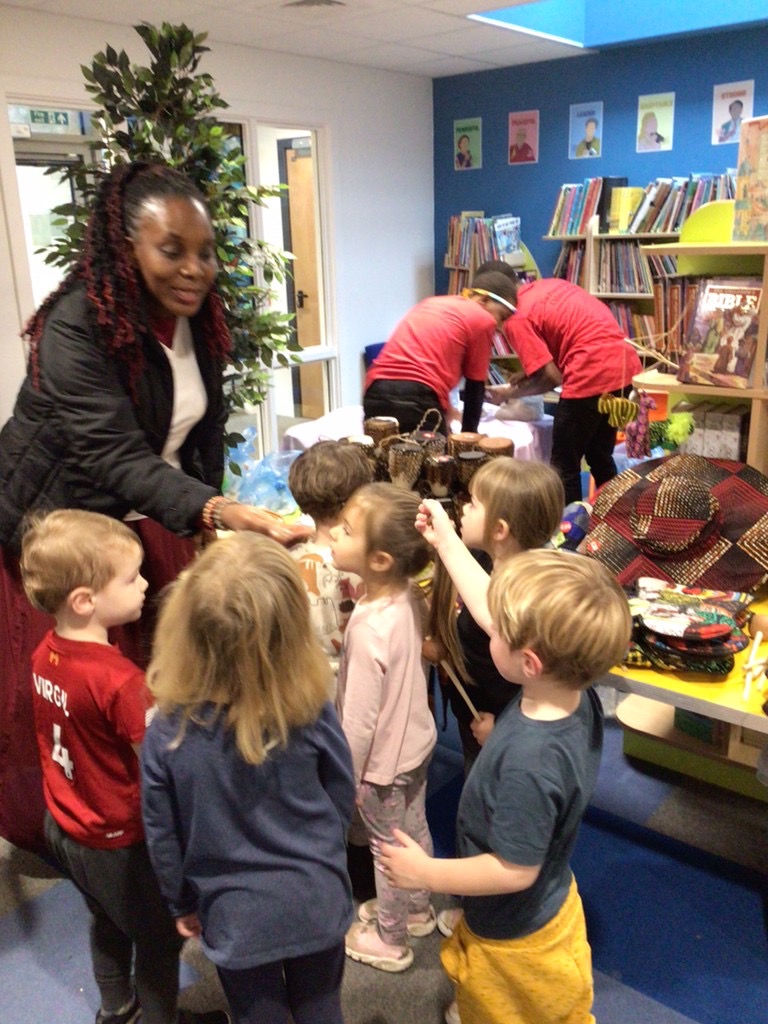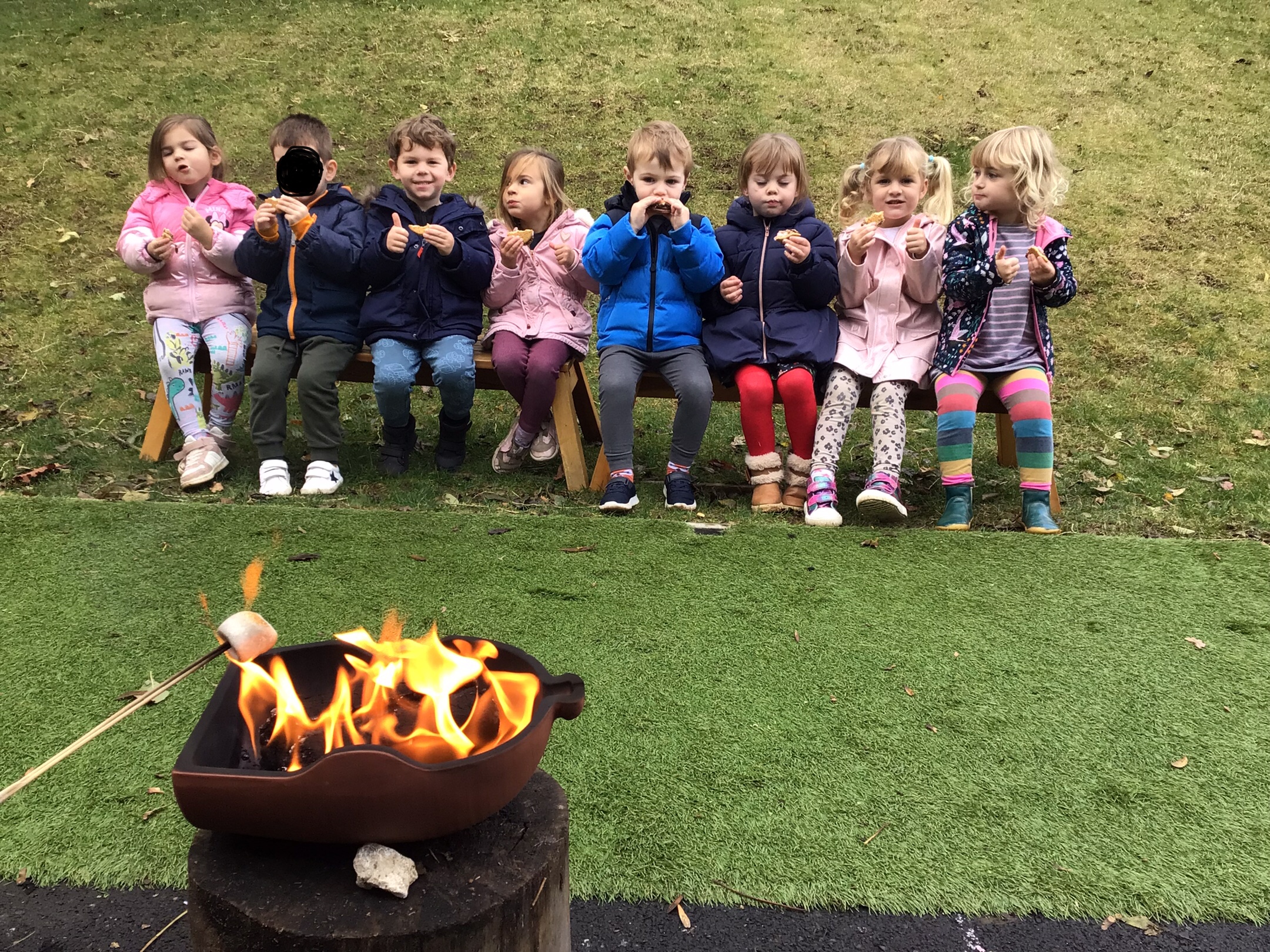 What have Little Stars been up to this week……
"We were super lucky to have 8 week old Dottie, a gorgeous Boxer puppy visit us! Dottie loved cuddles & tickles with everybody! Lots of smiles & squeals of delight! Of course we took Dottie to visit our Reception Class friends too, stopping along the way so Mrs Grainger & some other lucky teachers could enjoy a Dottie cuddle!

Dottie was not our only visitor; we actually got to meet Gillian Keegan the Secretary of State for Education of the United Kingdom! Gillian popped in & chatted to us about the story we were sharing & all the things we love about our new school. 

Other things we have been up to include: creating collages of pets, muddy walks & adventures, celebrating Guy Fawkes, musical instruments, hall games, dancing"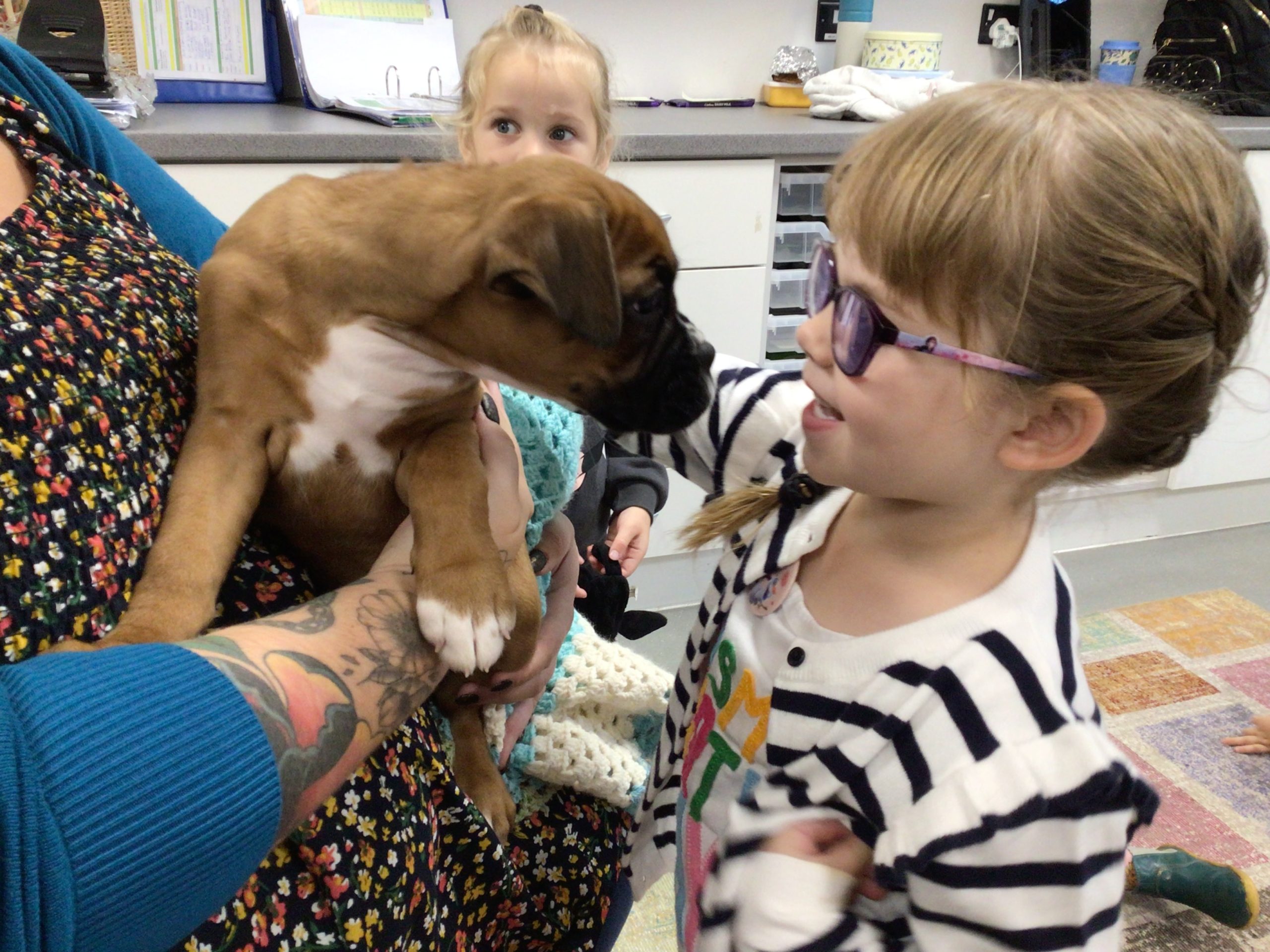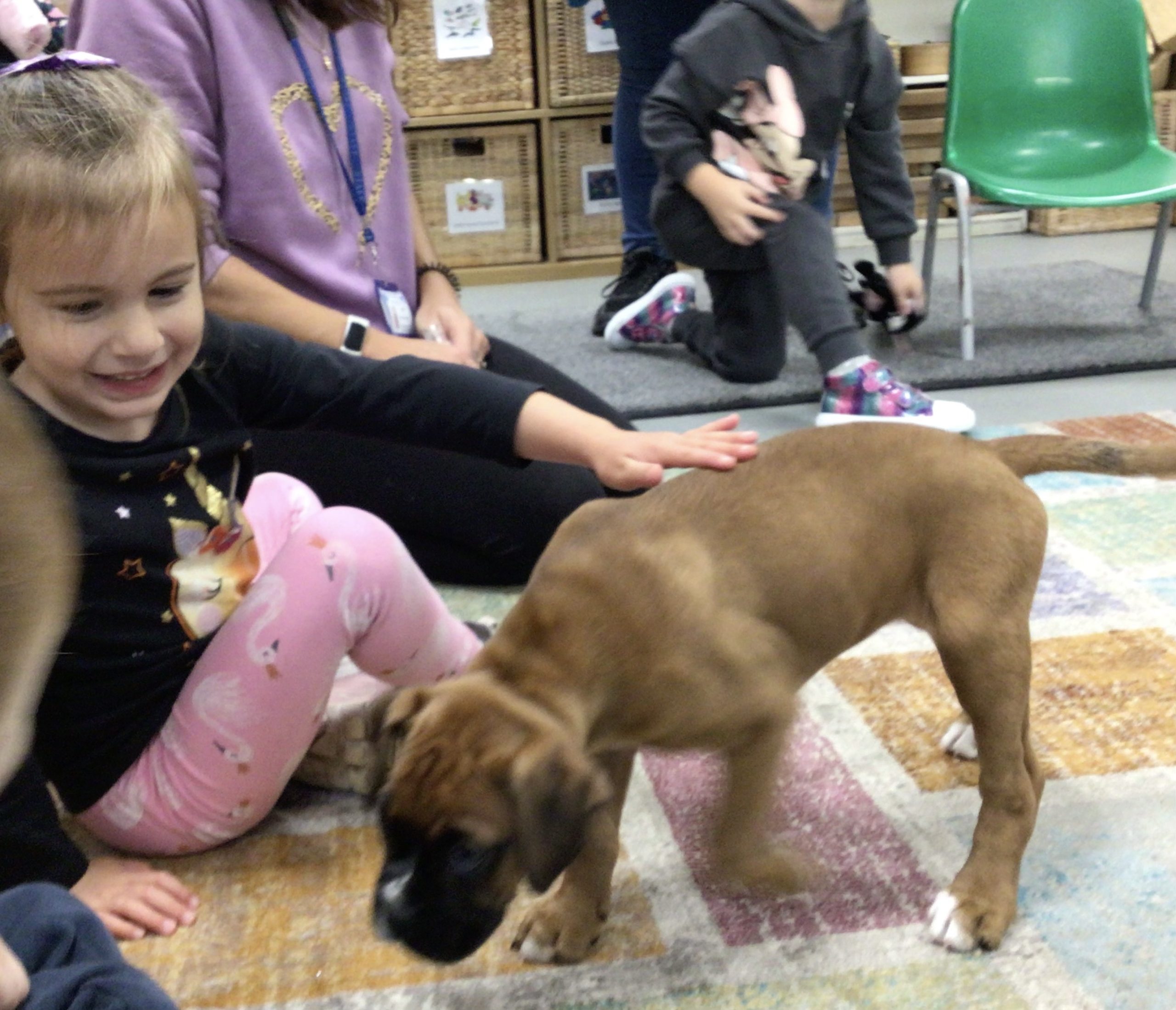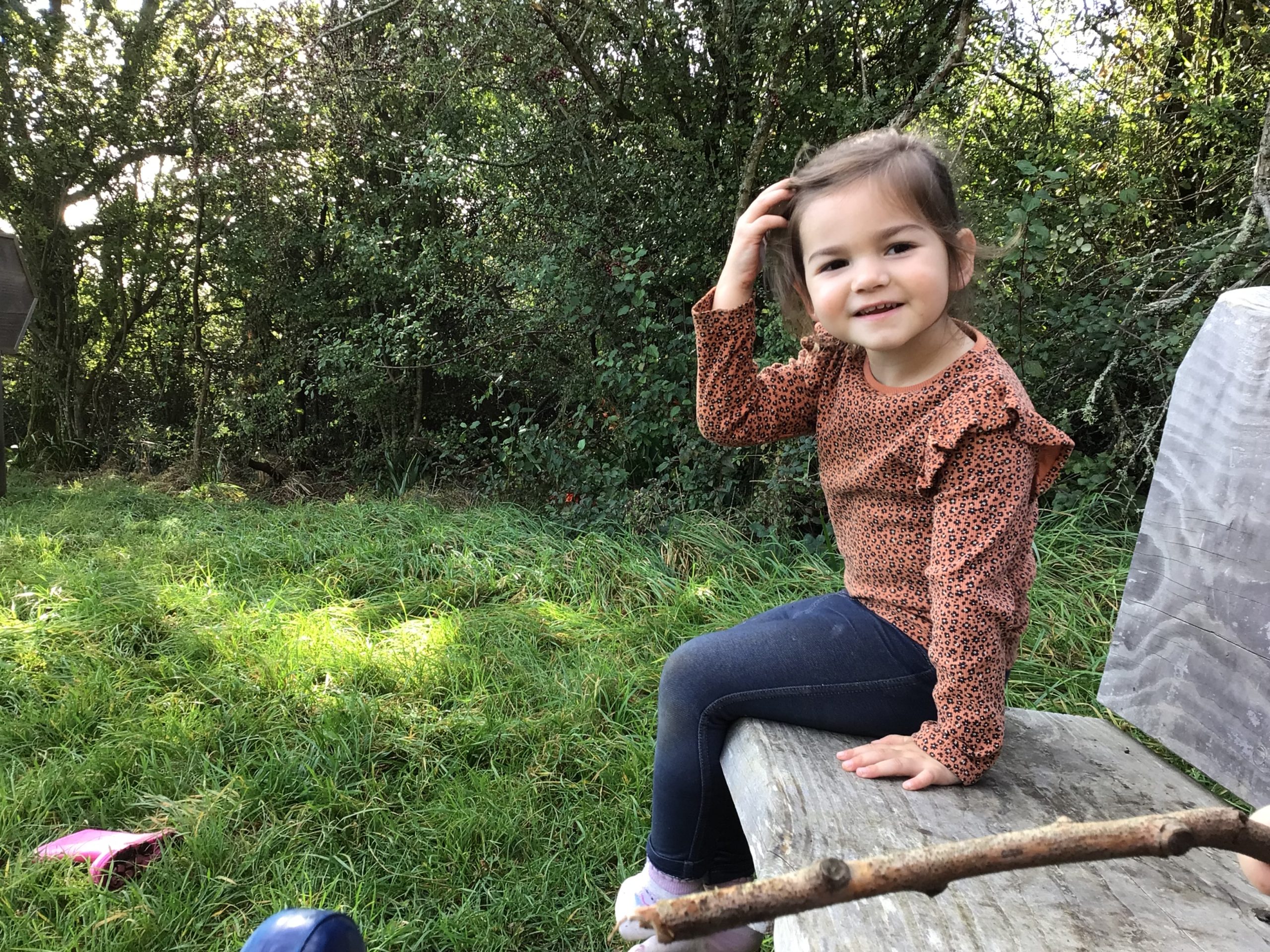 What have Little Stars been up to this week……
After receiving an invitation to breakfast from the 'Three Bears' children in Little Stars & Beach Class teamed up to have some fun! Bunting was made, balloons were blown up, tables were laid, and milk was warmed. Everyone mixed up their own porridge & added various toppings until their porridge was 'just right' to enjoy! A round of toast later & everyone was pleasantly full & bursting with energy, ready to get stuck into the days Goldilocks activities! It was a hive of excitement with the children getting busy & having fun! Of course at various points throughout the day we read the story, sang the song, joined in with the dance, and even watched Mr Tumble cleverly sign the story. Wonderful!
Other things we have been up to this week include: having our photos taken with the school photographer; splatting paint to create colour monsters, learning all about emotions; doing gymnastics & dancing; creating firework pictures; diving under the water at swimming; creating colourful potions.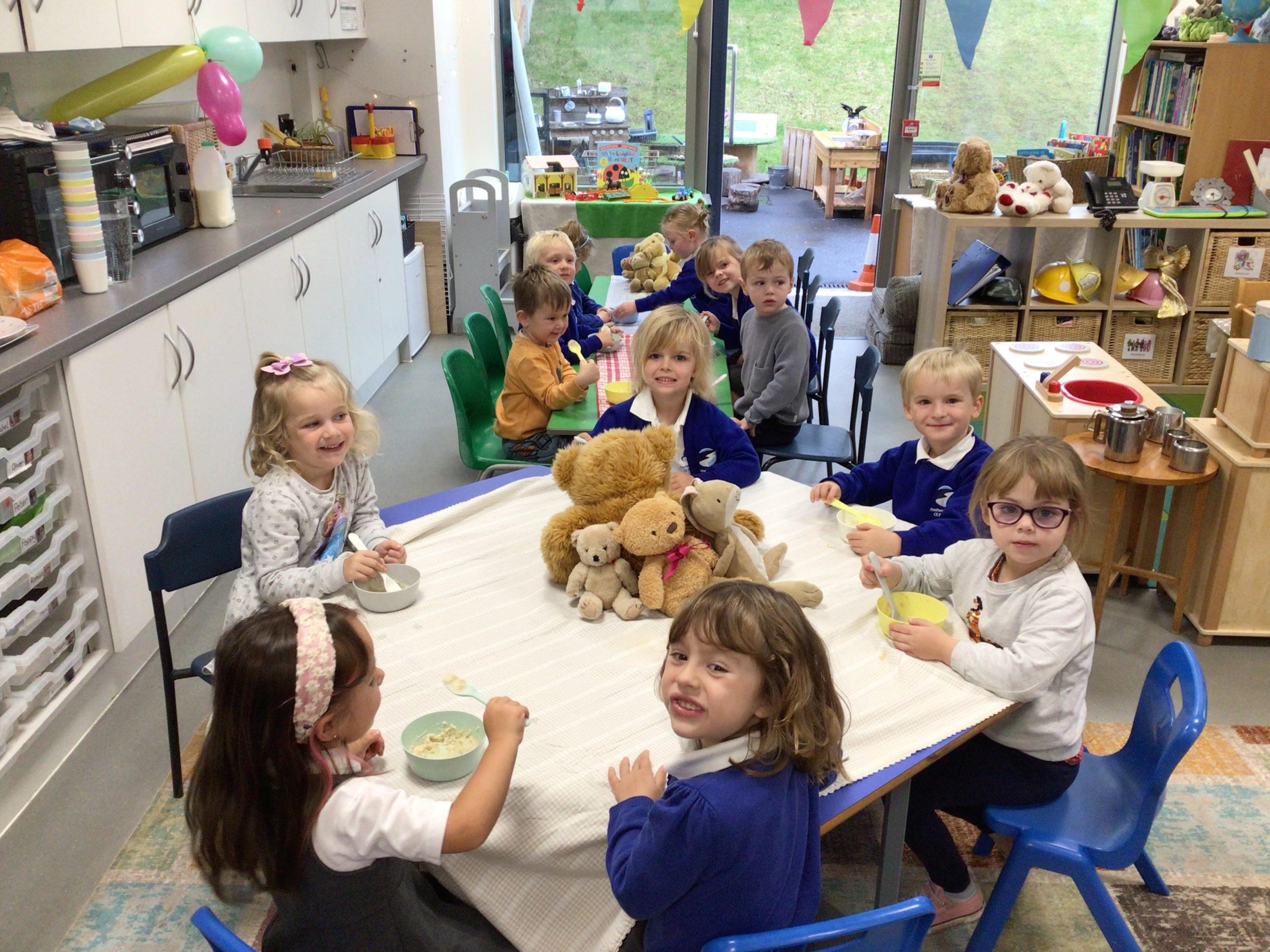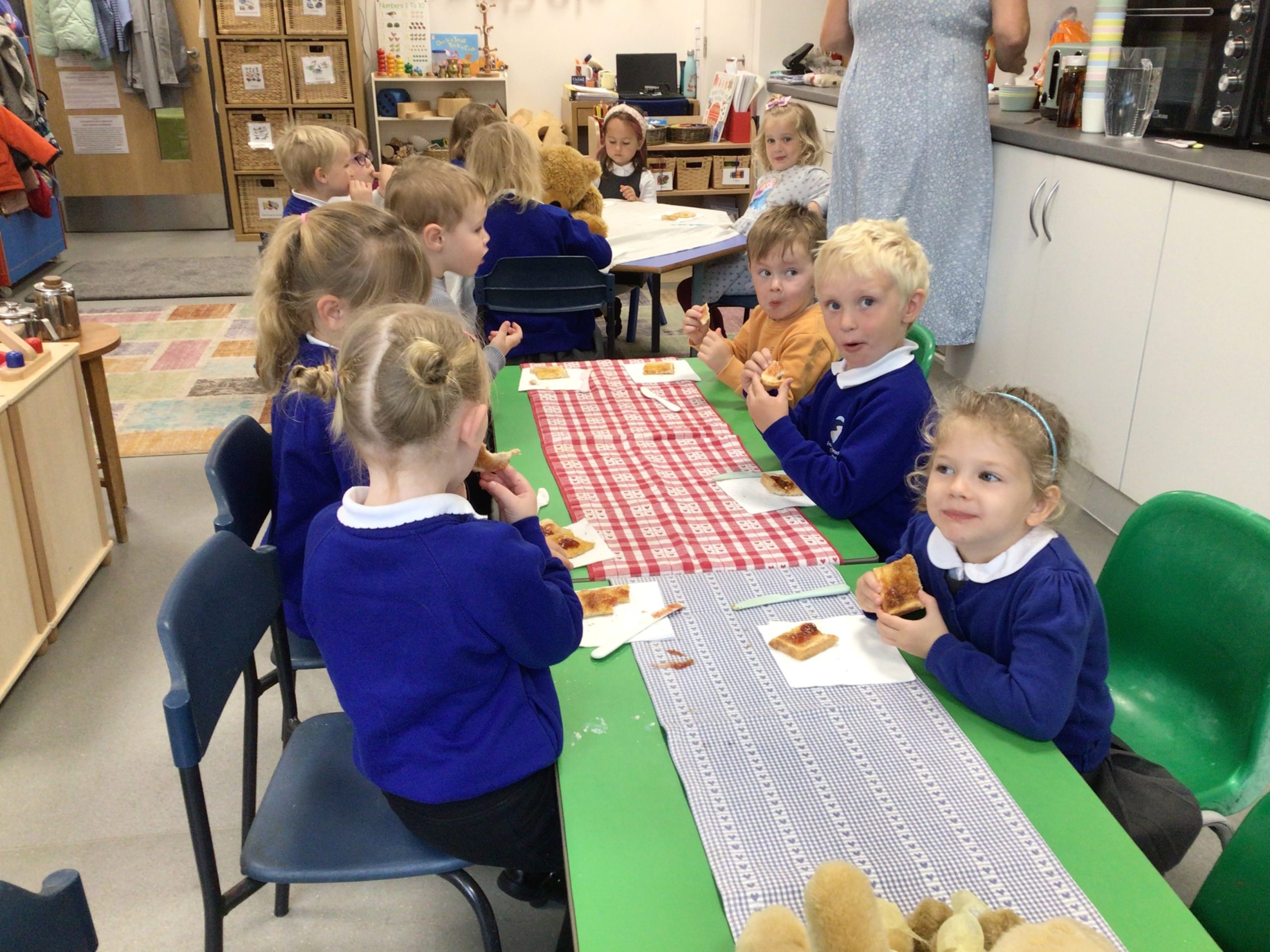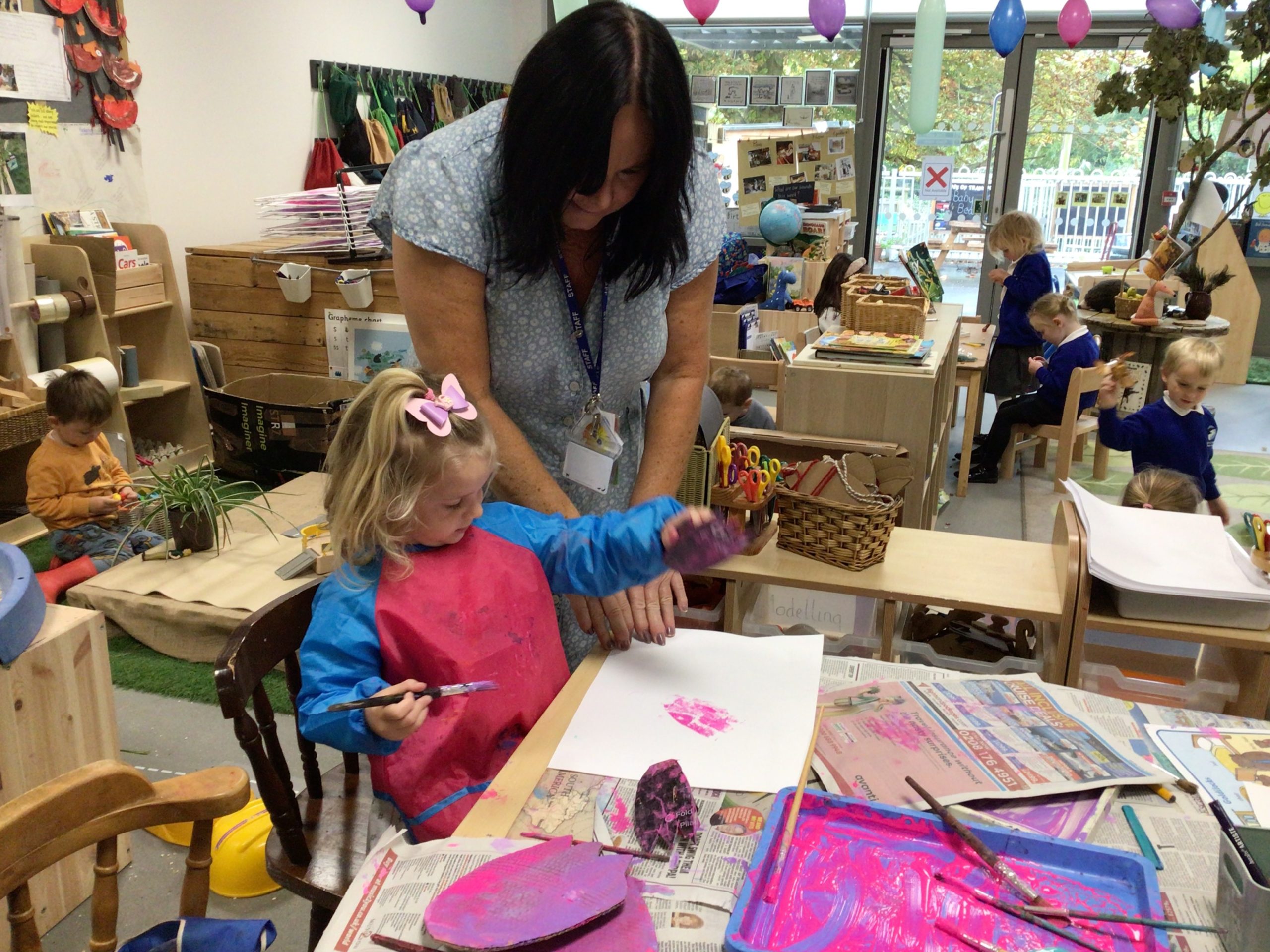 What have Little Stars been up to this week……
"What better way to spend a sunny day than at the beach! Such an enriching learning experience for the children! First stop, hopping on board the bus! We are so lucky to have amazing people in the community who support us. After saying goodbye to our friendly bus driver we headed off to the lifeboat station, this was a great opportunity to talk about people who help us & how the lifeboat shoots off down the slipway to go & rescue people. 

Pointing out one of our local landmarks the children discussed the big rocks & rock pools, reminiscing on previous trips they've made to the bay. 

Once on the sand the shoes & socks came off & it was straight into the sea for a little paddle! Everybody enjoyed digging holes & building sandcastles! At one pont the children turned into mermaids! Burying eachothers legs & decorating them with shells & stones! "Look at me i'm a mermaid" squealed the children excitedly. Lot's of sandy toes to brush off before hometime!

Other things we have been up to this week include; hand & foot painting; chopping apples & collecting the seeds; jumping in & doing push off at the swimming pool; looking at the letters in our names; climbing, balancing, & jumping on an assault course in the hall; setting up a doctors surgery"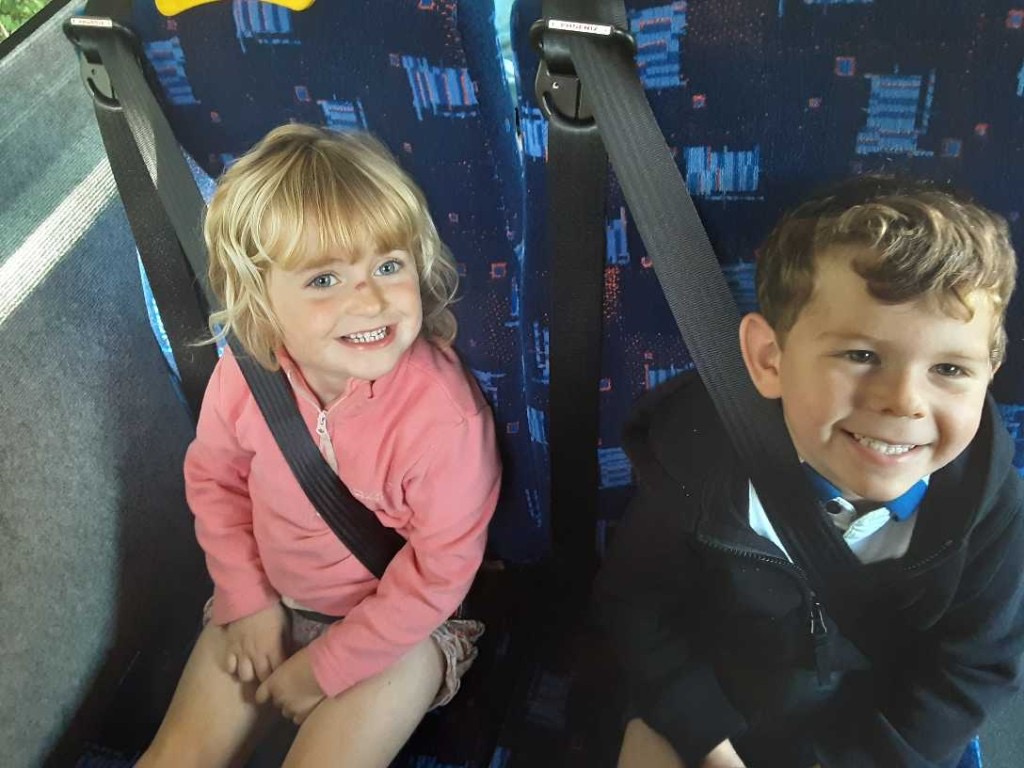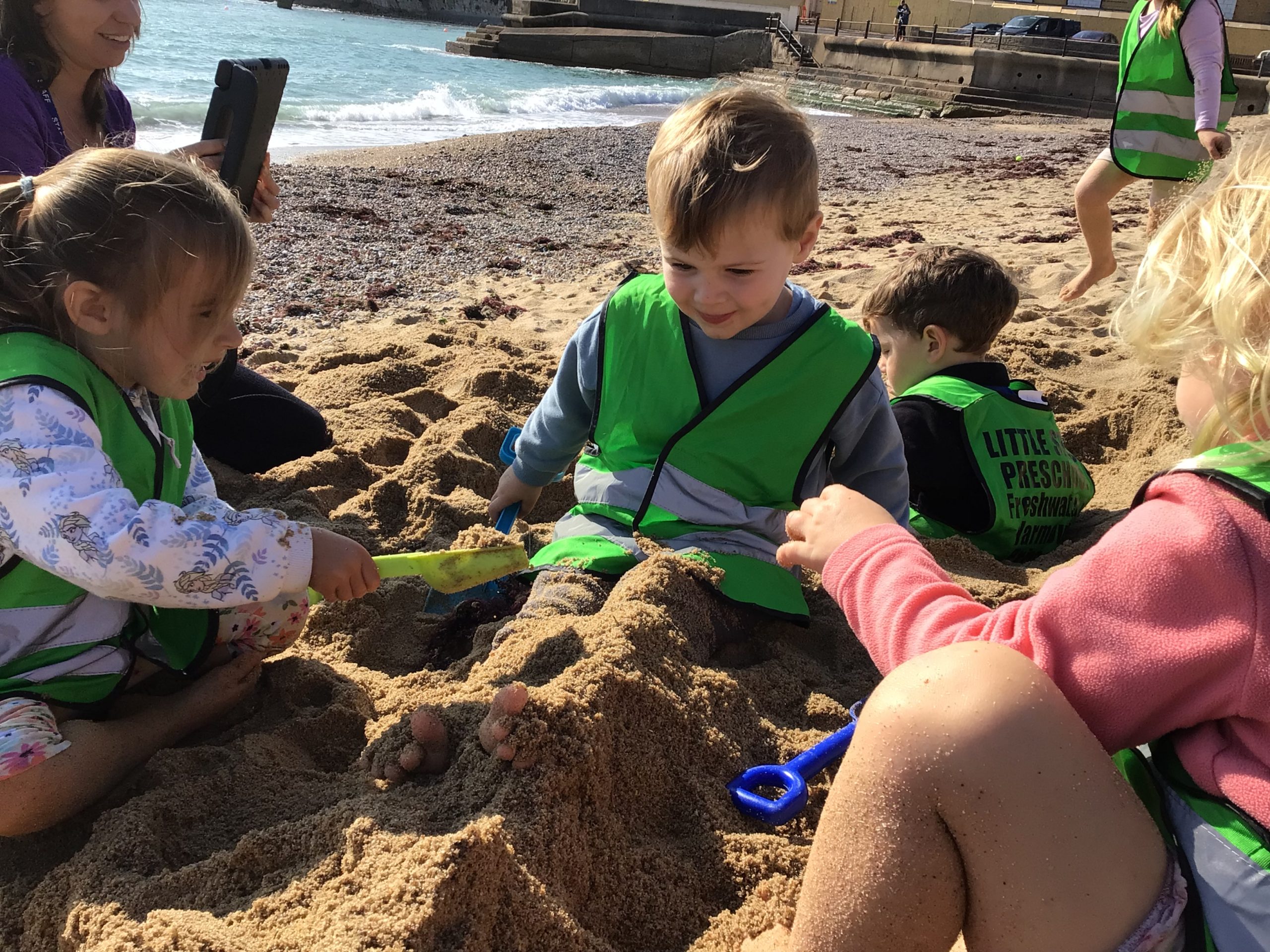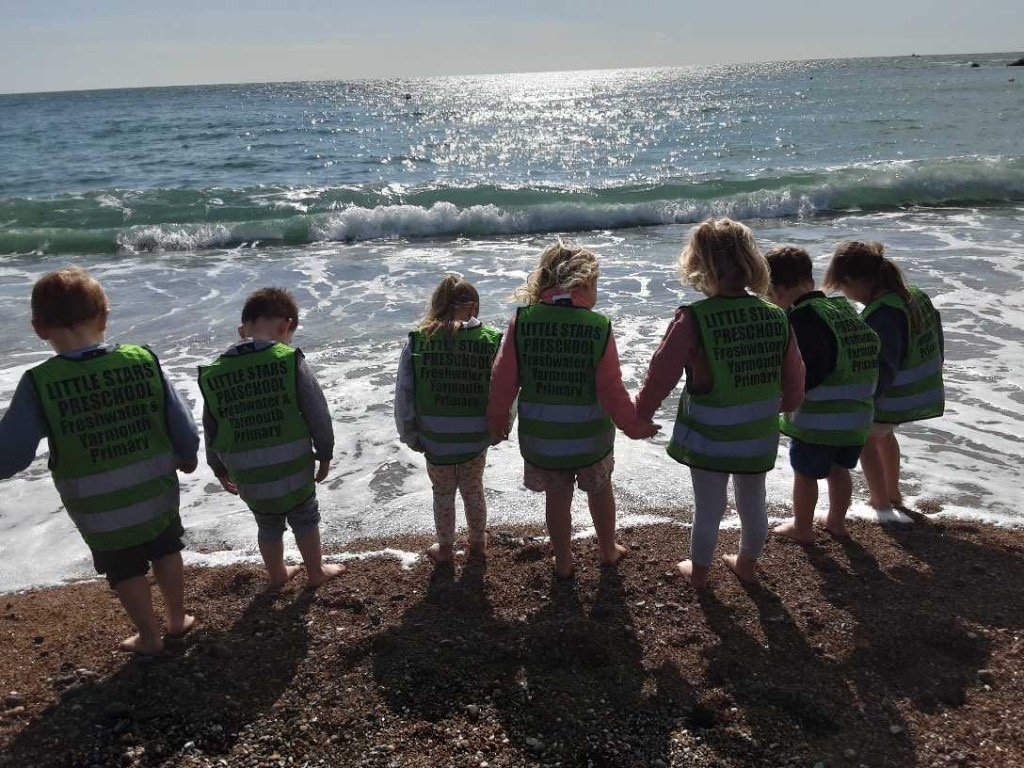 What have Little Stars been up to this week……
It's been a wonderful week seeing the children initiating games together. This week in particular there has been a fascination with dice! Teaming up with eachother the children went off & collected items to use for their dice games. With a wooden sorting tray, buttons, and a dice, the children took it in turns to roll the dice, counting out that amount of buttons, sorting them into the tray & even comparing their quantities to see who had the most & least! Some brilliant collaborative play totally child initiated! This led on to exploring subitising; trying alternative items than buttons to count; even rolling the dice & counting out actions such as clapping.  Another thing we have been learning about this week inspired by the children is 'patterns', this interest generated lots of activities such as making patterns with colours, shapes, movements, and musical instruments!  Other things we have been up to this week include: ball & bubble play on the field; bikes & trikes on the playground; taking it in turns to be the Wolf in What's the time Mr Wolf?; climbing & balancing on the hall apparatus; bouncing on the trampoline; having a silver service in the mud kitchen; exploring gradients with things that roll; crafting autumn hedgehogs; practicing our yoga moves; sharing stories with Reception Class and much more.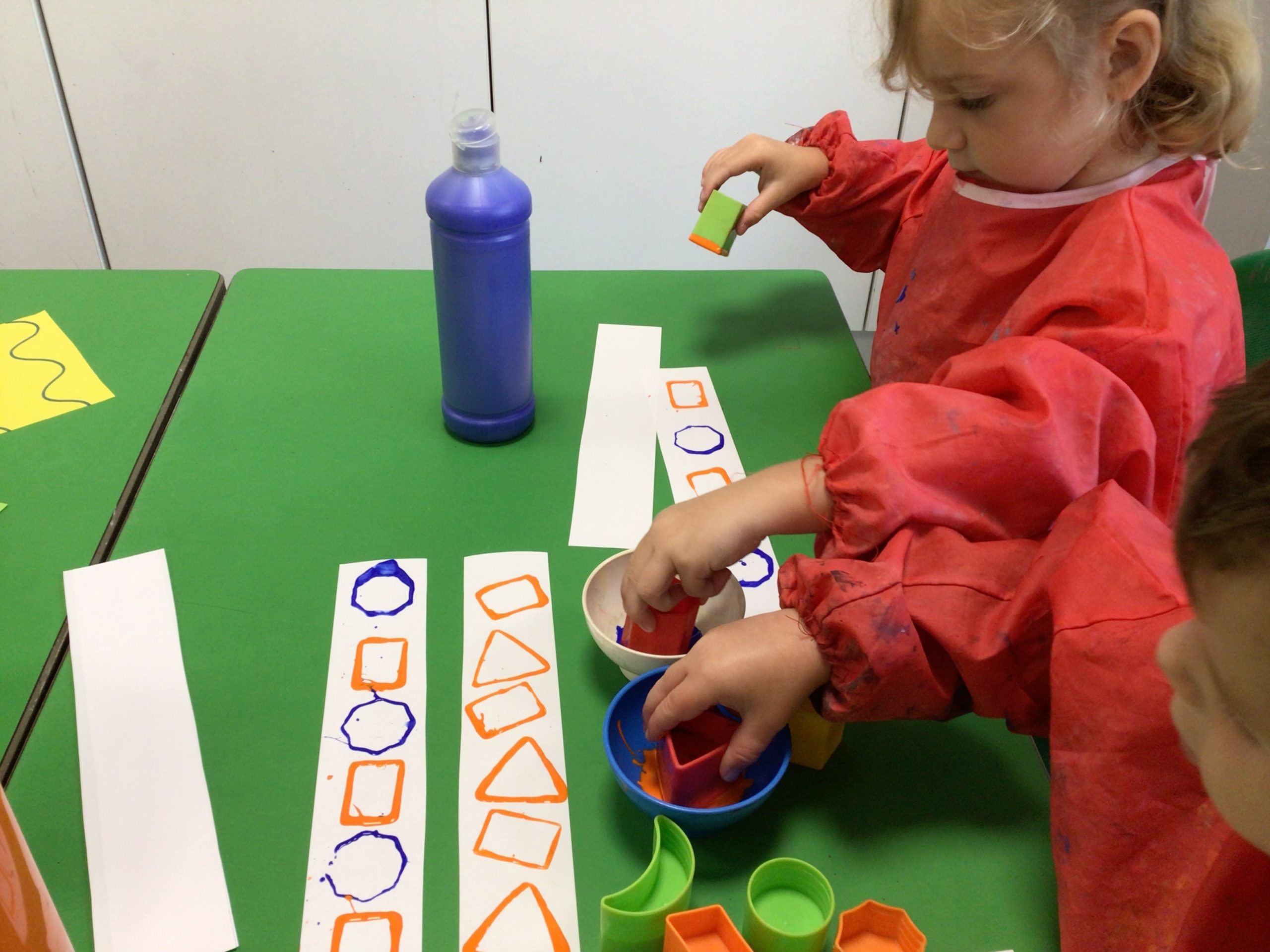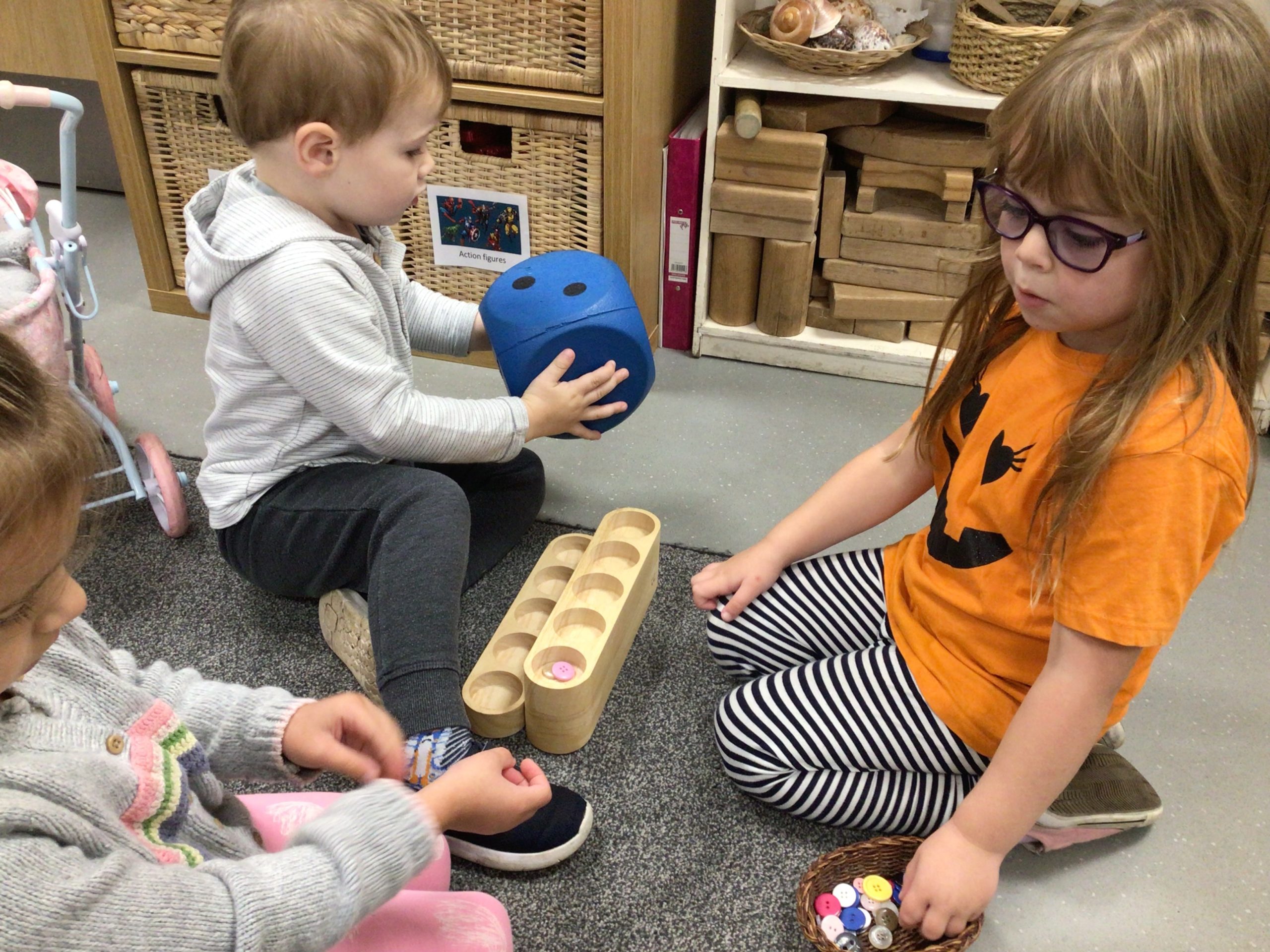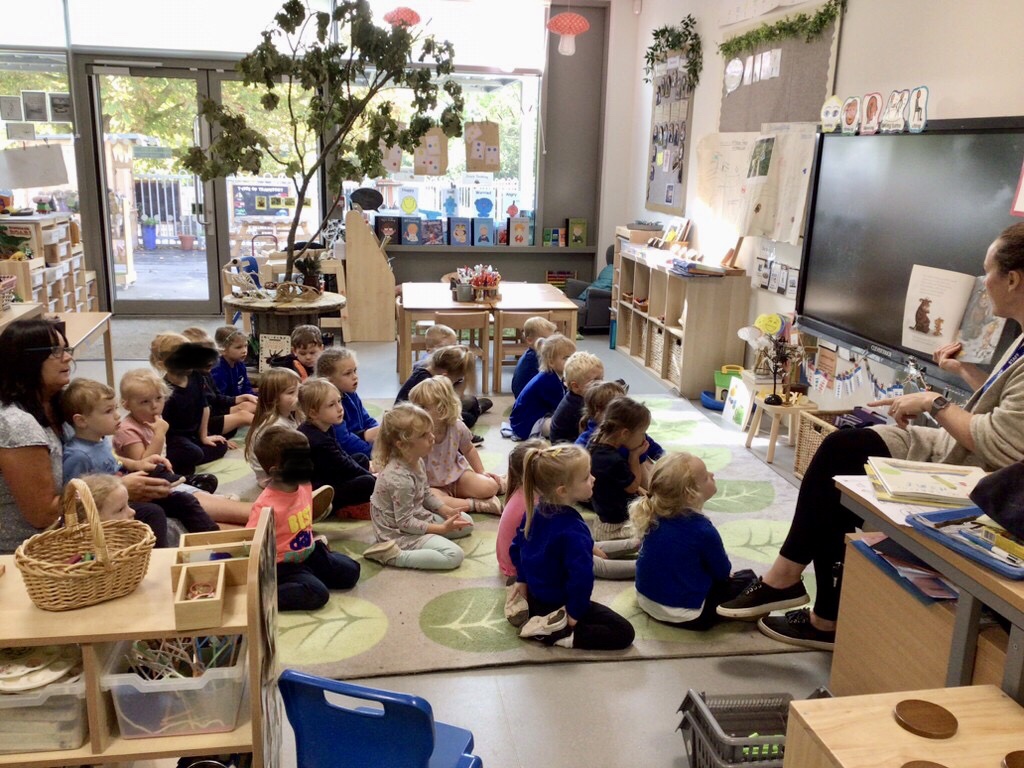 What have Little Stars been up to this week……
Every morning children have been arriving at school excited to show us things they have found on the way; many conkers, feathers, acorns, sticks etc. These always prove to be a big source of interest and often lead to spontaneous experiences such as making conker waterfalls, creating great pieces of art using feathers as paint brushes etc. Following on from this Little Stars & Reception took the children out & about for an autumn scavenger hunt! Lots of interesting things were found & collected. Thankfully there were still a few blackberries for us to harvest too! Back at school the children got busy comparing their finds "Look what I found" was a phrase used many times ha ha! Reception & Little Stars children then spent the afternoon together rustling up their very own apple & blackberry crumbles to take home! Yum yum! 

Other things we have been up to this week include exploring printing using rollers, paint, & stencils; cooking up some conker gateaux in the mud kitchen; making swamps for the dinos with foam; swimming; blackberry painting; making autumn collages.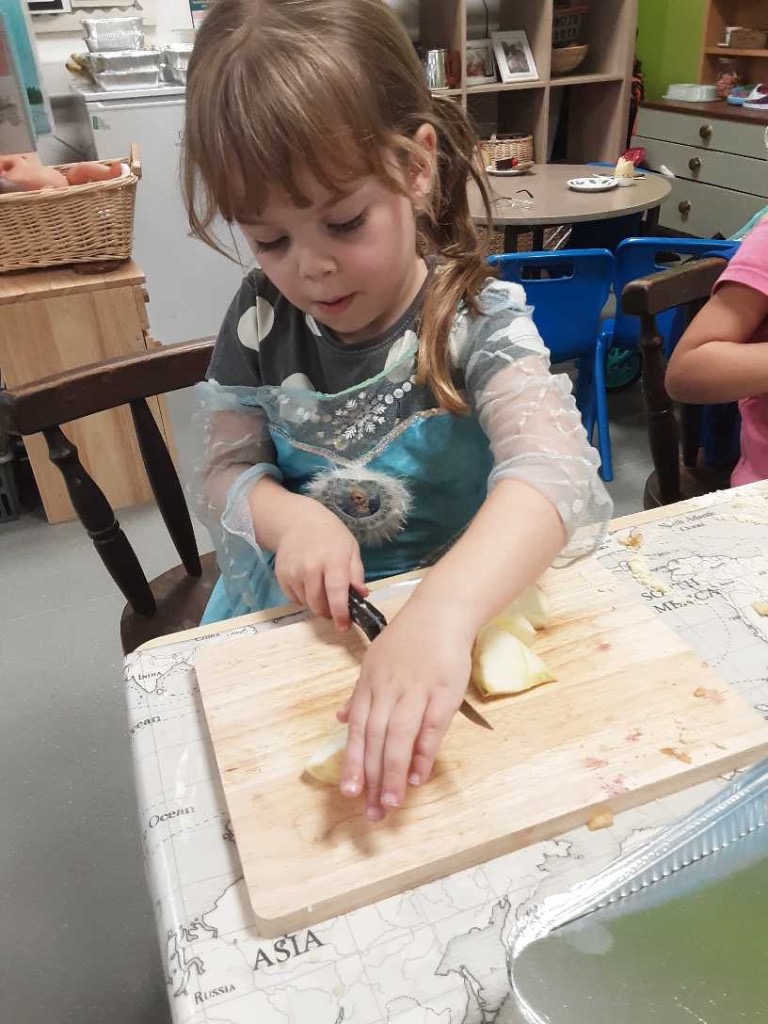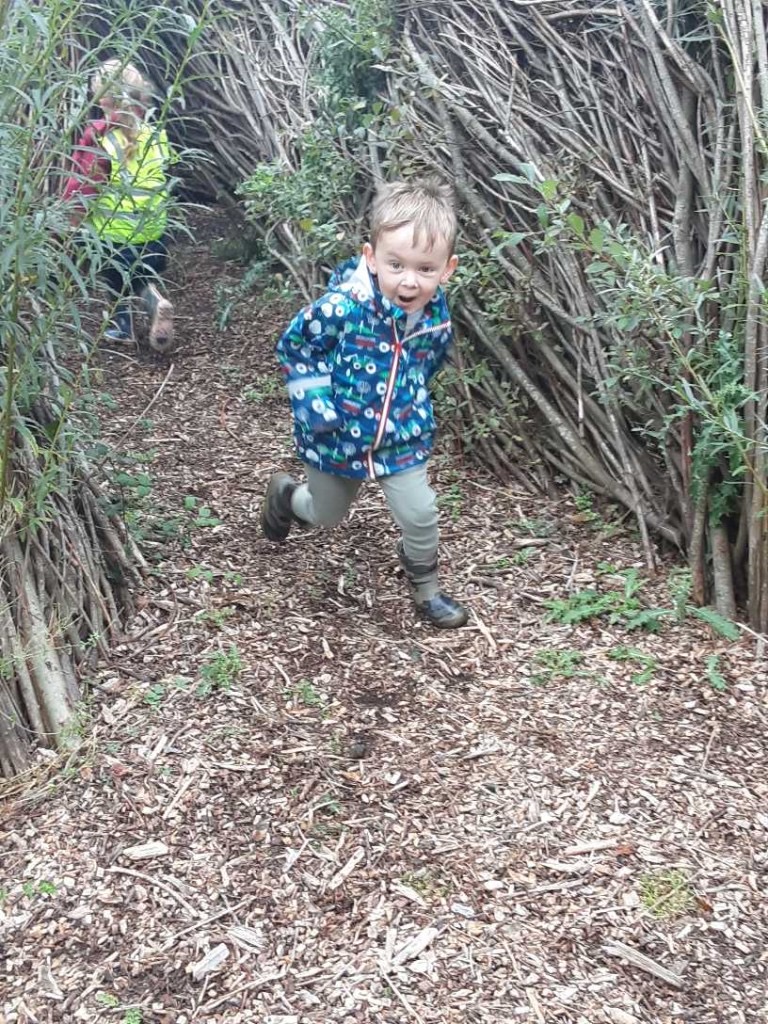 What have Little Stars been up to this week……
"It's an exciting time of year moving from summer into autumn! You never know what the weathers going to be like ha ha! The children have been noticing lots of changes in the environment including how the leaves are changing colour & falling off the trees! 

Whilst on a walk the children discovered prickly horse chestnuts, we split them open & were excited to find the lovely shiny brown conkers inside! Under the giant oak tree a new discovery was made of green & golden acorns, some even looked like they'd been nibbled by a squirrel! High up in the sycamore tree the helicopter seeds began to fall, everyone was keen to find one to re-launch it into the sky & watch it spin as it descended back to earth! In the bushes blackberries were spotted too & a giant dragonfly!  

On a visit to our local church the children sat on the pews & studied the environment, they were really interested in the beautiful stained glass windows, they ended up having the opportunity to make their own!

There were lots of hungry swans to feed & a couple of cygnets, this led to some great conversations about life cycles & The ugly duckling story! 

As summer reappeared for a few days we decided to make the most of it & enjoyed ice cream at the cafe! Yum Yum! Other things we have been up to include time in the Forset School garden, conker painting, climbing on the new trim trail, joining Recpetion Class for PE in the hall, swimming, crafting autumn trees, and much more"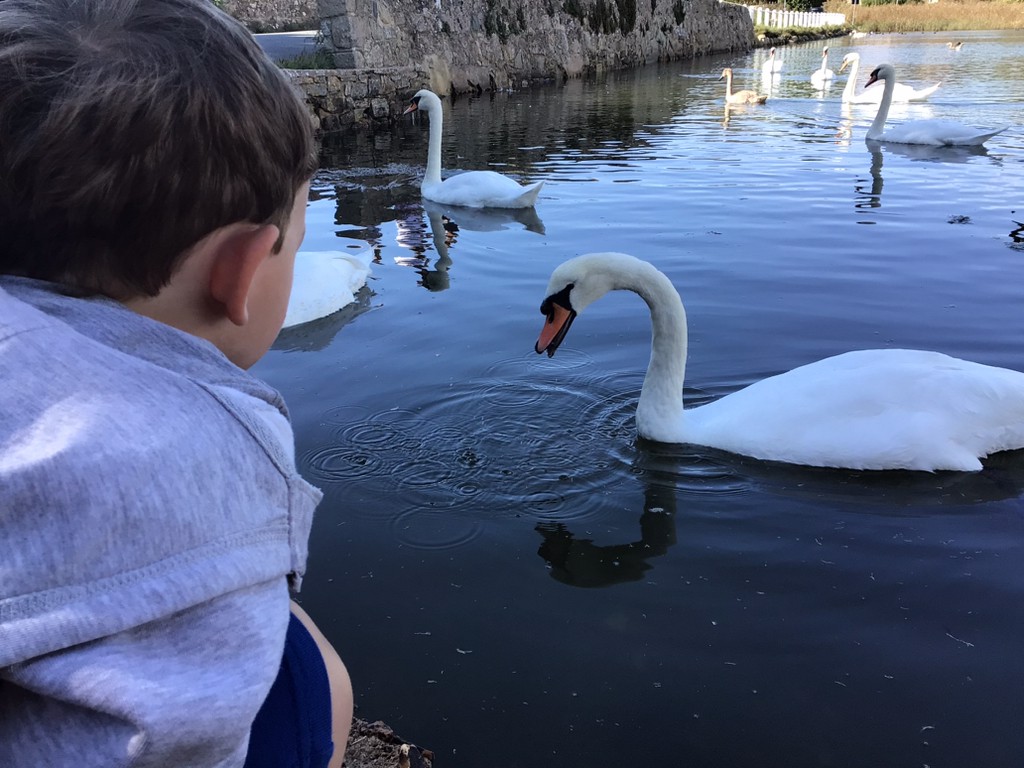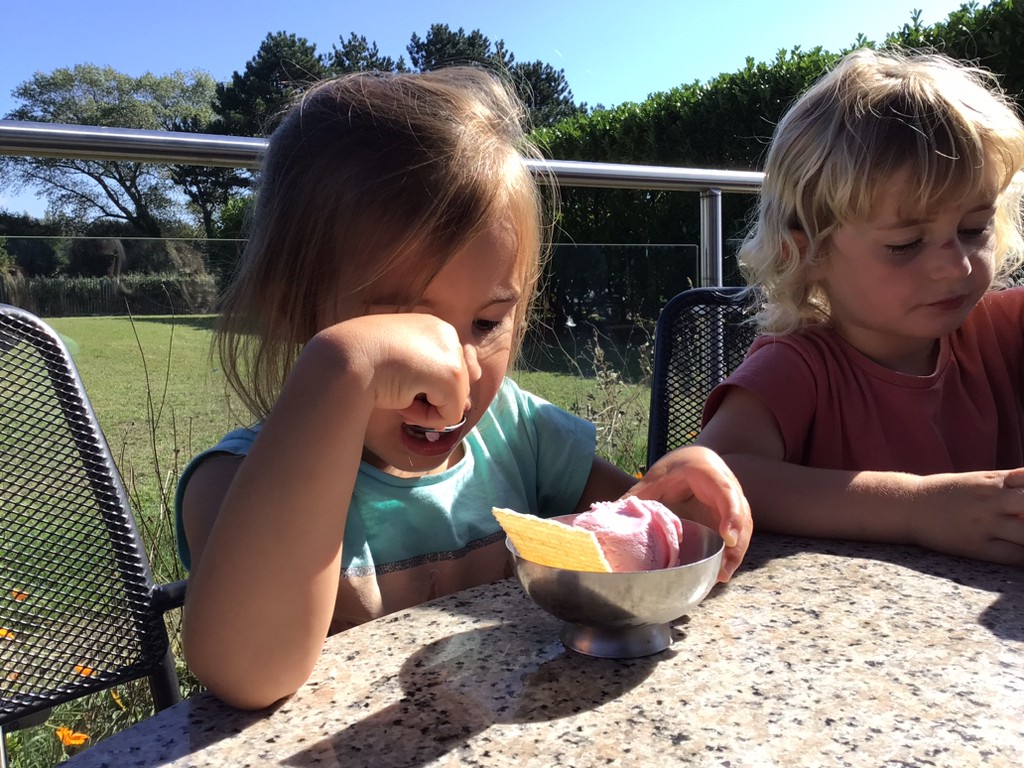 What have Little Stars been up to this week……
We would just like to share a few phtos of how we ended the year!

Since returning It's been exciting to see how well the children have settled into Reception Class! Looking so smart in their unifroms! A big welcome to all our new families!

We look forward to an exciting year ahead….
What have Little Stars been up to this week……
'Everyone had great fun using the electric whisk! The bowls were overflowing with  whisked up rainbow foam! Of course swirling the foam & mixing the colours was a big hit afterwards too! 
Jelly on the plate is a song we all enjoy signing & was a fitting choice when our 'Jelly Bar' opened!! It was too hard to choose our favourite flavour jelly so we enjoyed some of each!! You may be worried that's a lot of jelly, well please rest assured only half of the wibbly wobbly jelly made it into mouths ha ha!
Other things we have been up to; Cafe play, singing & dancing to Peaches, doing some Mario collaging, digging mud pits, picking peas, dressing up, and more!'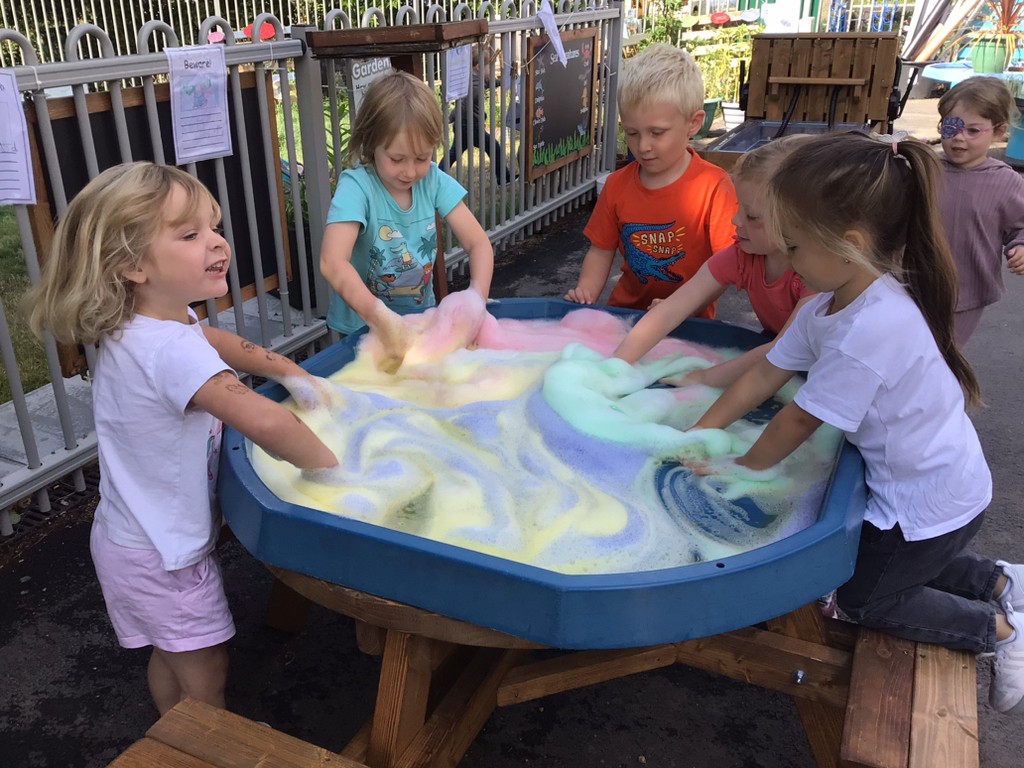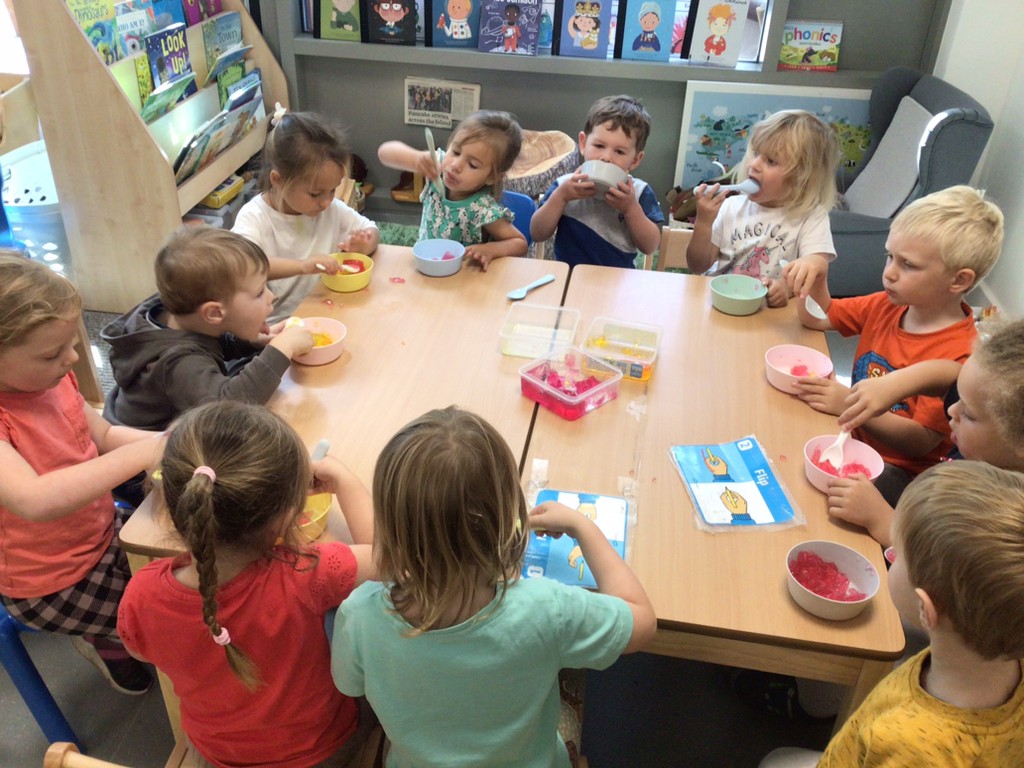 What have Little Stars been up to this week……
"The excitement has been literally growing in Little Stars! The children discovered their first red strawberry ripe for the picking! Everyday the children enjoy watering the plants & flowers but today there were shouts & squeals of "come & see this!", "Look what we've found!", sure enough there was a bright red strawberry nestled amongst the leaves! I can tell you now it was quite a challenge cutting that strawberry into enough pieces for everyone to try ha ha! Now one of the first things the children do when they go outside is check to see if there are any more strawberries ready for picking! The children have been sowing many types of seeds & potting up various types of plants. Not only ones such as strawberries & tomatoes which provide them with tasty treats but also wildflower seeds & flowers to support bees & other insects. We always role-model & talk about the importance of looking after our natural world & planet, with all the children enthusiastic to be involved & learn what they can do to help, even from things as simple as putting rubbish in the bin & not dropping litter. We are super proud of how kind & considerate the children are, such lovely caring, compasionate natures.   
When it's really hot we go in the hall to cool down & have a run around out of the sun. We have many different types of parachutes but this week we took our long rainbow parachute into the hall, singing songs & playing games. This parachute is a fun one for launching into the sky & curving it down so the children feel like they are under a rainbow.   Other things we have been up to include: bathing babies, doing the washing, painting water colours, making fans, blasting rockets."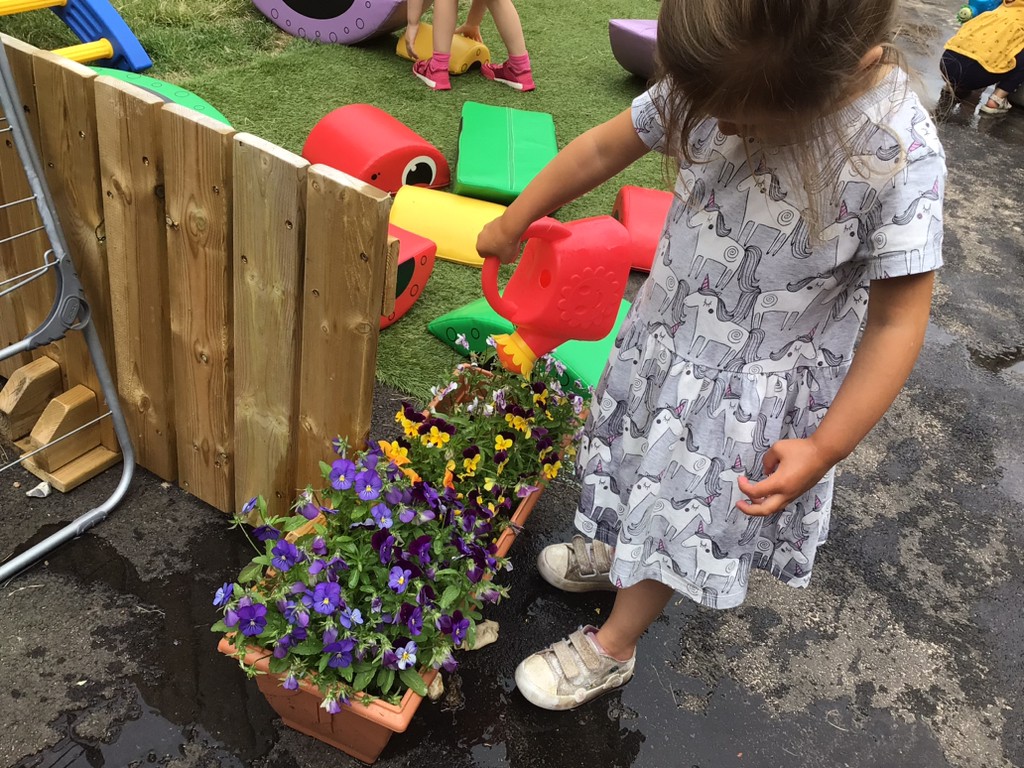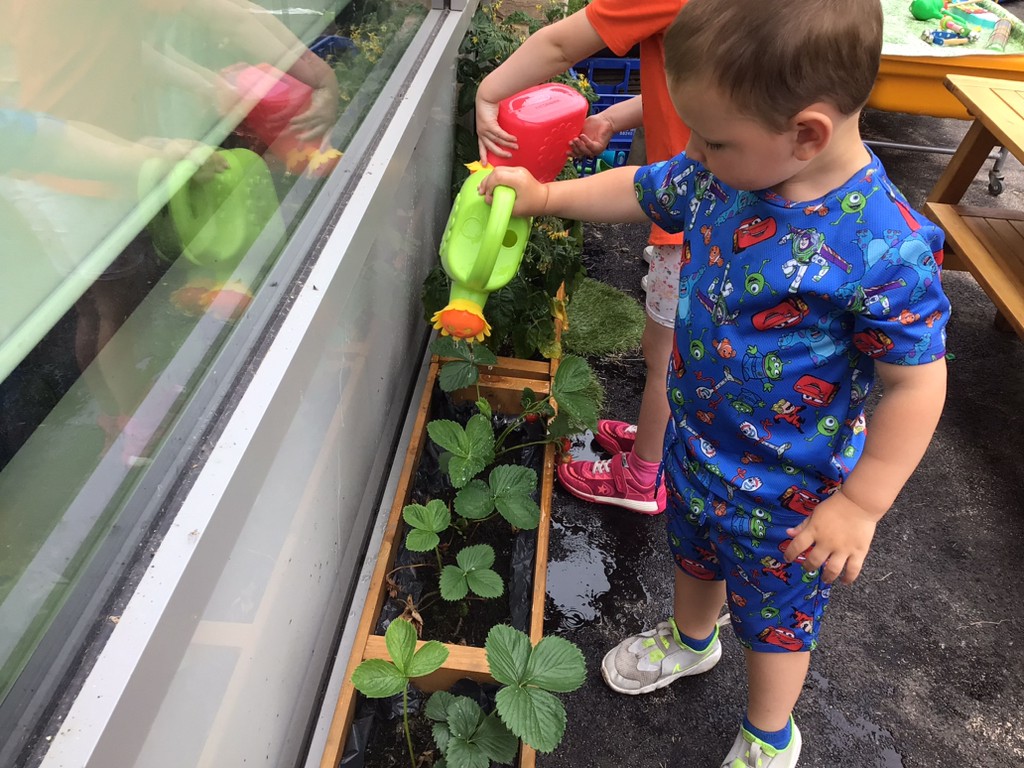 What have Little Stars been up to this week……
We do love our picnics! The children found a nice shady spot at the park, enjoying a sociable picnic lunch before having some fun swinging, spinning, and climbing  on the play equipment. As always it's lovely bumping into people in the community & the children received more comments about how kind & well behaved they are! Definitely something to celebrate! We are super proud of all the children! 
The sprinklers been out again, requested by the children!  Plus plenty of paddling opportunities! One of the best ways to keep cool, although the children do have the luxury of nice warm water via our mixer tap! There are always plenty of smiles & giggles! It's a great time to help children develop their self-help skills getting changed afterwards. Lot's of sock matching too hee hee!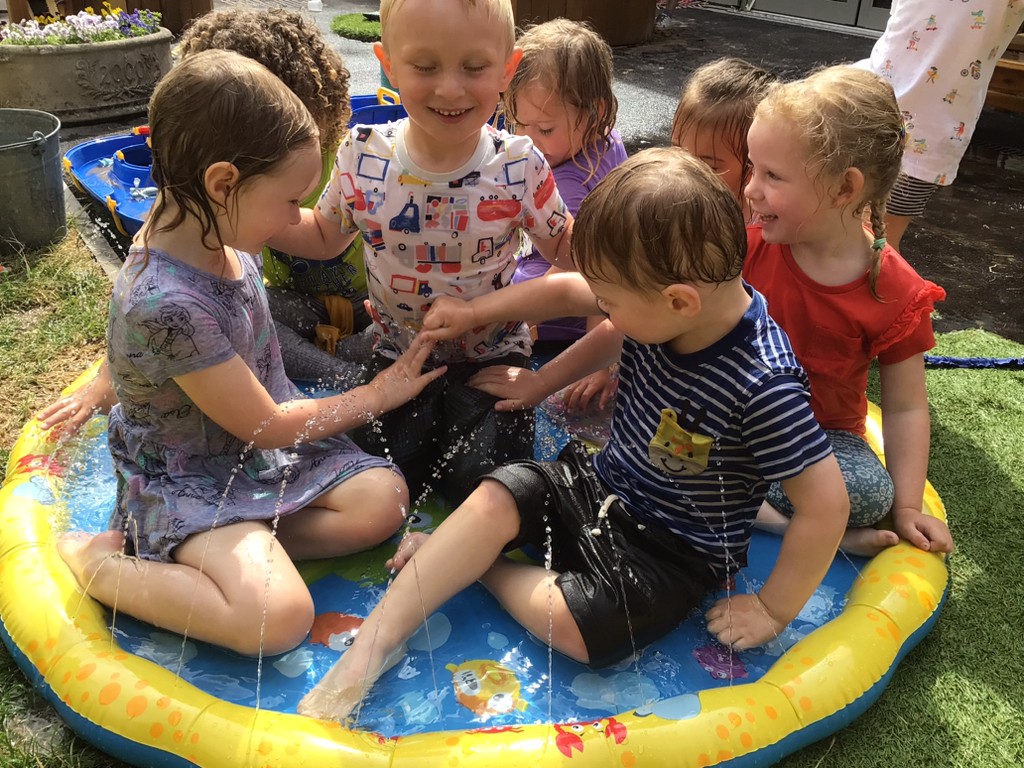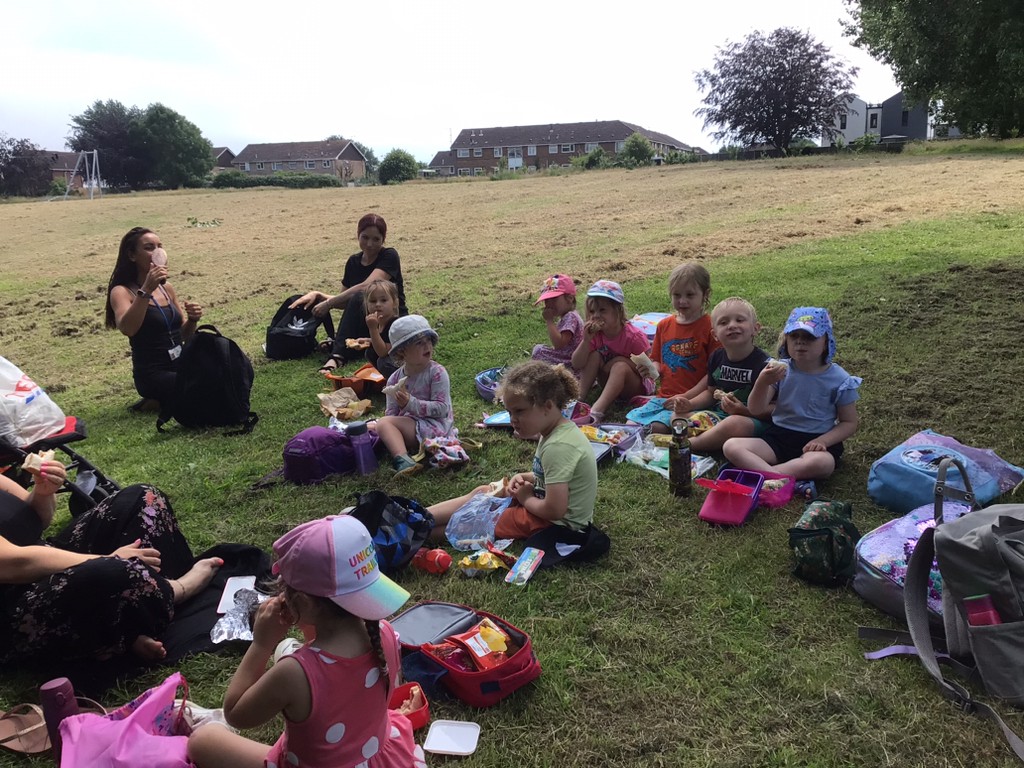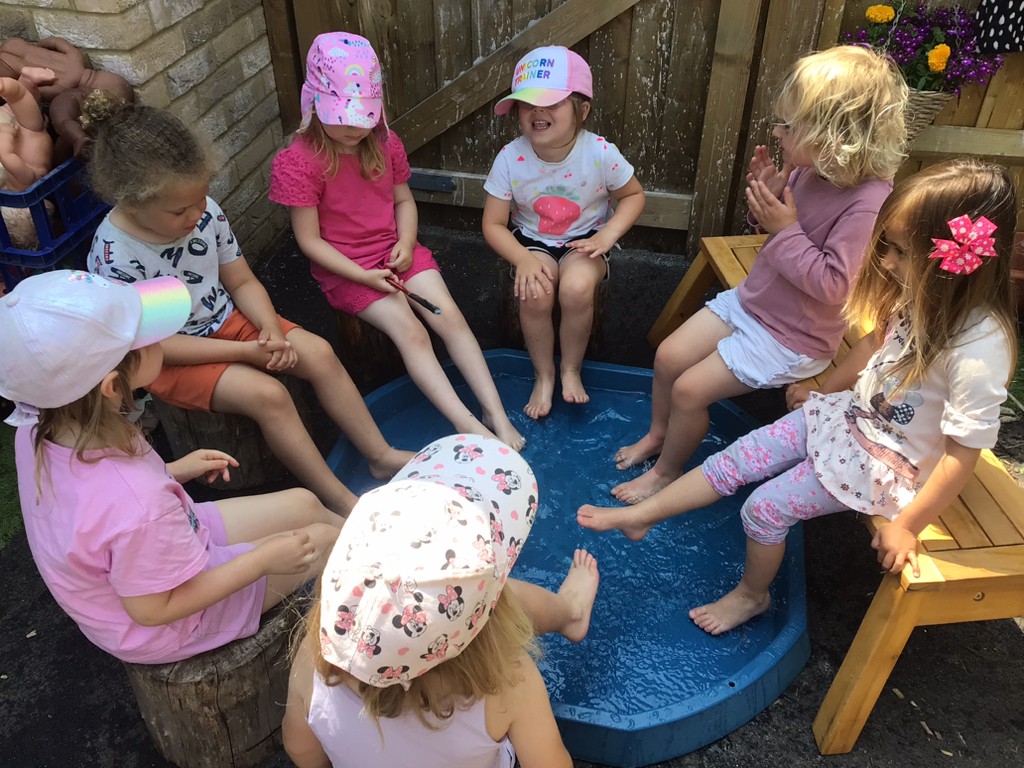 What have Little Stars been up to this week……
What better way to keep cool than a day at the seaside! A tradition of ours has always been to visit the beach as many times as possible throughout the year, experiencing it in all its glory whatever the weather! Crashing waves & grey waters have always been fun to throw stones in but thankfully this week the waters been calm & crystal clear, just perfect for a paddle! Not only did we wade through the cool water, we did some beach combing, finding many interesting shells, stones & seaweed! We even saw a starfish & spider crab! Skimming stones & making splashes with who could find the biggest rock generated quite a few laughs & a few wet clothes hee hee! Of course it would be rude not to enjoy an ice cream whilst at the beach! Ice creams all round thanks to one of our lovely parents! We always go crabbing over the Summer term, each time predicting how many crabs we think will be caught. Predictions this time "90" & "1000" ha ha! With bacon on the lines & nets at the ready I'm pleased to announce approximately 45-50 crabs of varying sizes were caught this time! The excitement every time a line came up with a crab attached was amazing! Lots of beaming smiles & squeals of delight! We had to be careful of the hungry seagulls who were after our bacon & crabs though! The water was so clear we even saw big fish swimming around nibbling the bacon! The hustle & bustle of the harbour was entertaining in itself with the bridge opening to let boats through & paddle boarders stopping to see what we were catching! Always nice meeting people in the community, so many commented how wonderfully behaved everyone was, and yes they were! Children & grown ups alike ha ha! Super proud! Other things we've been up to range from setting up our wormery, adding many lucky worms & watching them burrow underground; to setting up sprinklers & water slides for everyone to have some watery fun in the sun! We even received more ice lollies from another lovely parent! Perfect way to cool off!  See more on our Facebook page 'Little Stars Preschool in Yarmouth & Freshwater Primary'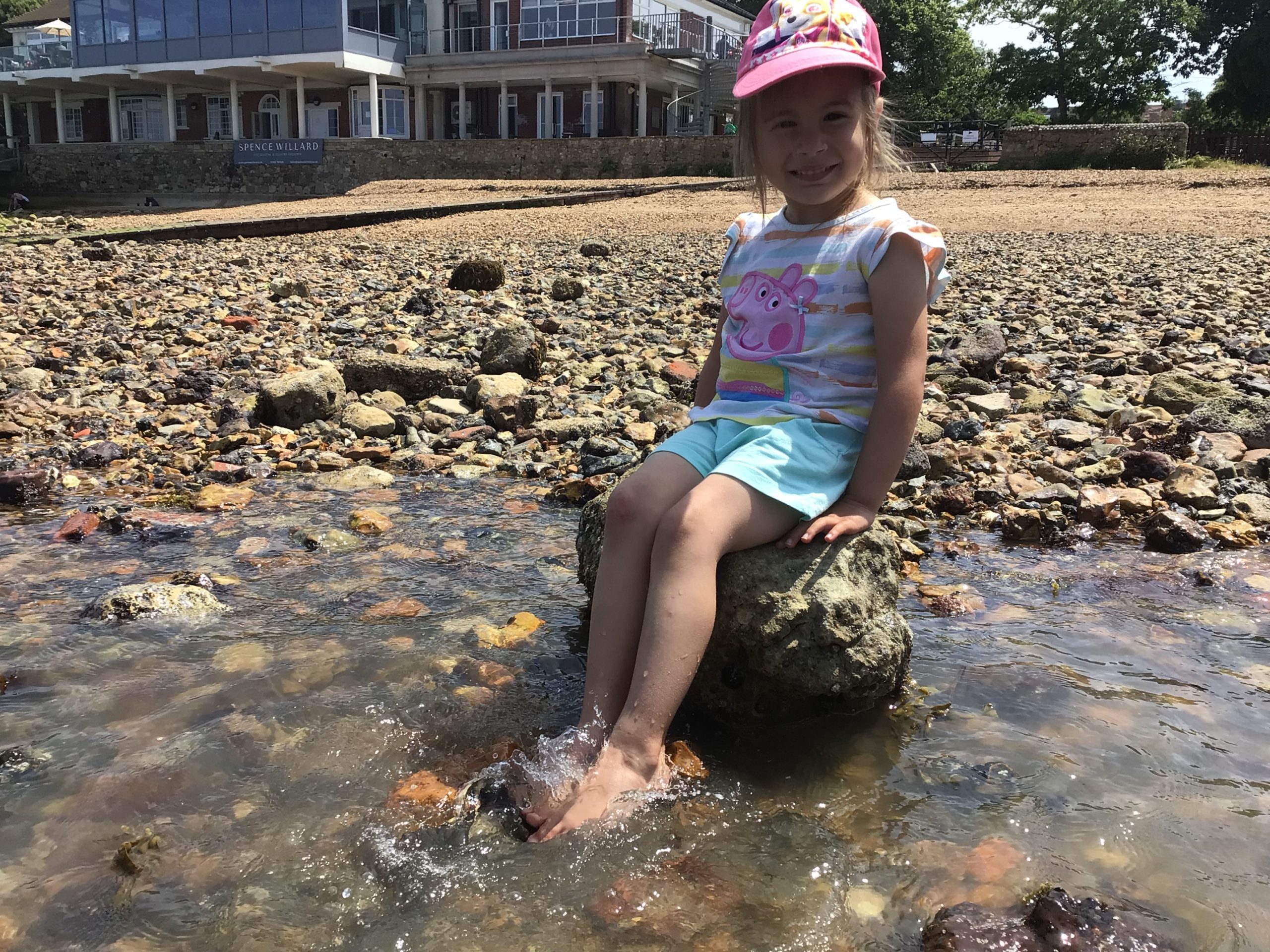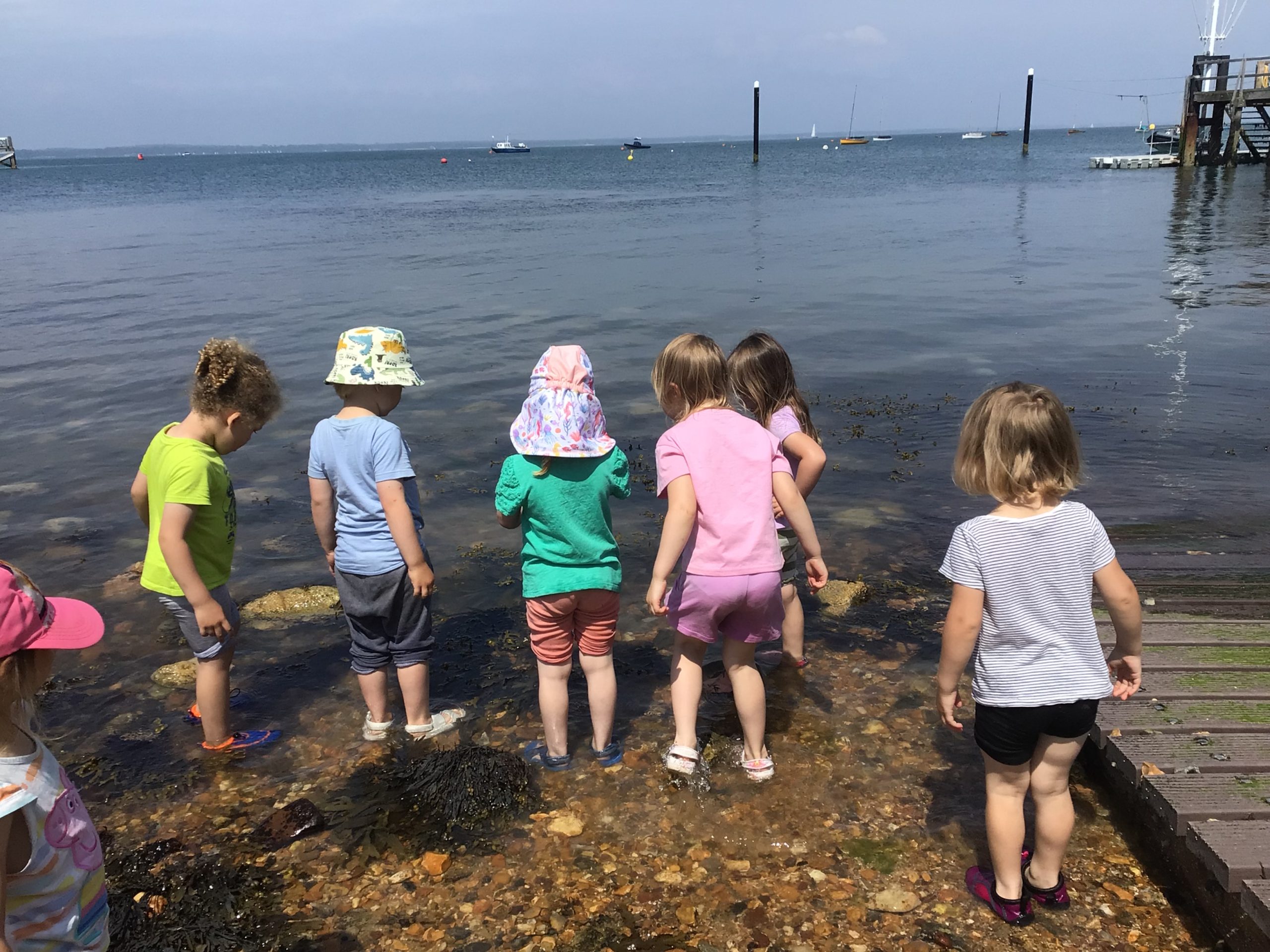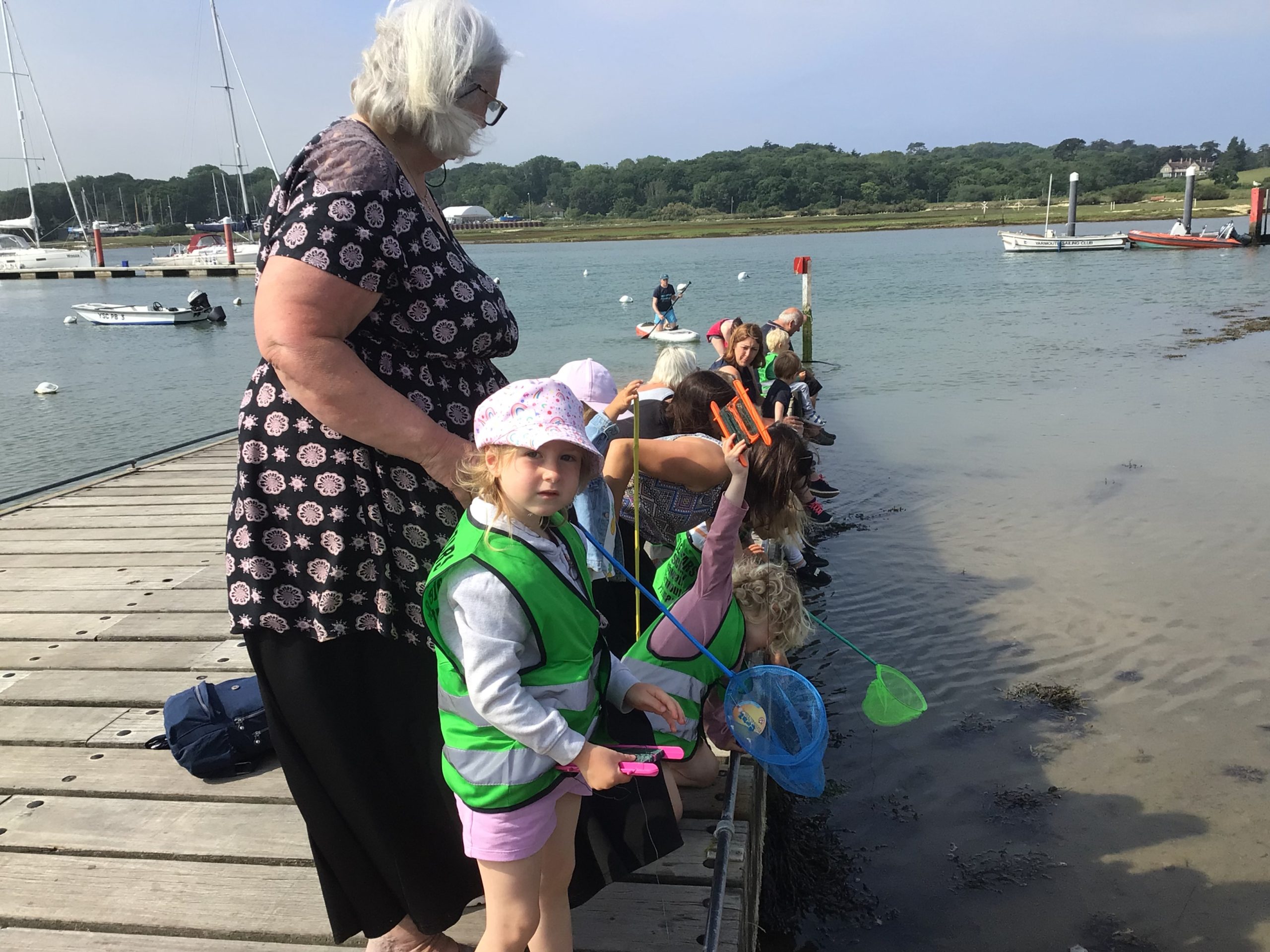 What have Little Stars been up to this week……
"After sharing a story called Hungry Harry the children have shown a big interest in insects! In the story Harry the frog went off hunting for food, he came across lots of different mini beasts but for various reasons didn't want to eat them for his dinner, for instance caterpillars are far too hairy to eat as a tasty treat! Thankfully Harry stumbled across a picnic & enjoyed some cake instead ha ha! This led to many discussions & lots of researching about what real frogs eat. Turns out frogs like insects such as flies, spiders, and even wiggly worms! Plus they have really long sticky tongues! Since the story the children have been looking closely at different types of insects, interested in how many legs they have & if they fly, crawl or jump! Following a spiderweb we even tracked down a super fast spider, thankfully SJ showed off her speedy catching skills, managing to capture the spider so the children could have a closer look! It was exciting for the children to open a delivery of new bug catchers, bug pots, & binoculars! The children were quick to use these to hunt for more insects! Even more exciting is our new ant & worm farms which the children can't wait to set up next week! Many an insect has been creatively crafted by the children this week, using stickers, straws, sticks & various other resources! We've had hairy caterpillars, spiders like Spider-Man, wiggly worm pipe cleaners, tickly ants, and many other things. It hasn't all been about insects this week though. There has been a lot of cooling off with water squirters; experiencing what it's like to go on a sailing boat; creating lovely clay presents for our daddies & people that are special to us; doing gymnastics; and much more. You can see what we've been up to on 'Little Stars Preschool in Yarmouth & Freshwater Primary' Facebook Page"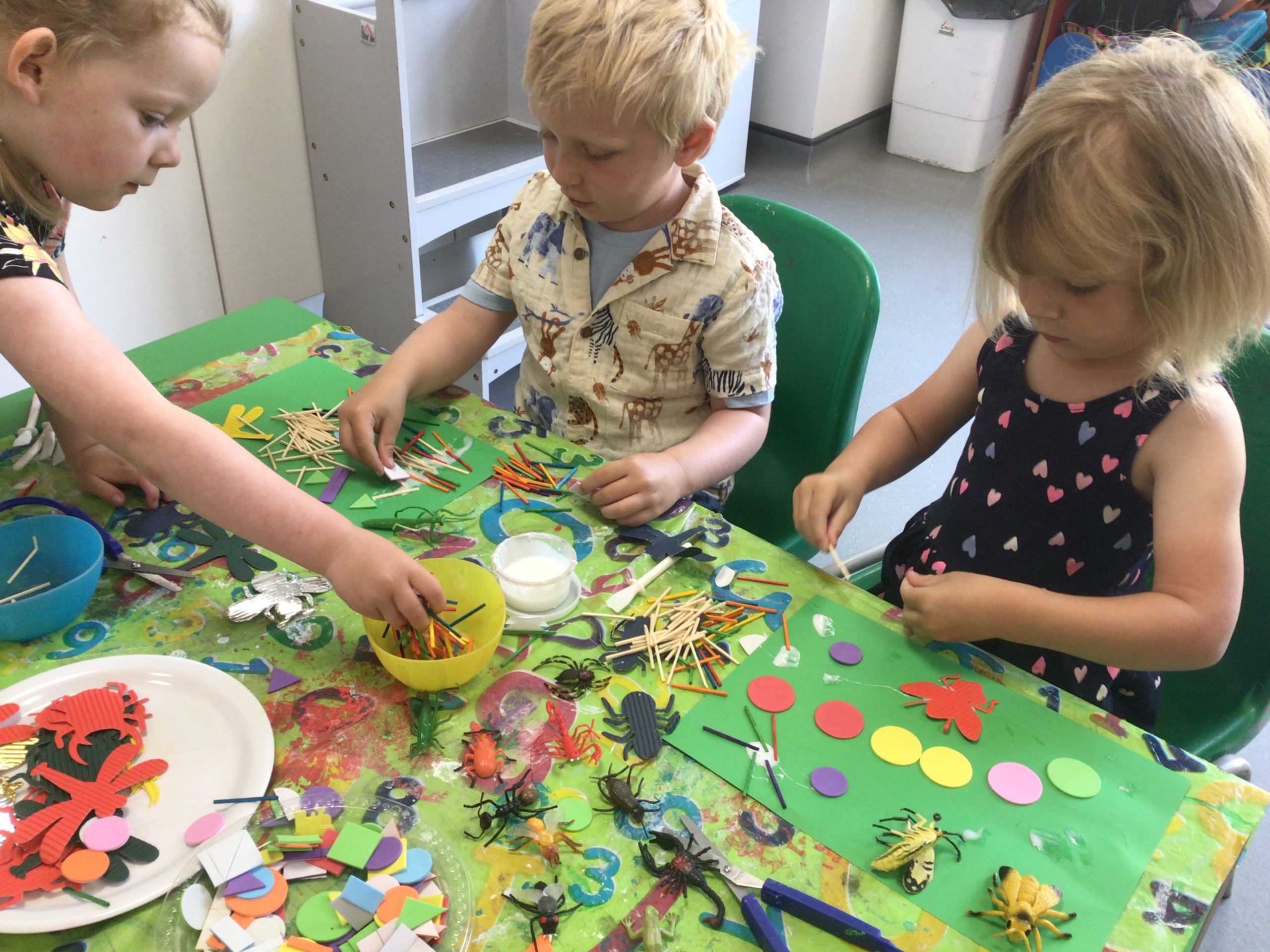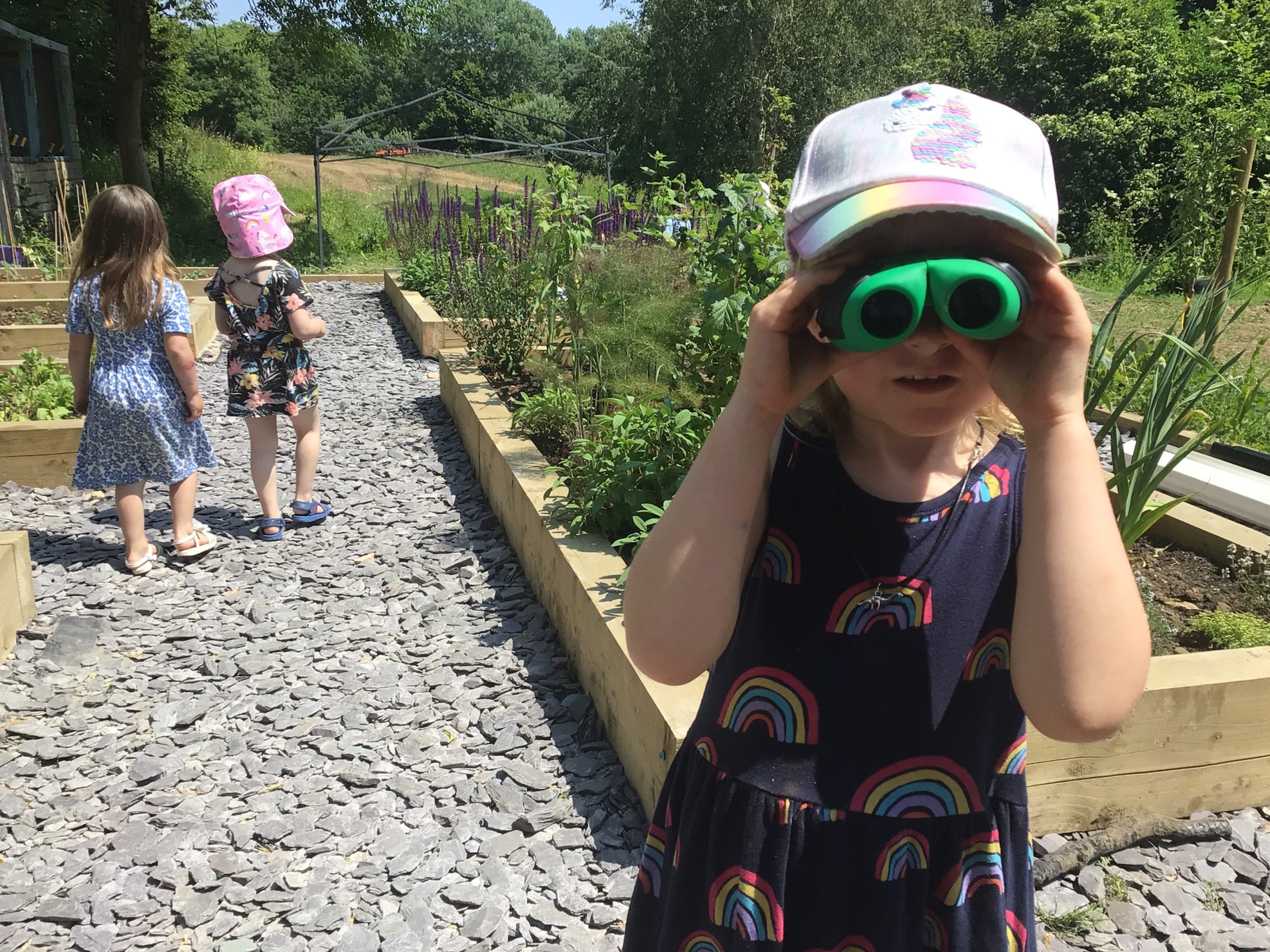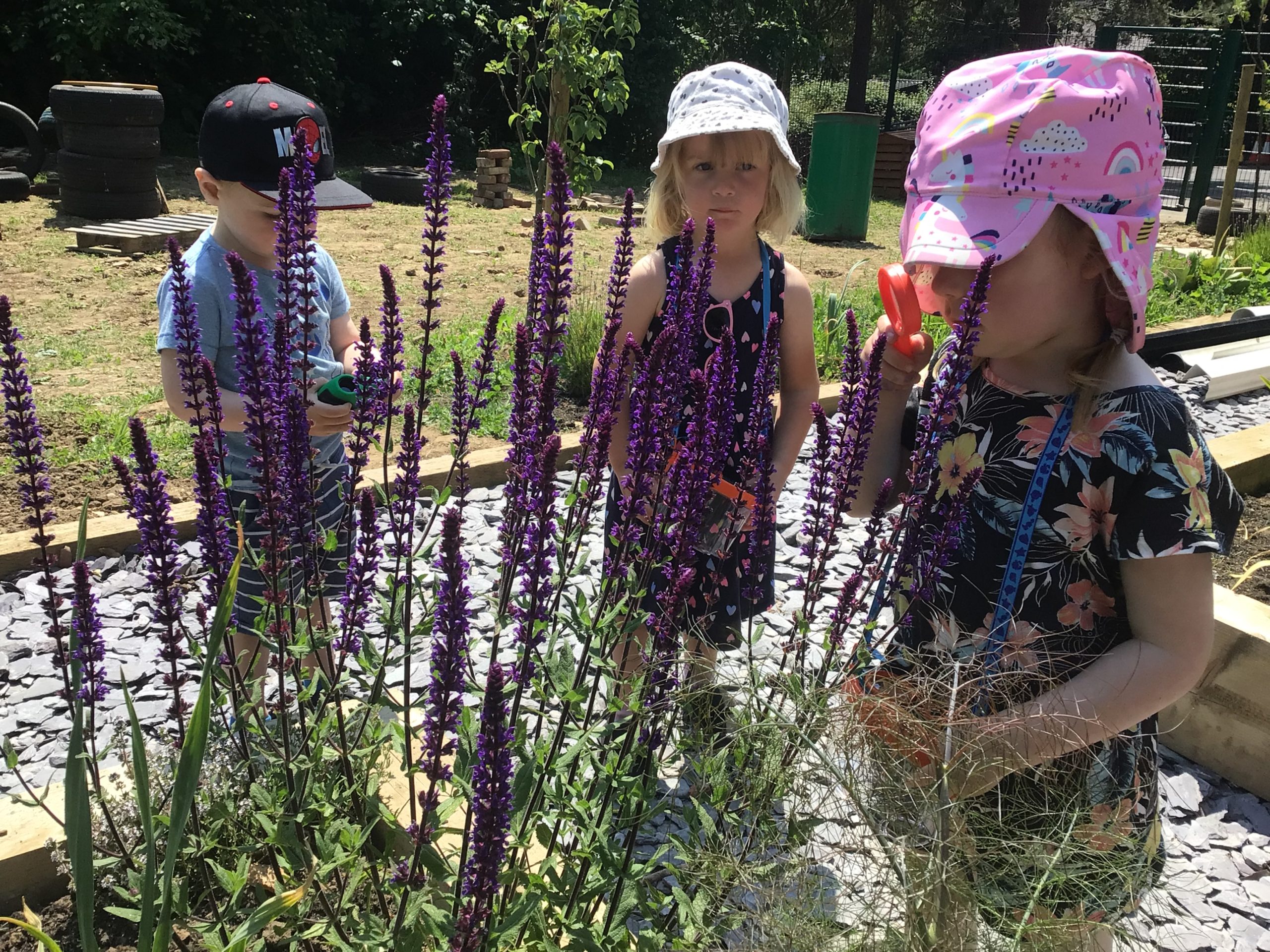 What have Little Stars been up to this week……
For the past few weeks we have been caring for 5 baby caterpillars. It's been fascinating watching them change over time, especially watching when they built their cocoons!  Of course the biggest treat of all was observing the cocoons opening & seeing the beautiful butterflies that emerged! After caring for the butterflies for a few days, giving them fresh fruit & placing them in a sunny spot to dry out their wings, it was finally time to release the butterflies! Turns out the butterflies had become quite attached to us & spent time fluttering around and landing on us! Spot the butterflies! In the end a safe place was found amongst the long grass for our butterflies so they could fly off when they're ready for a new adventure.  It's only natural that we shared stories such as The Hungry Caterpillar & Butterfly's Kiss! Our Seashells room has been extra colourful this week with all the beautiful butterfly pictures that have been made using various techniques & materials!  We can see this love of caterpillars & butterflies morphing into an interest in minibeasts with many ants, snails, ladybirds & other insects being discovered & celebrated, thankfully there's yet to be any spider discoveries ha ha!  This week hasn't just been about insects, it's also been about snow, snowballs, & snow slides! You just never know where the children's interests are going to lead hee hee! To celebrate the Kings Coronation the entire school went down to the Sports Centre field for a picnic! It was great getting to spend the afternoon with our friends & parents, it was like one bug happy family 🙂 For those that are interested you can find us on Yarmouth Little Stars Facebook page.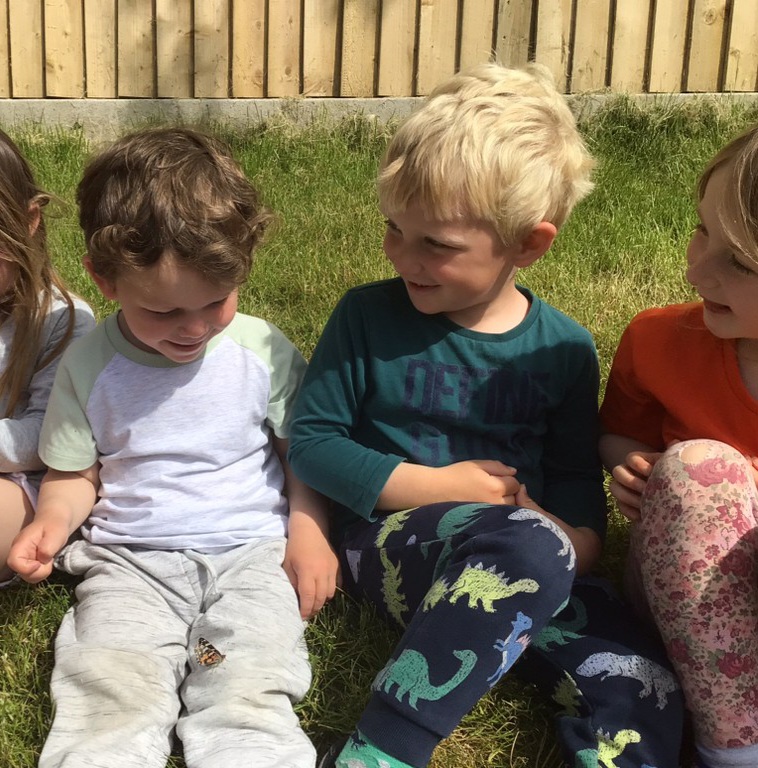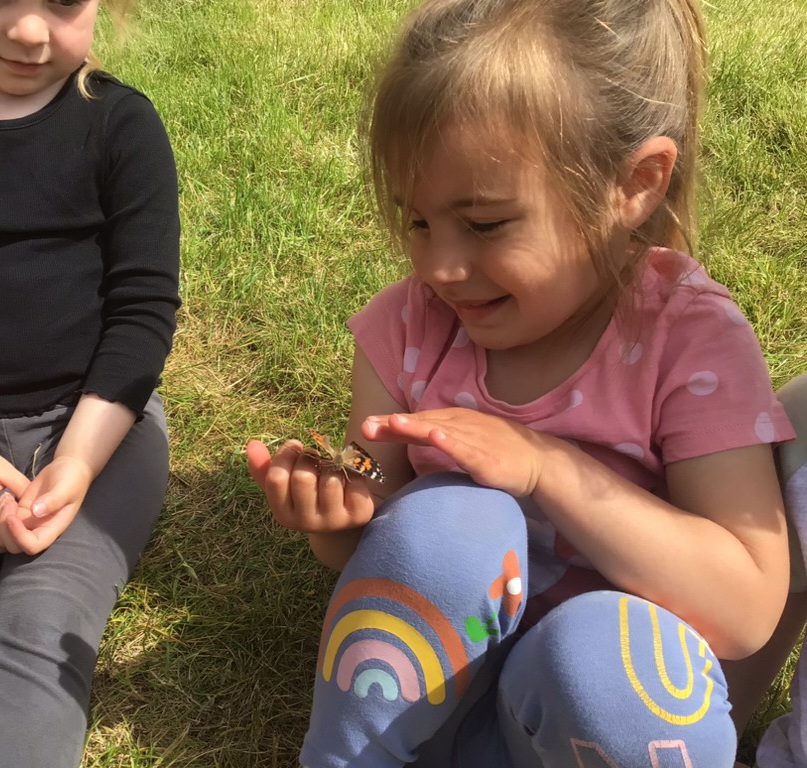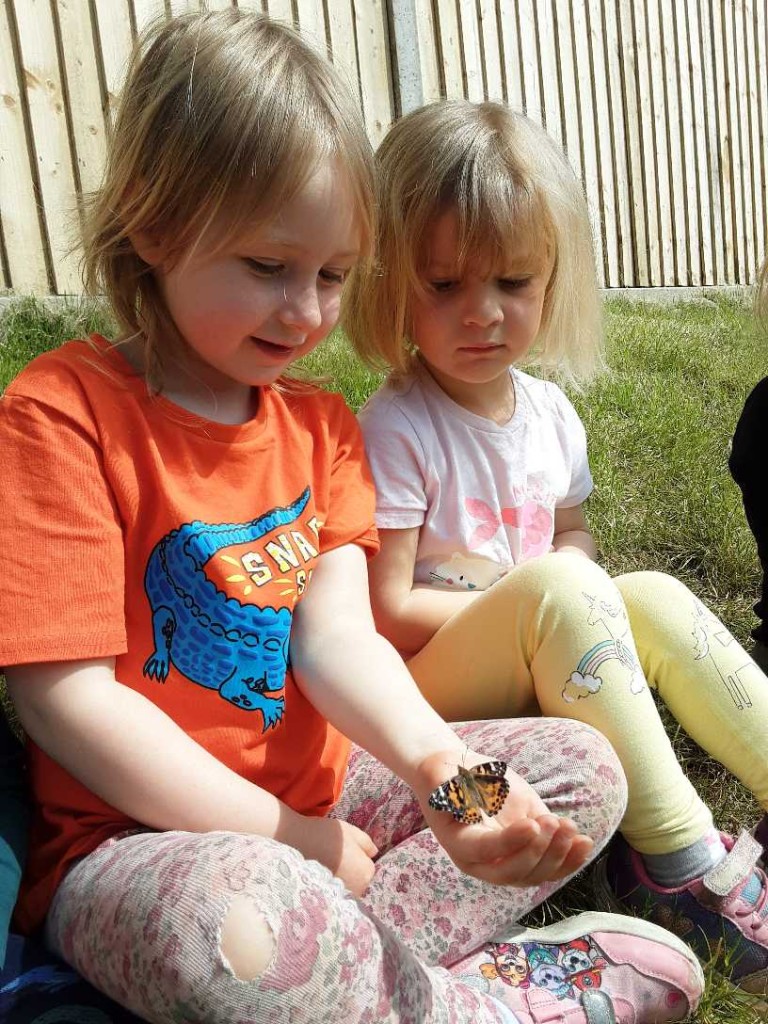 What have Little Stars been up to this week……
Little Stars Pre-school & Reception Class spent the day in Yarmouth revisiting some of our favourite haunts & saying hello to some of our Yarmouth friends. All of the children were excited to spend time on the beach rock pooling, beach combing, skimming stones, and having a paddle. It was perfect timing for our morning snack & story too, with children enjoying a story all about the seaside whilst listening to the waves lapping at the shore! After a walk to the end of the pier the children asked to play 'What's the time Mr Wolf' remembering we had played it on our previous trip up the pier! Pretty sure plenty of squeals of laughter were heard by the boats leaving the harbour hee hee!  Picnic lunch was great fun with seagulls flying over head & boats cruising up & down the river. At the castle we watched the ferry boat dock and waved to the captain! Thankfully the canon at the castle had run out of canon balls so the captain didn't look too worried when he noticed the children exploring it! There was lots to see in the castle, we even got to dress up in old fashioned clothes and play different traditional games. Afterwards we just had time to pop in & visit our friend at Scoops Ice-cream Parlour, of course that meant we also got to enjoy a yummy ice cream to finish off the day! 
What have Little Stars been up to this week……
This week Little Stars & Beach Class took part in Beep Beep Day, learning all about road safety! Prior to our walk in the community the children thought of useful ways to keep safe "we need to hold hands & do good listening". During our walk we explored different road crossings including finding safe places to cross in the absence of zebra crossings. "We need to stop, look, and listen" all the children repeated throughout the trip. Along the way we popped into the shops & selected some yummy treats to finish off our trip by having a picnic snack at the park! All the children showed a great understanding of dangers & how to keep safe! Well done children!
Later in the week we revisited our road safety techniques as we walked to feed the hungry ducks! Our friend Mr Goose was pleased to see us! Once all the ducks were full it was time for our own refreshments! We stopped off at the cafe to enjoy some yummy hot choccies sat outside in the sun listening to the birds 🙂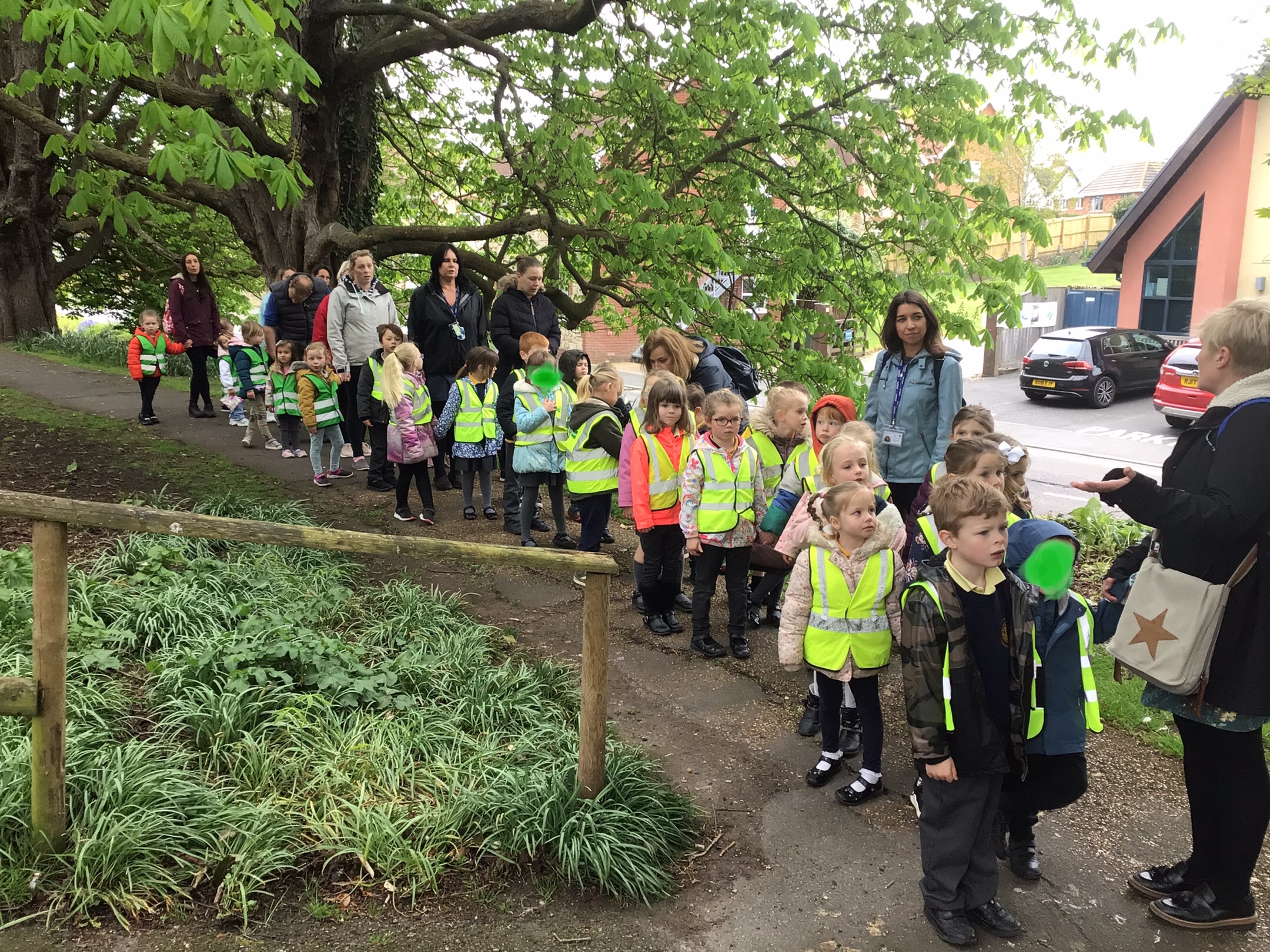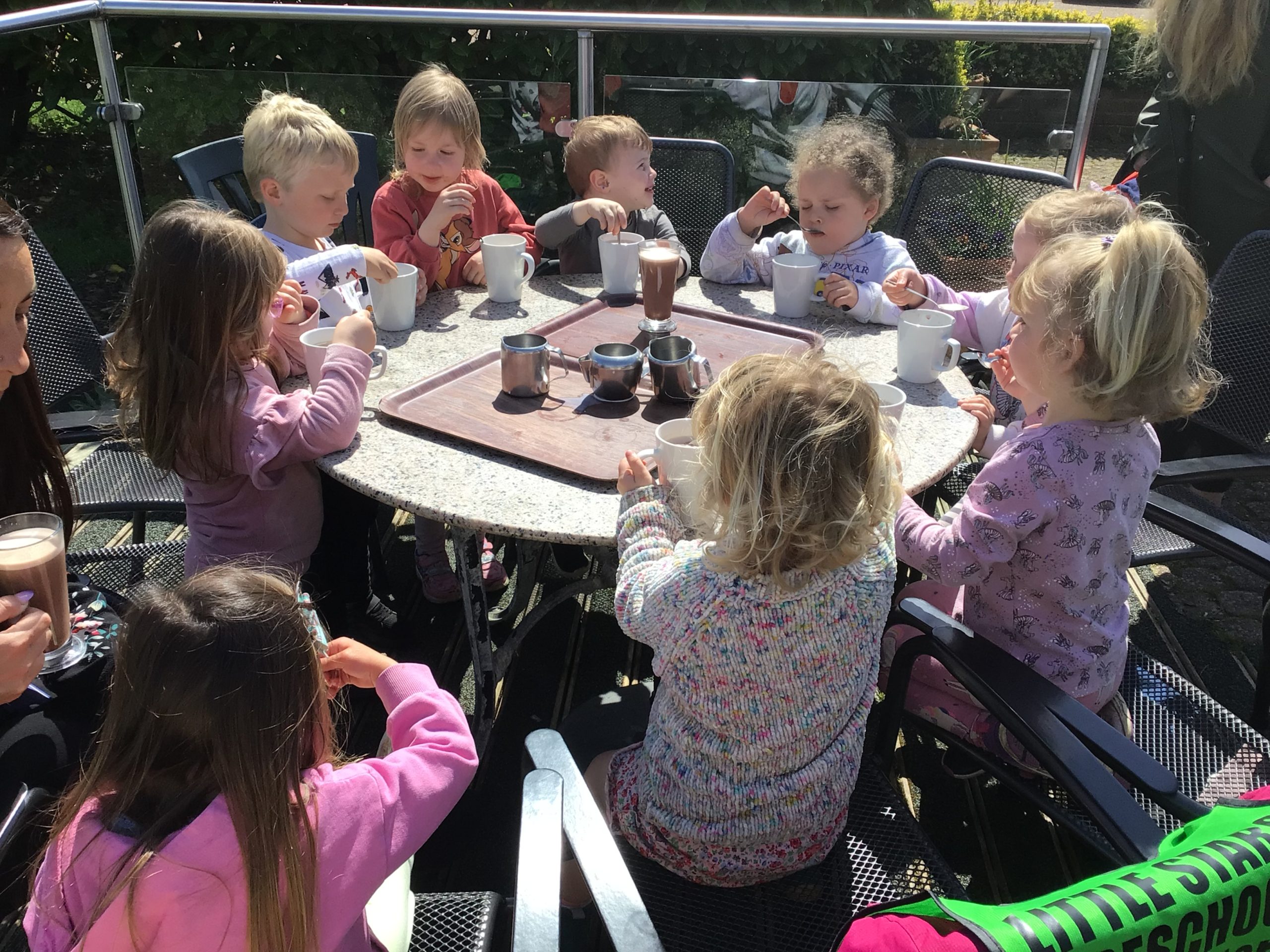 What have Little Stars been up to this week……
It's been a week of baby lambs, puppy walks, & gooey slime!
Everyone fell in love with the 2 day old lambs that came to visit! We were so lucky to get to pet the lambs & feed them their milk! They were very friendly & cute, soon making themselves at home in Little Stars! We couldn't let our Reception Class friends miss out so we made sure to give them a wonderful surprise visit too!
Our beloved four legged friend Molly loves walks just like us, even when it's raining! We tried singing Rain rain go away but the rain was determined to make us puddles to splash in with our wellies! Thankfully the children see the rain as another source of their adventures!
We made slime! Green gooey slime! This provided the children with hours of entertainment, there was lots of descriptive language being used such as 'slippery, stretchy, slimey, yucky, gooey, swampy' and there was lots of cleaning up afterwards ha ha!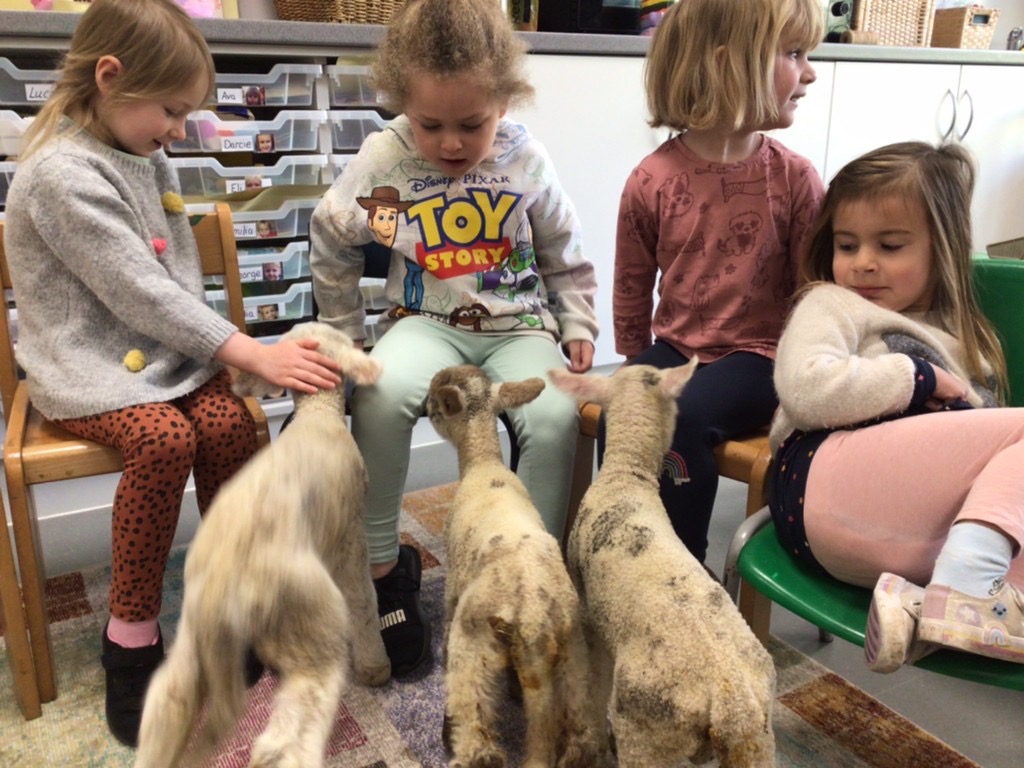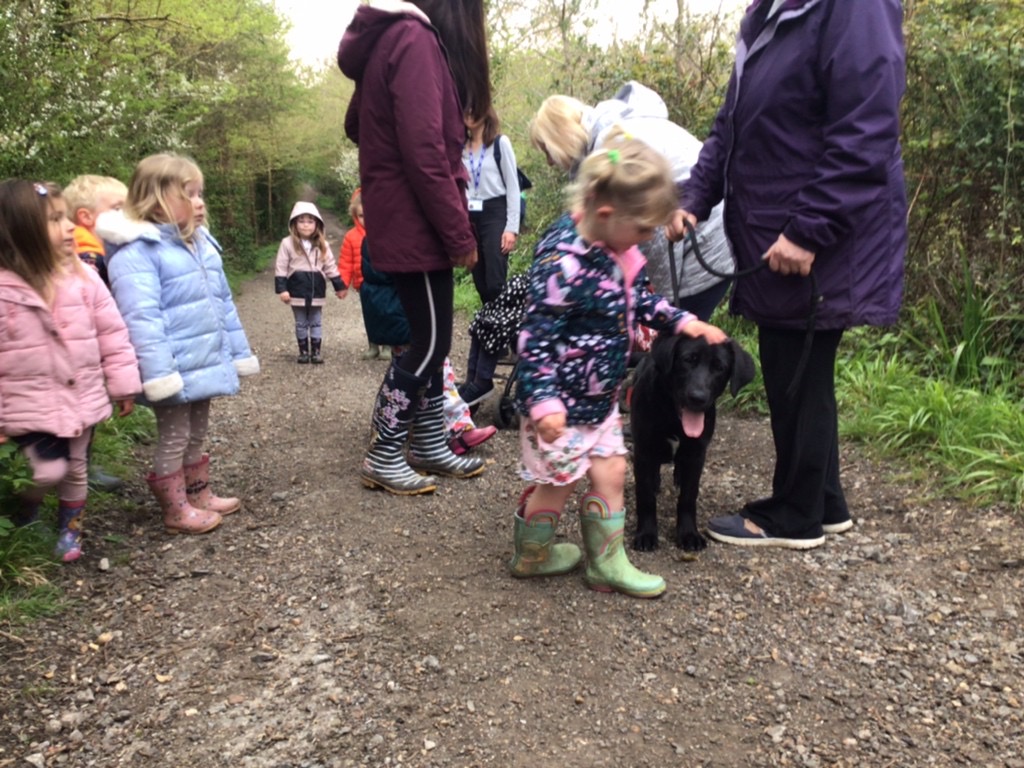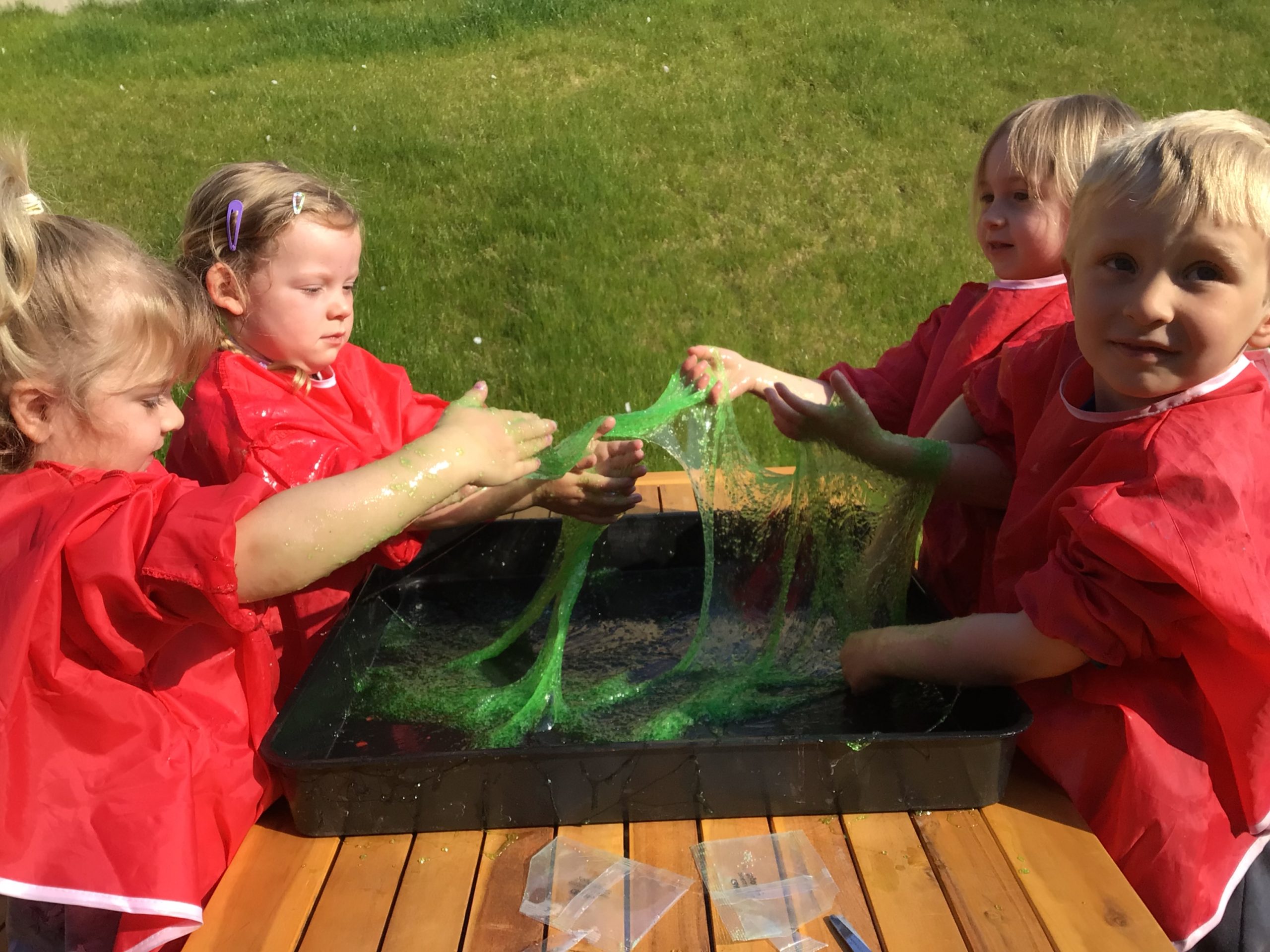 What have Little Stars been up to this week……
It's been a very busy week! To celebrate Earth Day we have been looking at our solar system learning all about the planets! We even made the planets using papier-mâché! It was fun using the foot pump to blow up balloons to represent the different sizes of each planet! There may have been one or two explosions with the children convinced they could squeeze in one more pump of air hee hee! But despite that we are now proudly displaying our very own solar system across our seashells room!
It was great fun swimming, we made whirl pools & lots of big splashes!
A visit to the local library with Reception Class was enjoyed by all, exploring books, singing songs, and investigating the different resources. There were lots of interesting books, we even found some about dinosaurs & planets, two of our favourite things at the moment!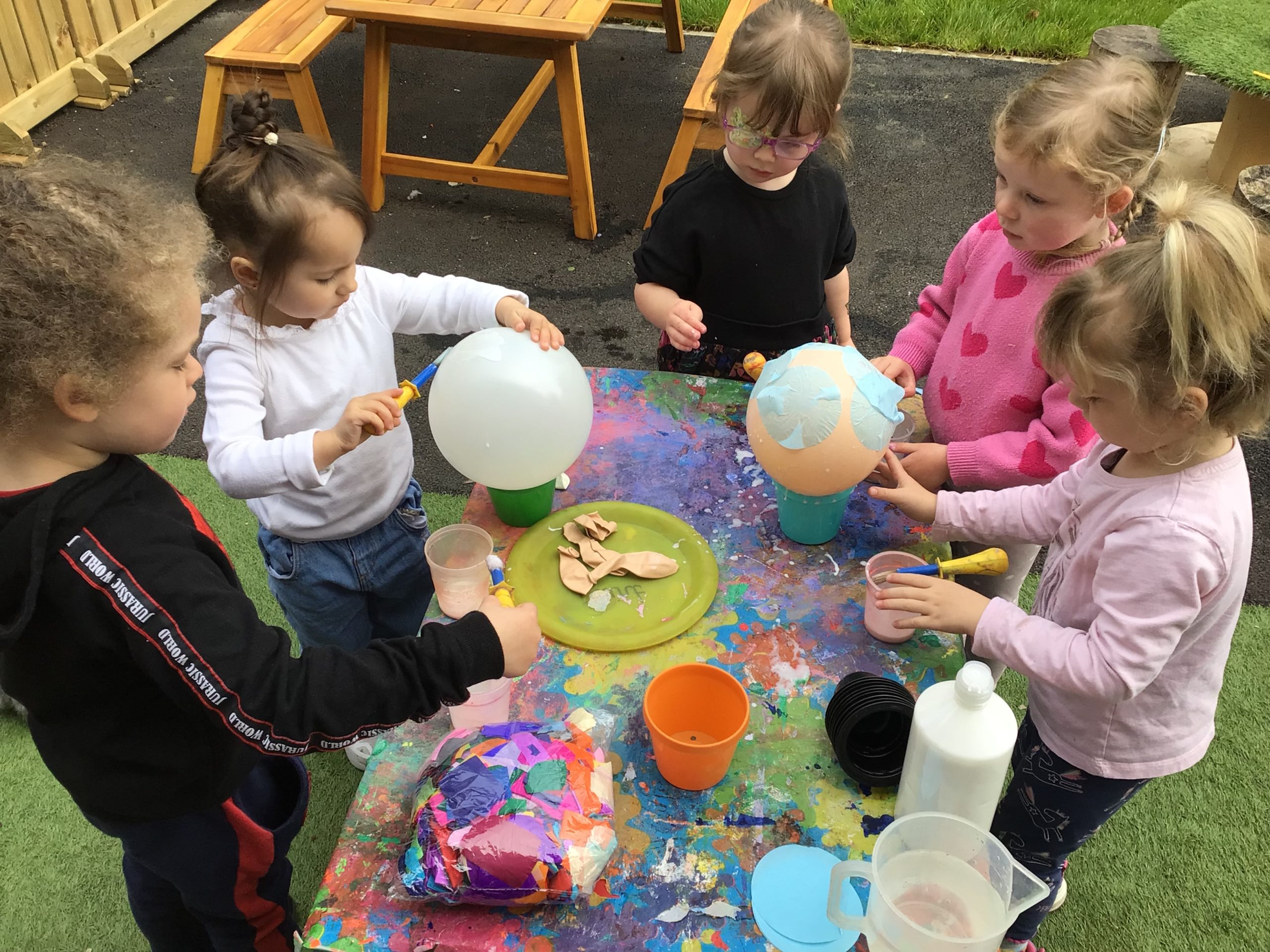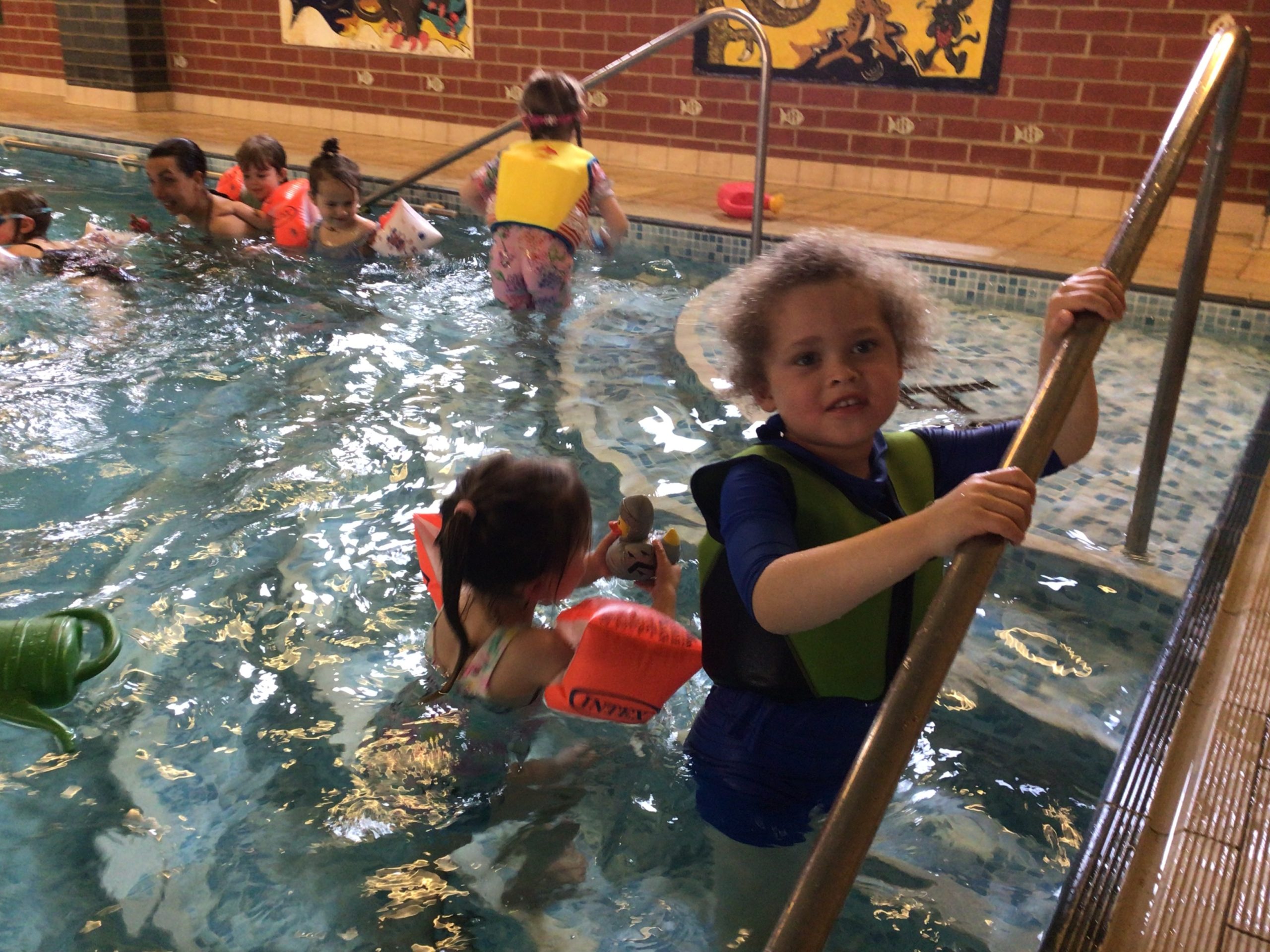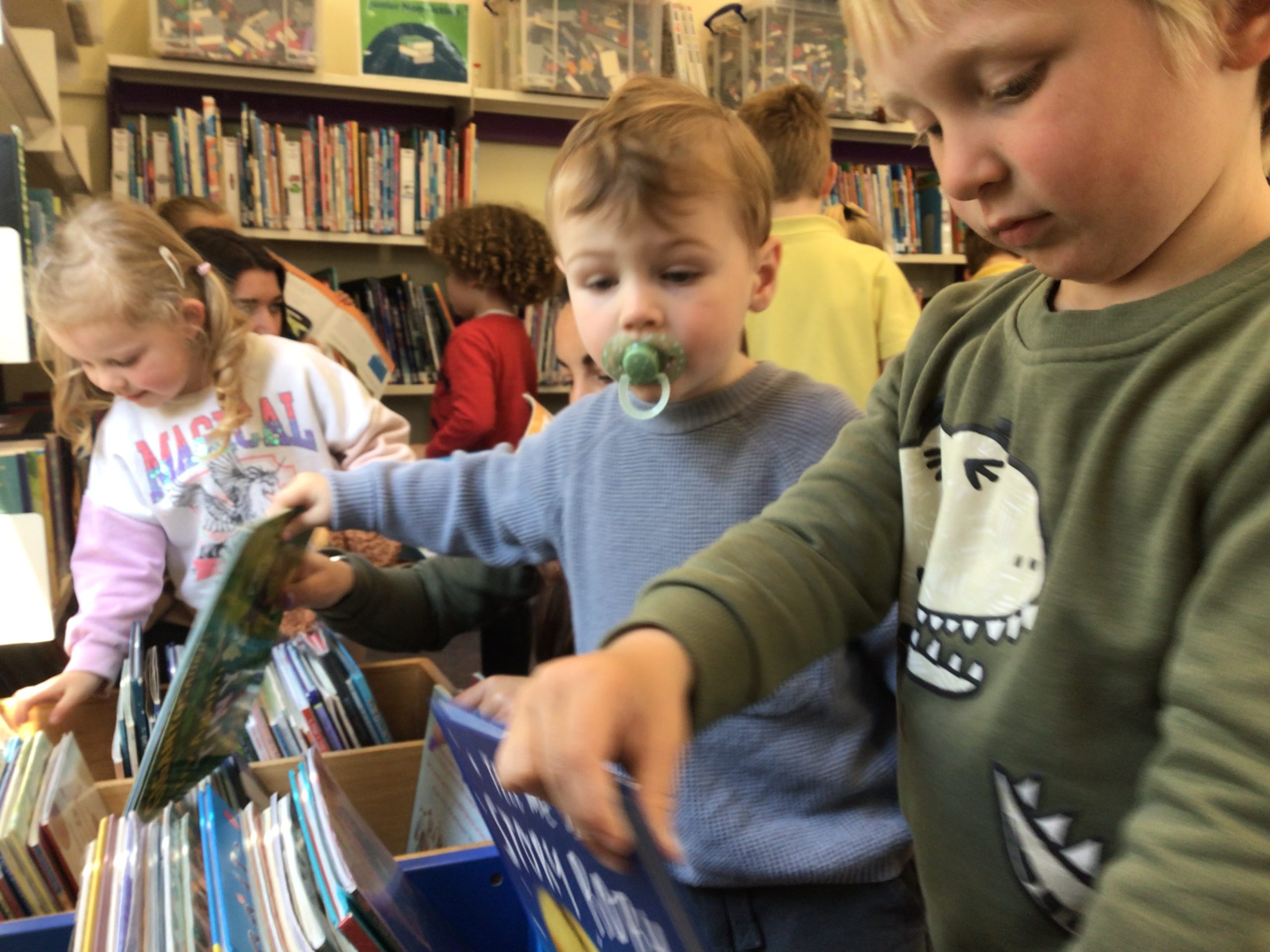 What have Little Stars been up to this week……
"Little Stars & Beach Class have been on adventure to find some ducks! Not only did the children find ducks they found lots of swans, a single goose, and even some moorhens! Along the way the children made lots of observations, pointing out blossom trees, flowers, sheep, birds, animal tracks, and much more! Despite the rain there were smiles all round, and some very well fed ducks!
In the hall the children have enjoyed parachute games, unfortunately for the adults one of the games was zapping us with their static electric hee hee! Just look at the hair!
With great progress being made in the Forest School garden we shared a story called Oliver's Vegetables & have started planting some seeds."
What have Little Stars been up to this week……
Oh my, the children were so excited to meet some real life opera singers! It was amazing listening to them sing, we even heard them sing in french! The look on the children's faces was priceless, it was like they couldn't believe what they were hearing! As far as the children were concerned they'd met two beautiful princesses!
We also had a return visit from puppy Molly who came to play for the morning! The children threw balls for Molly & gave her plenty of tickles, Molly even stayed for story time joining the children in listening to Oi Dog by Kes Gray & Claire Gray.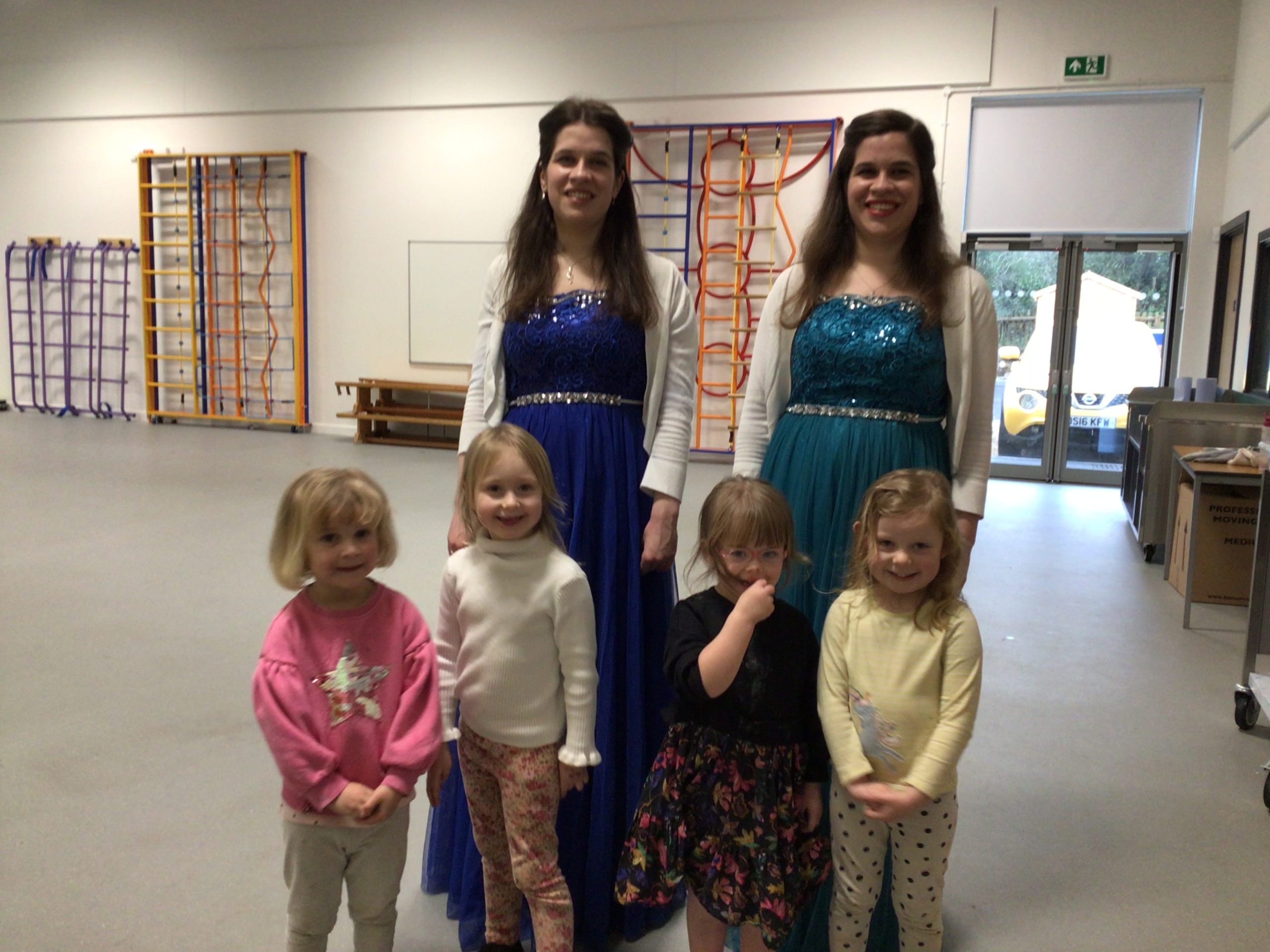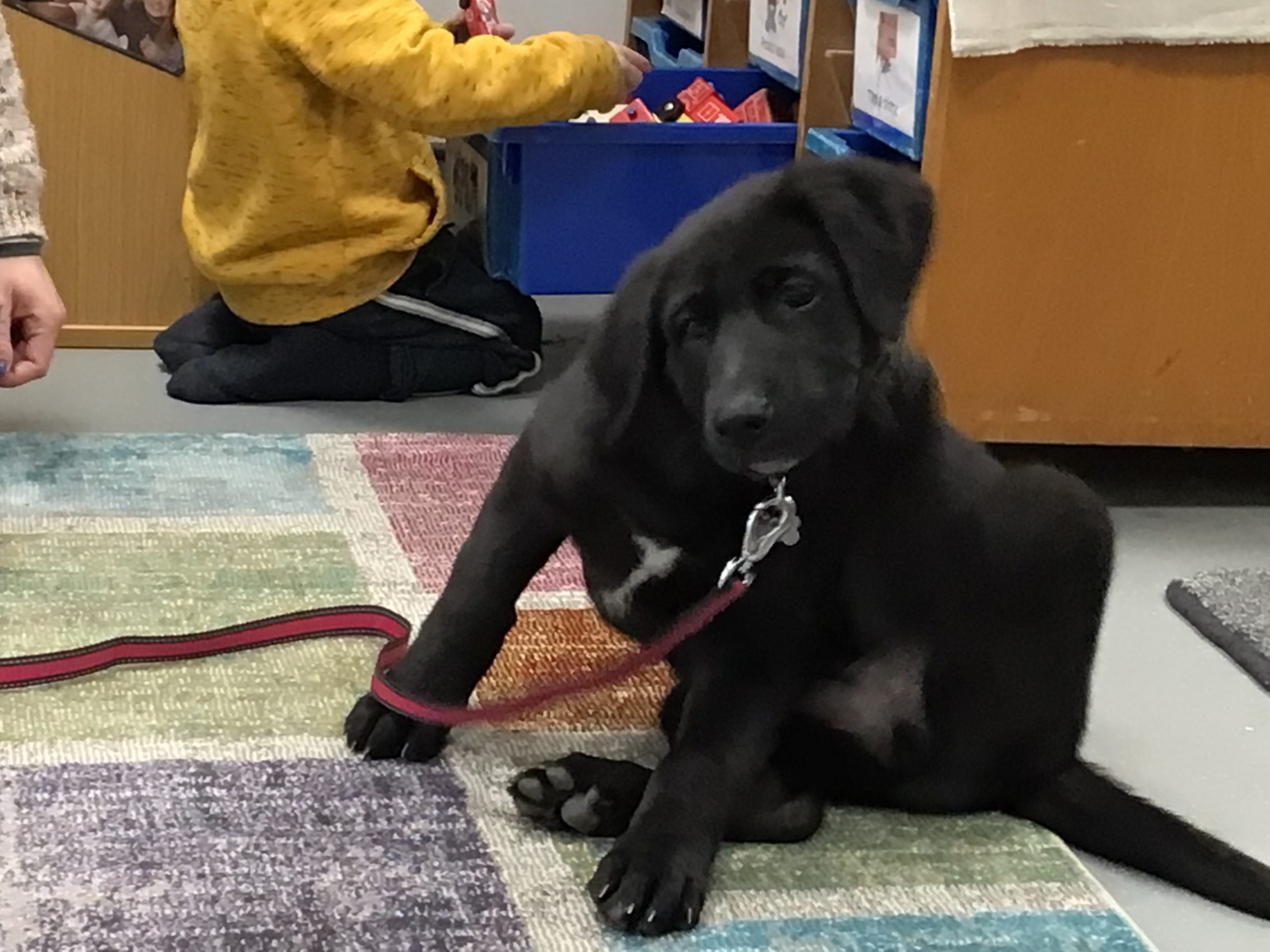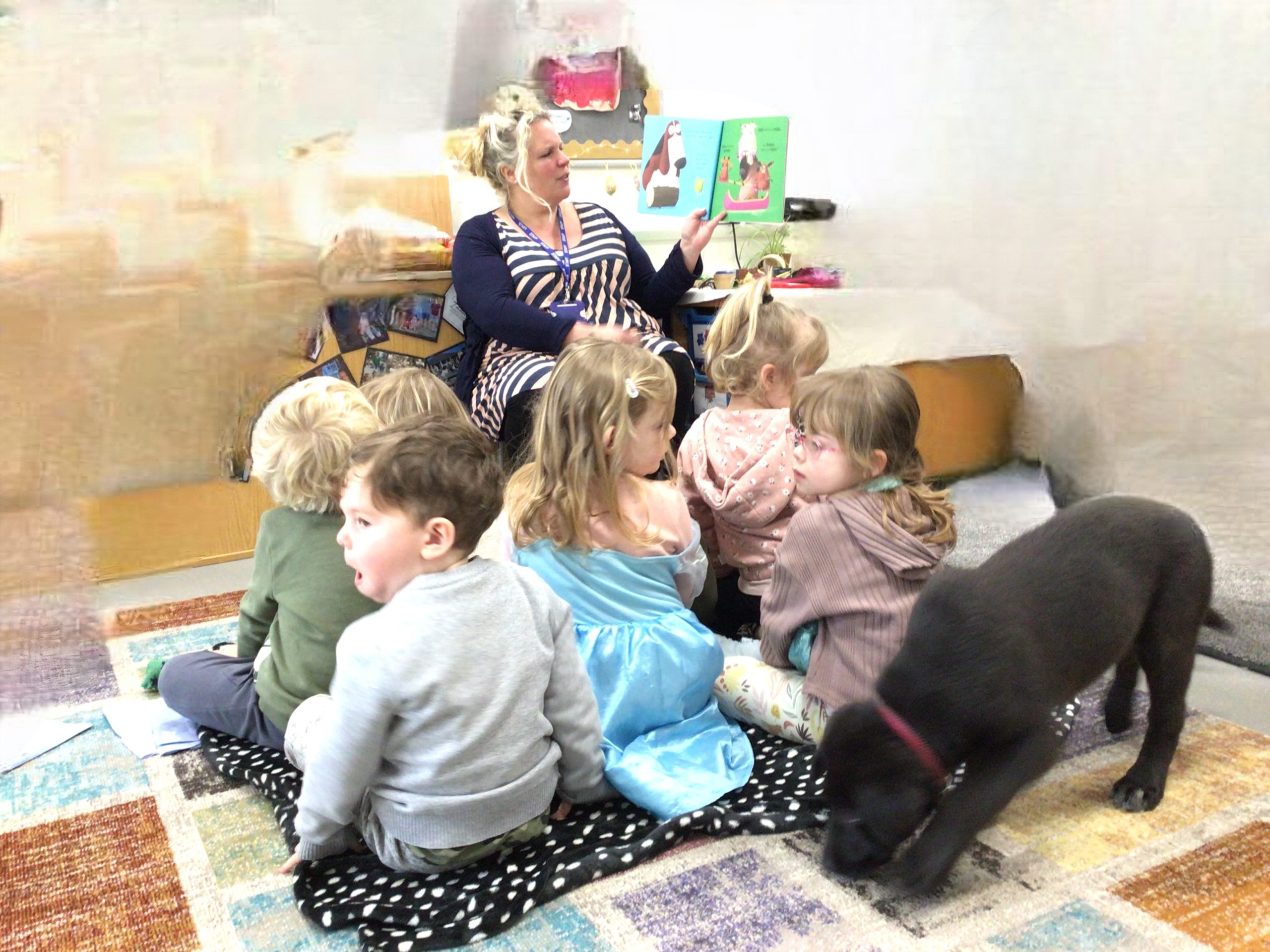 What have Little Stars been up to this week……
Wow just look at these colours! Continuing with the children's interest in all things spring we have been exploring the different shades of Spring! This has provided us with a great opportunity to introduce the children to even more colour names such  violet, sage, tangerine, primrose, burgundy etc. Children mixed up some blue & silver to make a shimmery turquoise sea, and they used syringes to mix up some lovely colourful spring floral perfumes talking about the new colours azure, lime green, cobalt, tangerine, sky blue etc.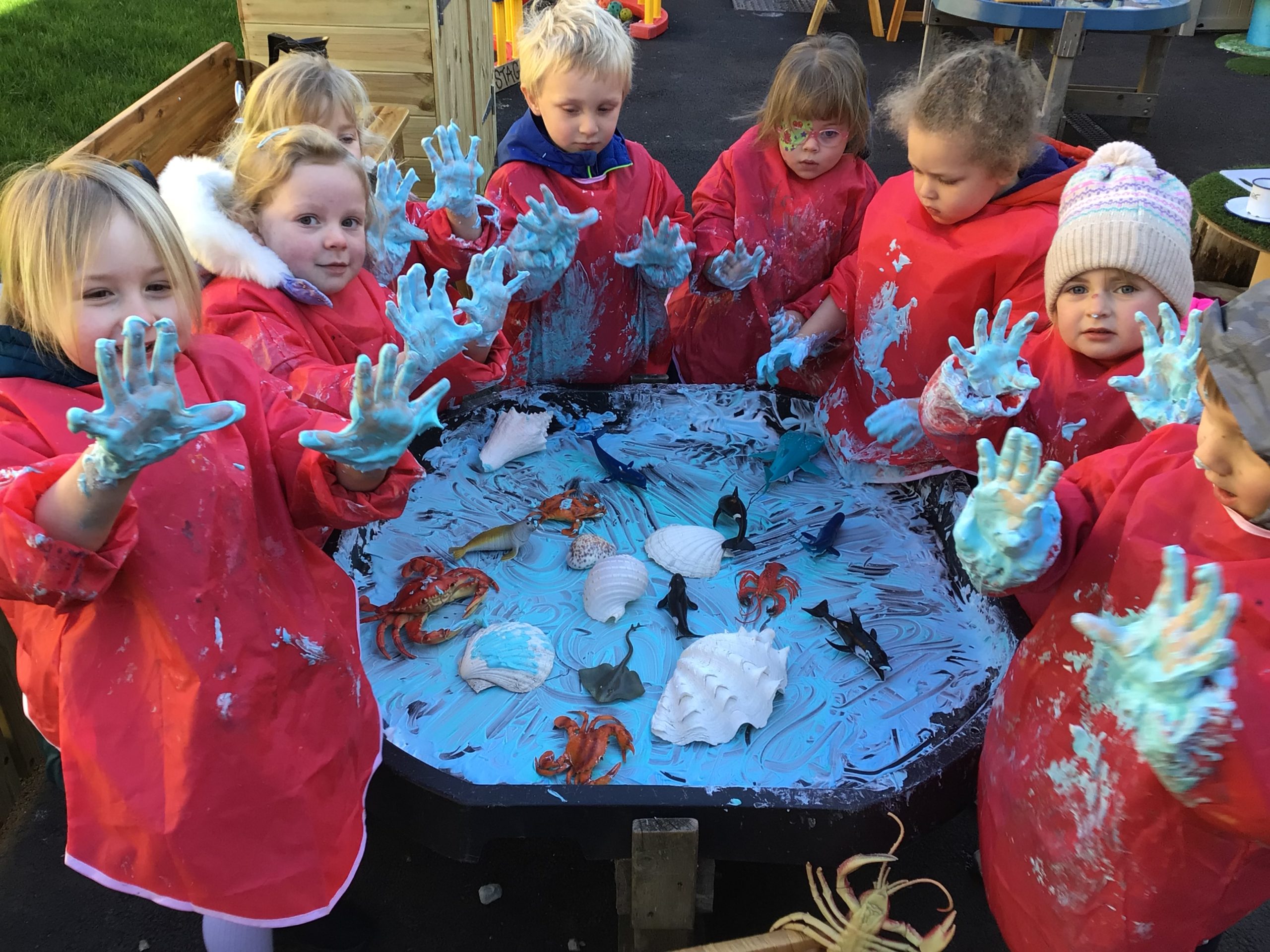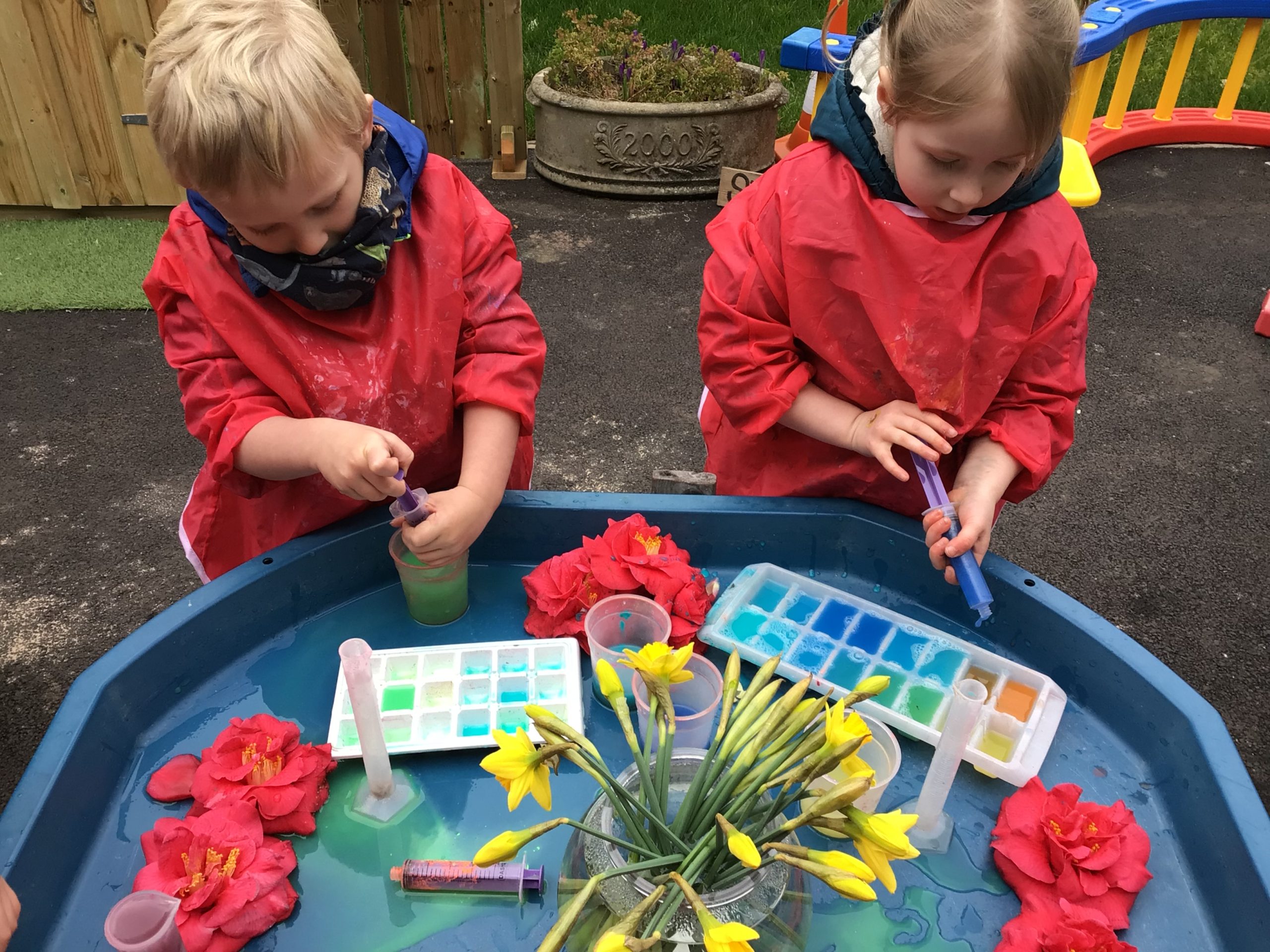 What have Little Stars been up to this week……
As the children are really interested in the natural environment we have been learning all about what to expect as Spring approaches!
Children have been quick to point out flowers that are beginning to bloom, nests in trees, changes in the weather, and even commented how happy the birds sound!
We were very lucky to meet the gorgeous puppy Molly for the first time! The children were in awe of 8 week old Molly, giving her cuddles and belly tickles, they even sang her a song! Molly & the children clearly fell in love, thankfully Molly will be returning on a regular basis 🙂
Did you know: A dog can instantly help to calm children and allow them to practice regulating their emotions. Children tend to relax and focus because they are  gentle with the dog during their time together. Often, children then go on to apply these skills in their everyday life
What have Little Stars been up to this week……
This week we have been celebrating Shrove Tuesday also known as Pancake Day!

It appears all the children love a pancake! Each child selected various toppings to finish off their snack time pancake treat! Yum Yum!

We have not just been eating pancakes, we have been racing with them too! In Yarmouth Town Square the children lined up at the starting line & then ran super fast in the pancake race! It was great fun watching the rest of the school years race too! Many cheers & claps all round!

Afterwards there were lots of smiles on the bus before returning back to school!

Following on from our Shrove Tuesday celebrations the children have been exploring lemons & limes, making lemonade & fruit punch! The smell has been amazing!

Did you know it is estimated 52 million eggs are used in the UK on Pancake Day?! Wow!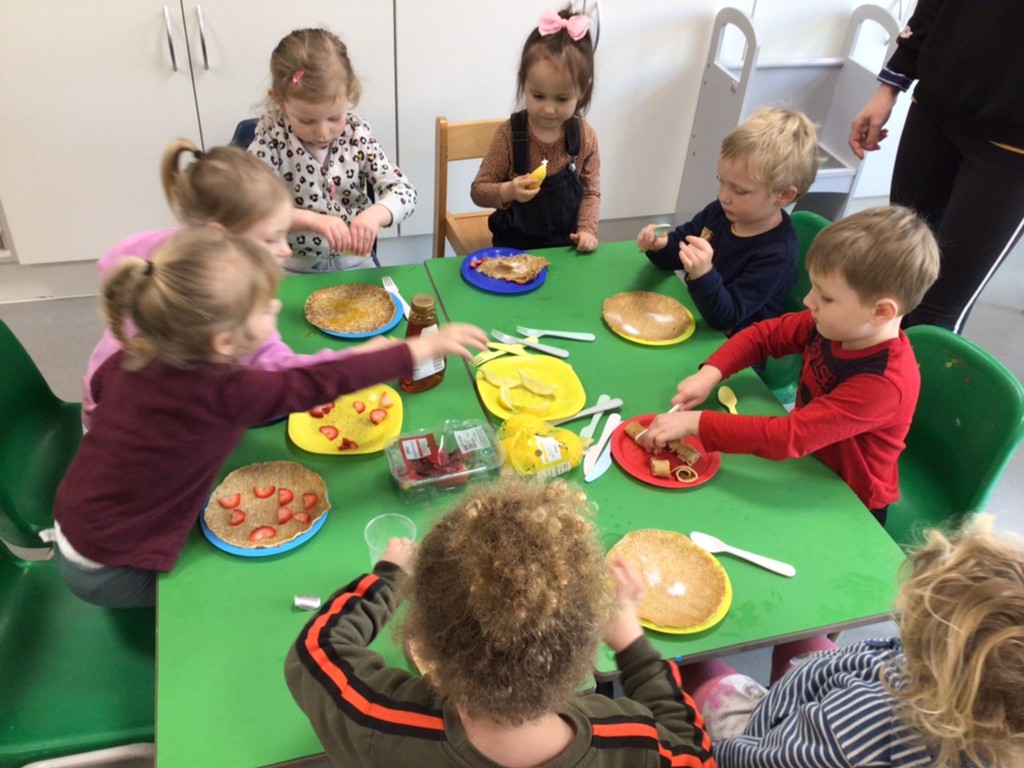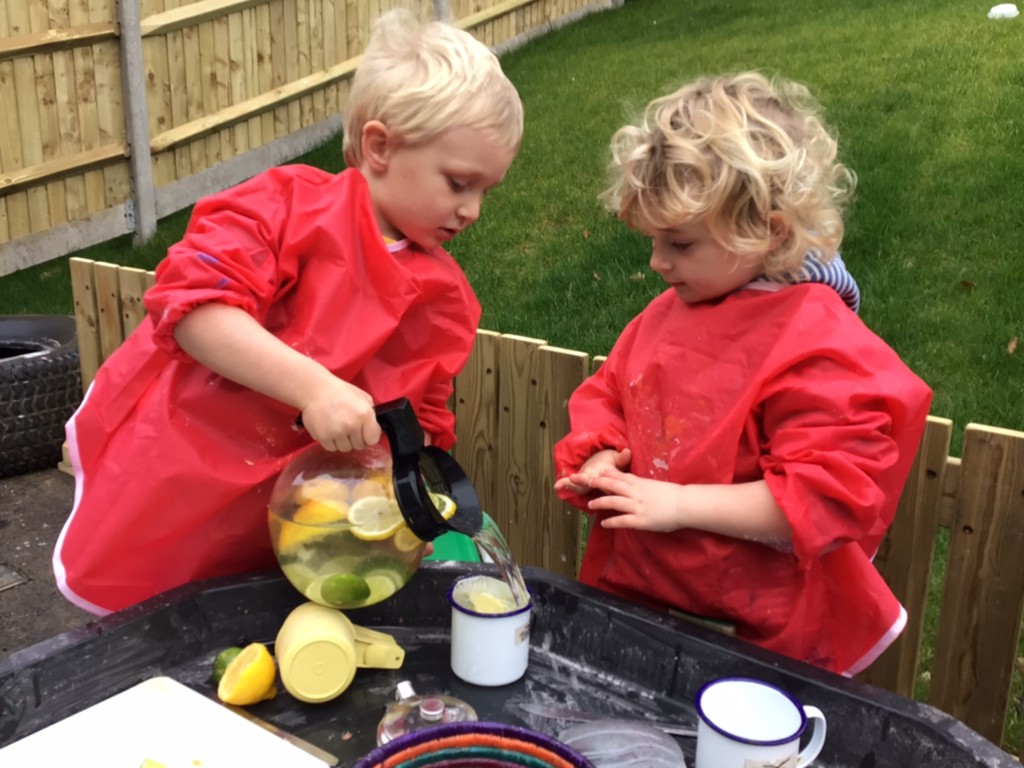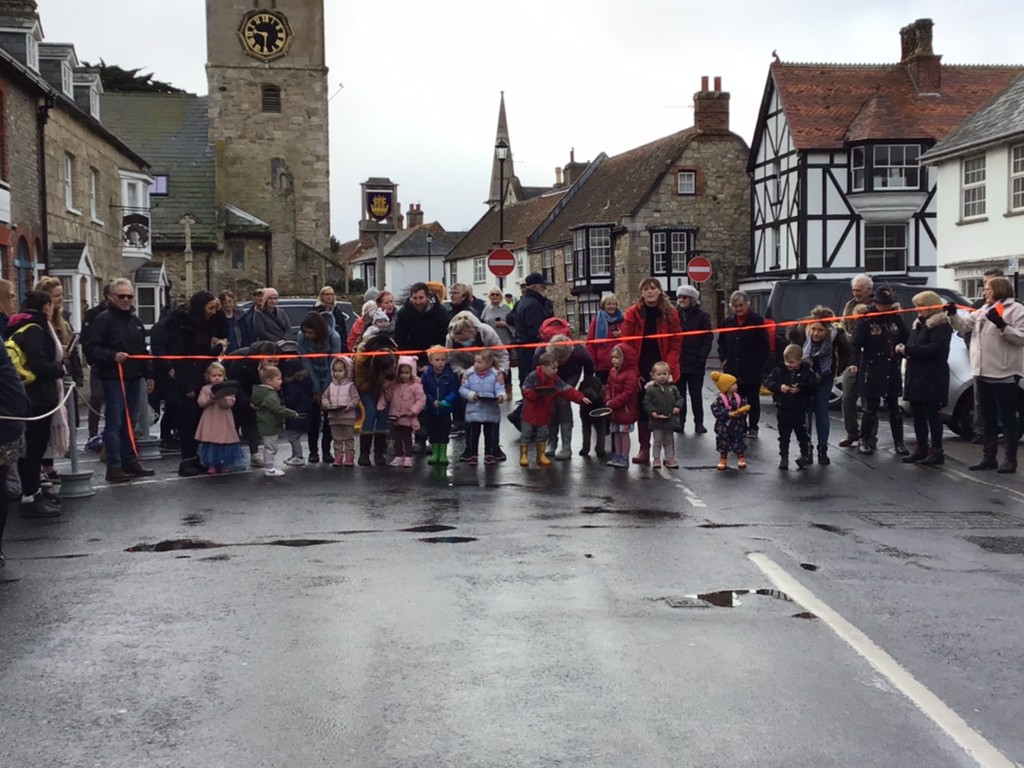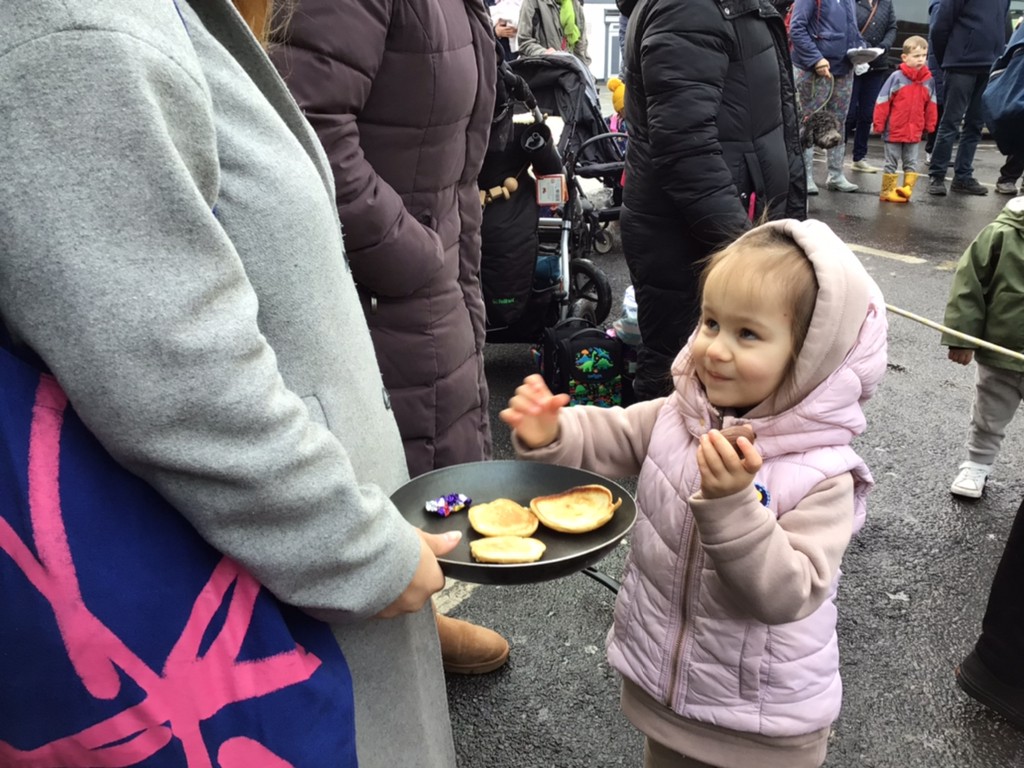 What have Little Stars been up to this week……
It's been busy at the cafe this week! Thank fully the children did a super job looking after the customers! Cakes, smoothies, and fruit salads were enjoyed by all!
We have also been exploring tools to make some new toys! The children looked at the instructions, worked out where to put the screws, and used the screw driver to successfully build a lovely wooden windmill.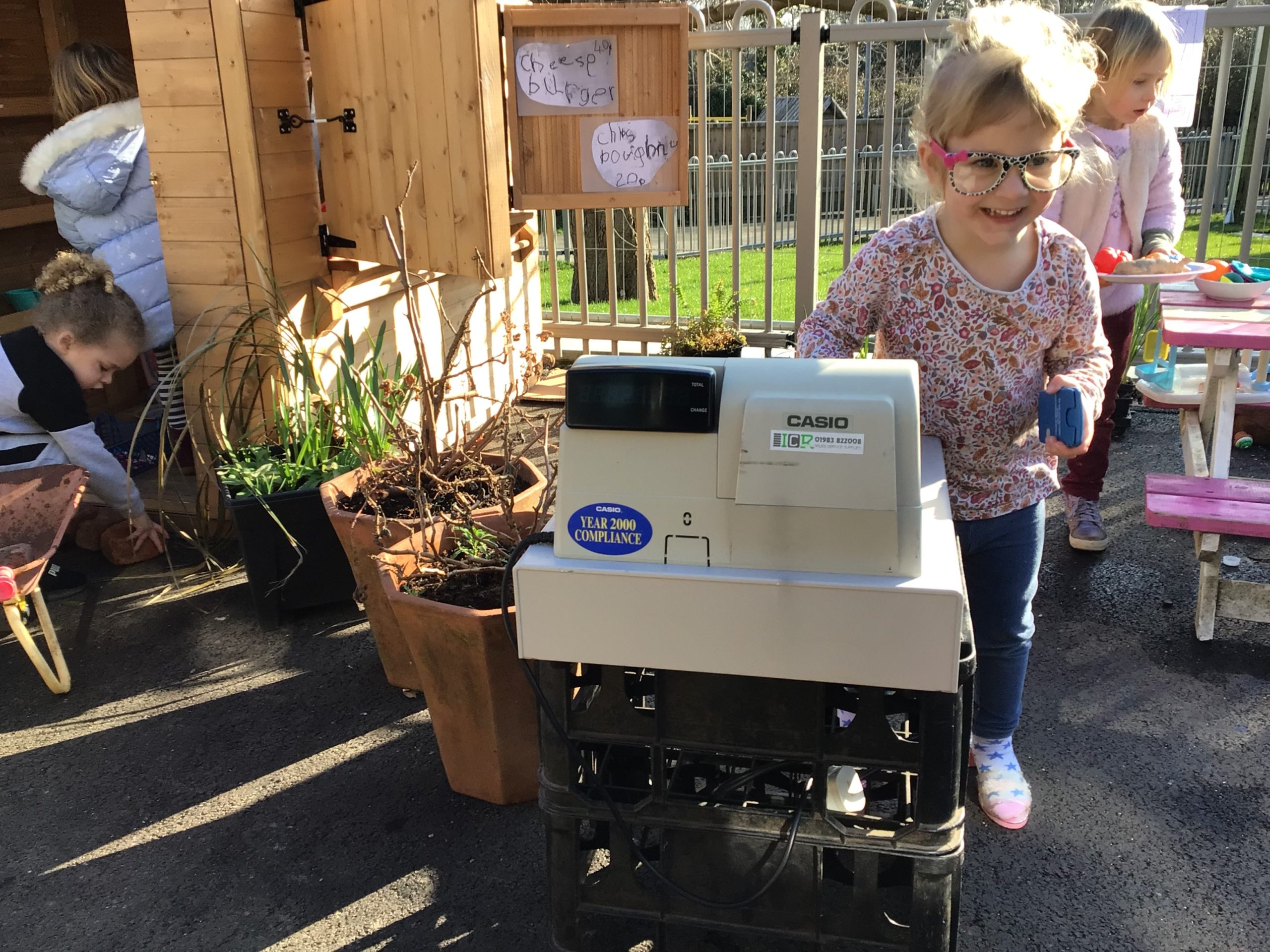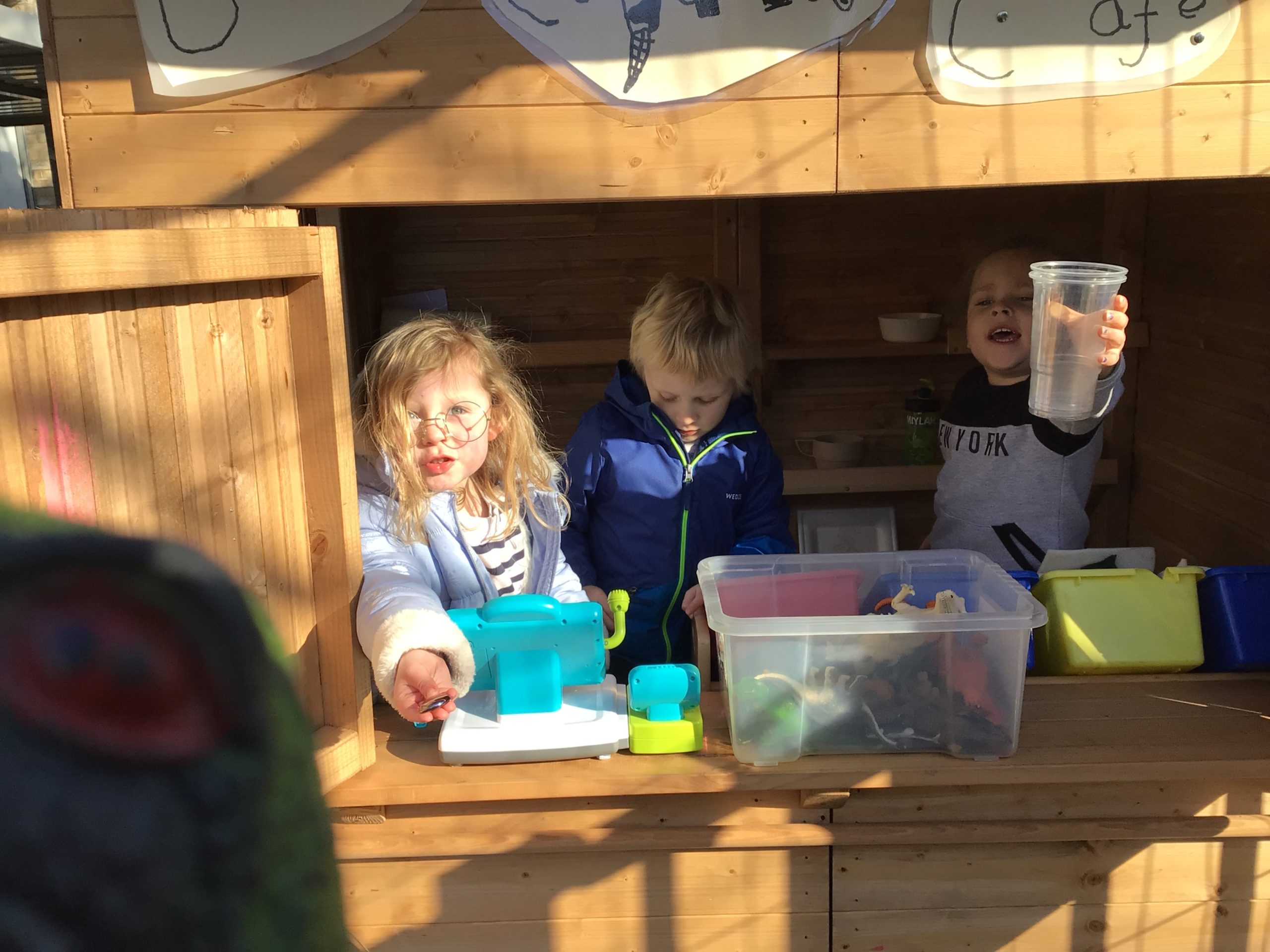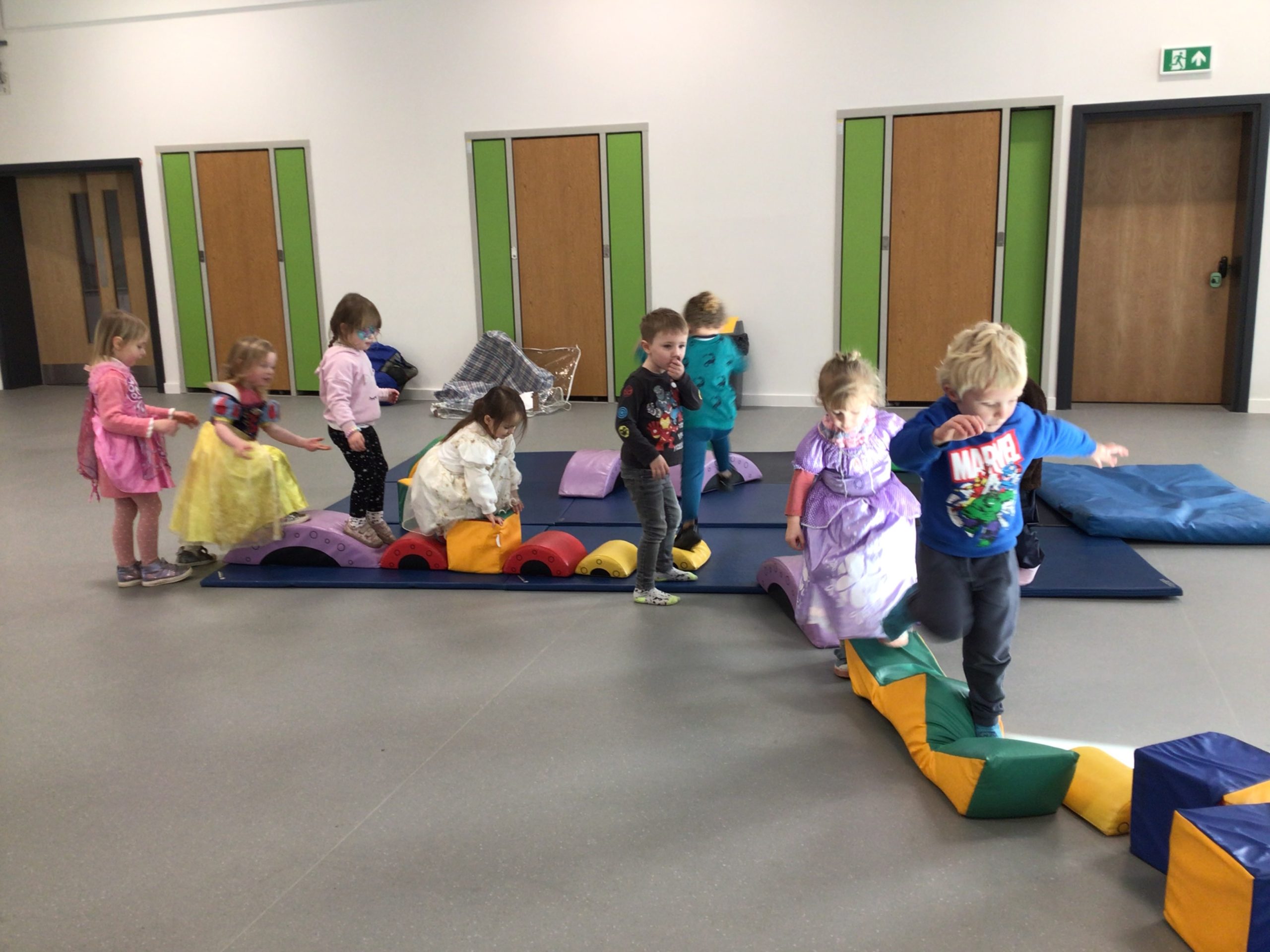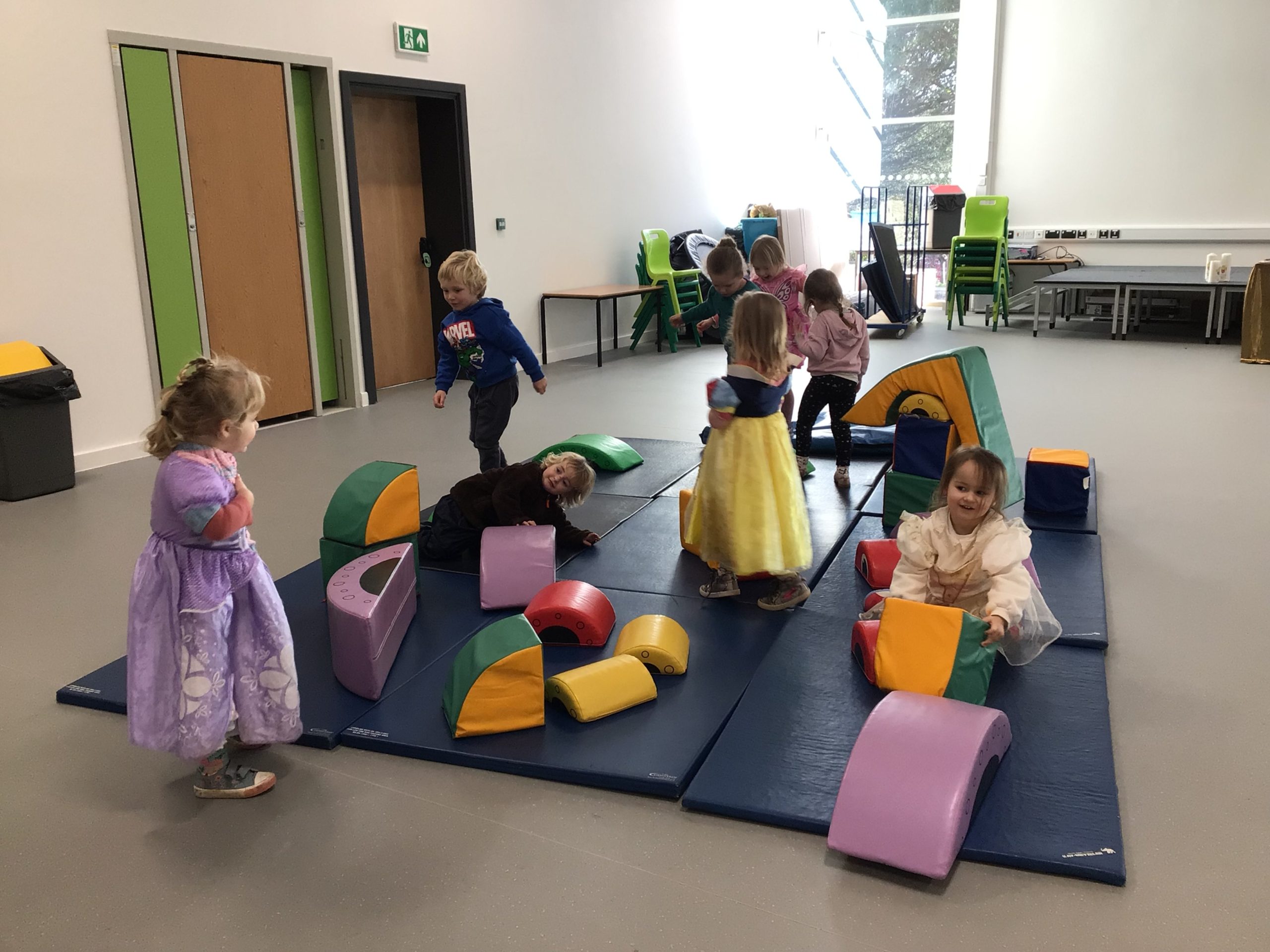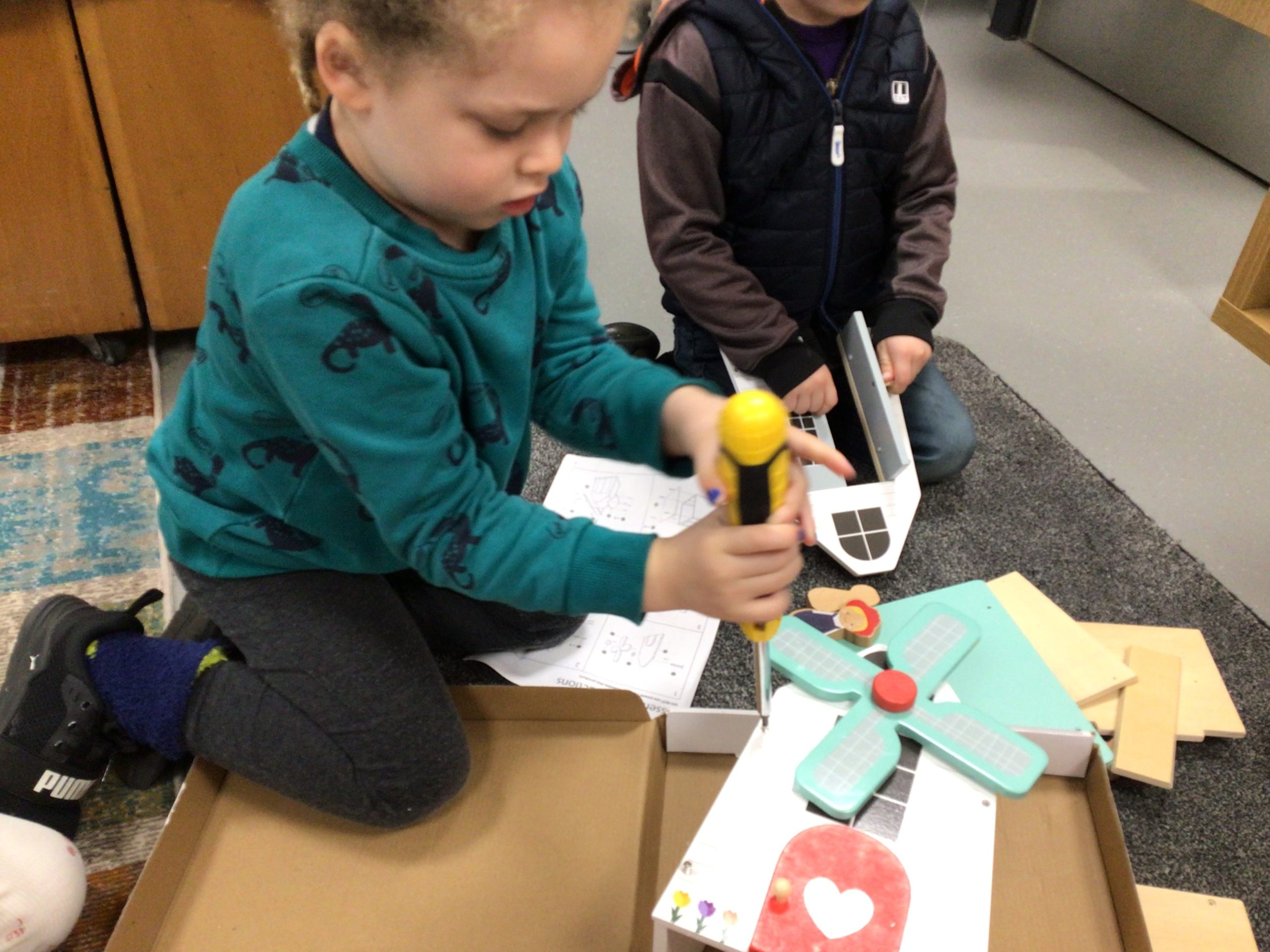 What have Little Stars been up to this week……
This week the children have spent a lot of time in the home corner, dressing up, preparing meals, cleaning, caring for babies, and taking care of pets! Miss Sampson was treated to a scrumptious breakfast prepared by the children! They even got out the fine bone china! Thankfully Miss Sampson has a steady hand!
One day a Chinese Dragon turned up at school! Luckily the EYFS children have been learning all about Chinese New Year and knew exactly what to do! All of the children created red decorations, because Nian the dragon doesn't like red! They even made drums & shakers to scare Nian away as he hates loud noises! Working together they were able to scare off the dragon! Of course this was celebrated with Chinese music, dancing, noodles, prawn crackers, and lots of fortune cookies!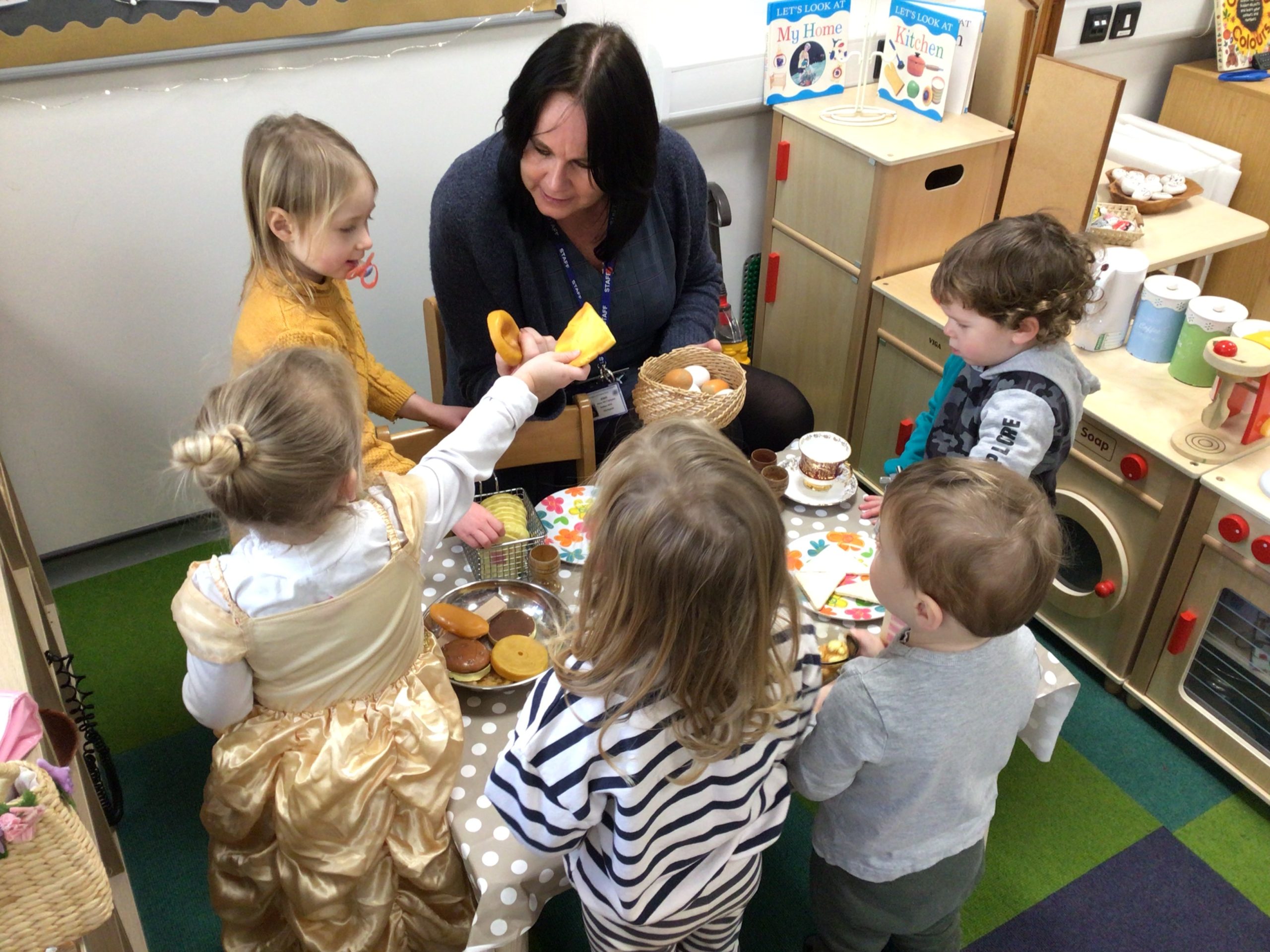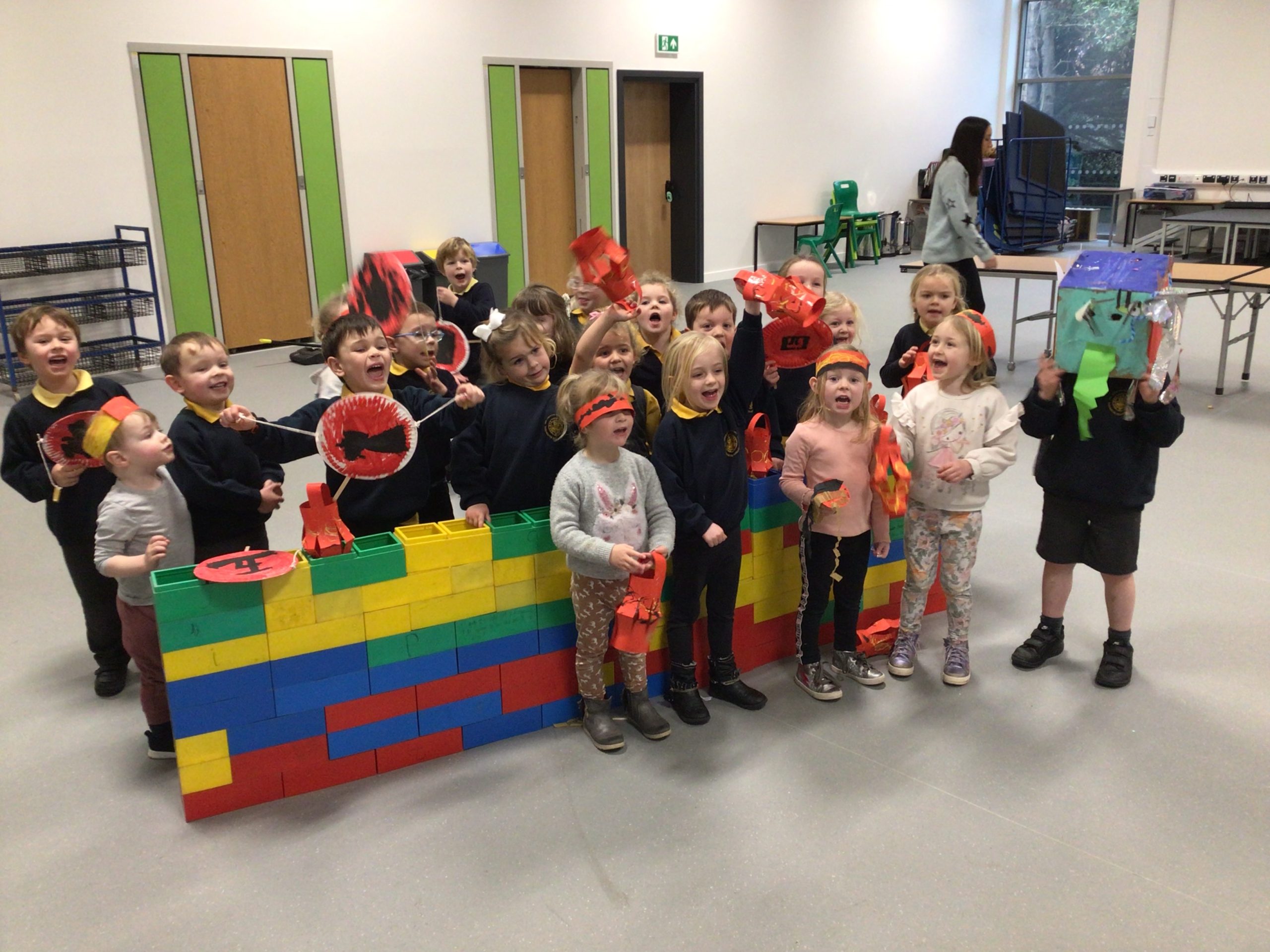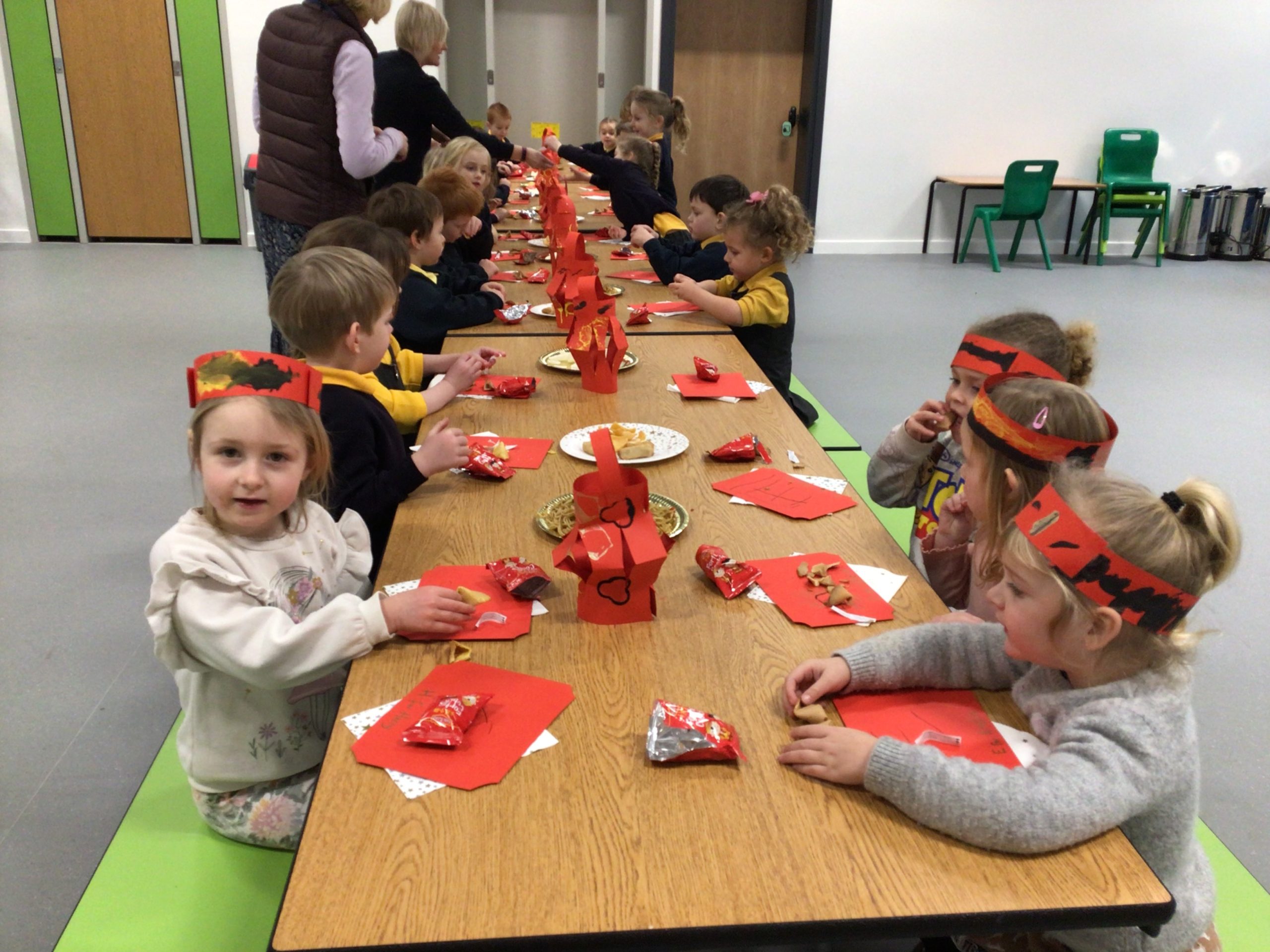 What have Little Stars been up to this week……
This week Little Stars Preschool have been making the most of the cold spell with the children creating ice swamps and rainbows! They had loads of fun cracking & melting the ice, making lots of discoveries such as golden treasure hidden inside the ice!
It's been busy at Little Stars doctors surgery, thankfully the children accepted walk in appointments & were quick to make our Headmistress Mrs Grainger feel much better!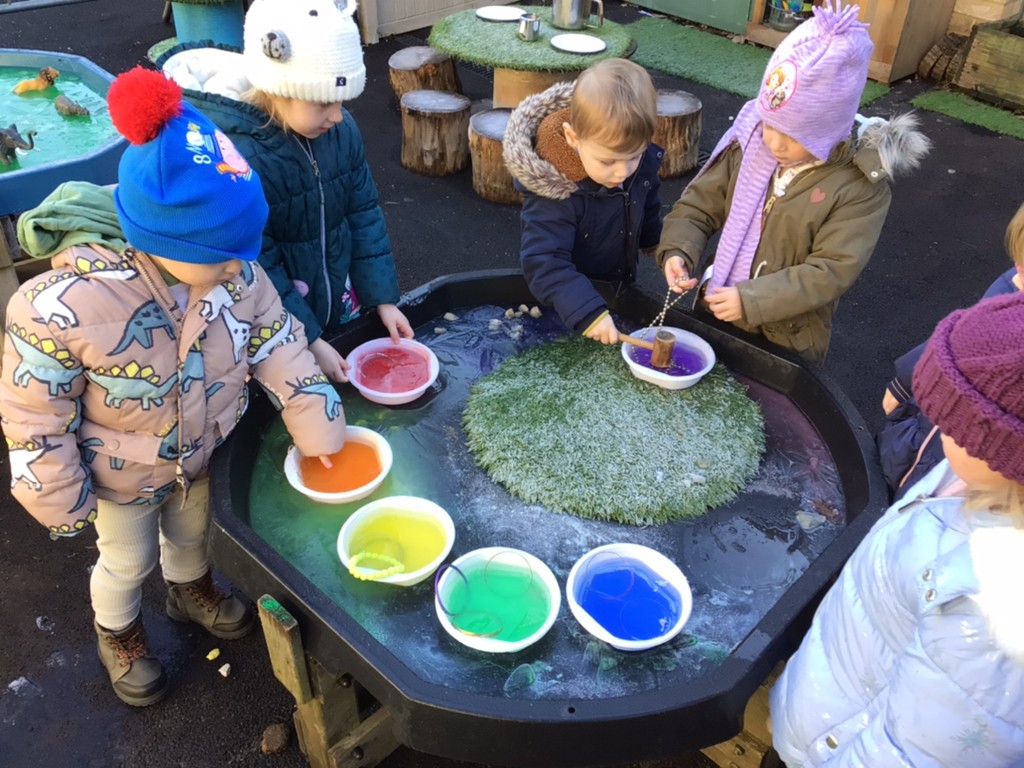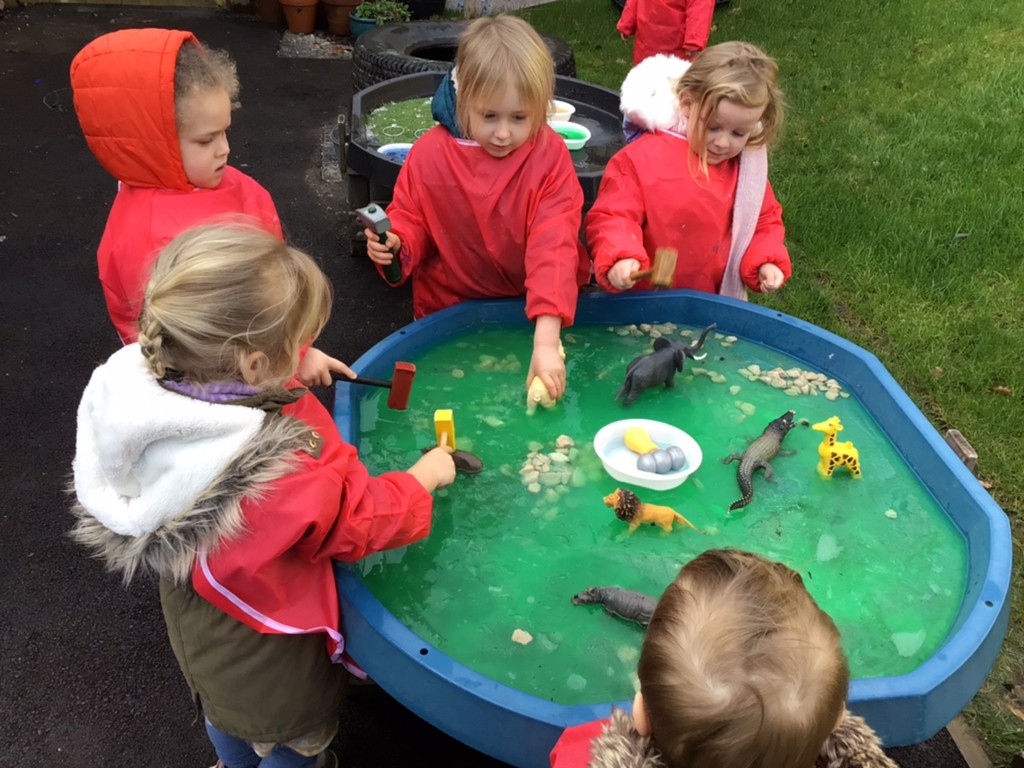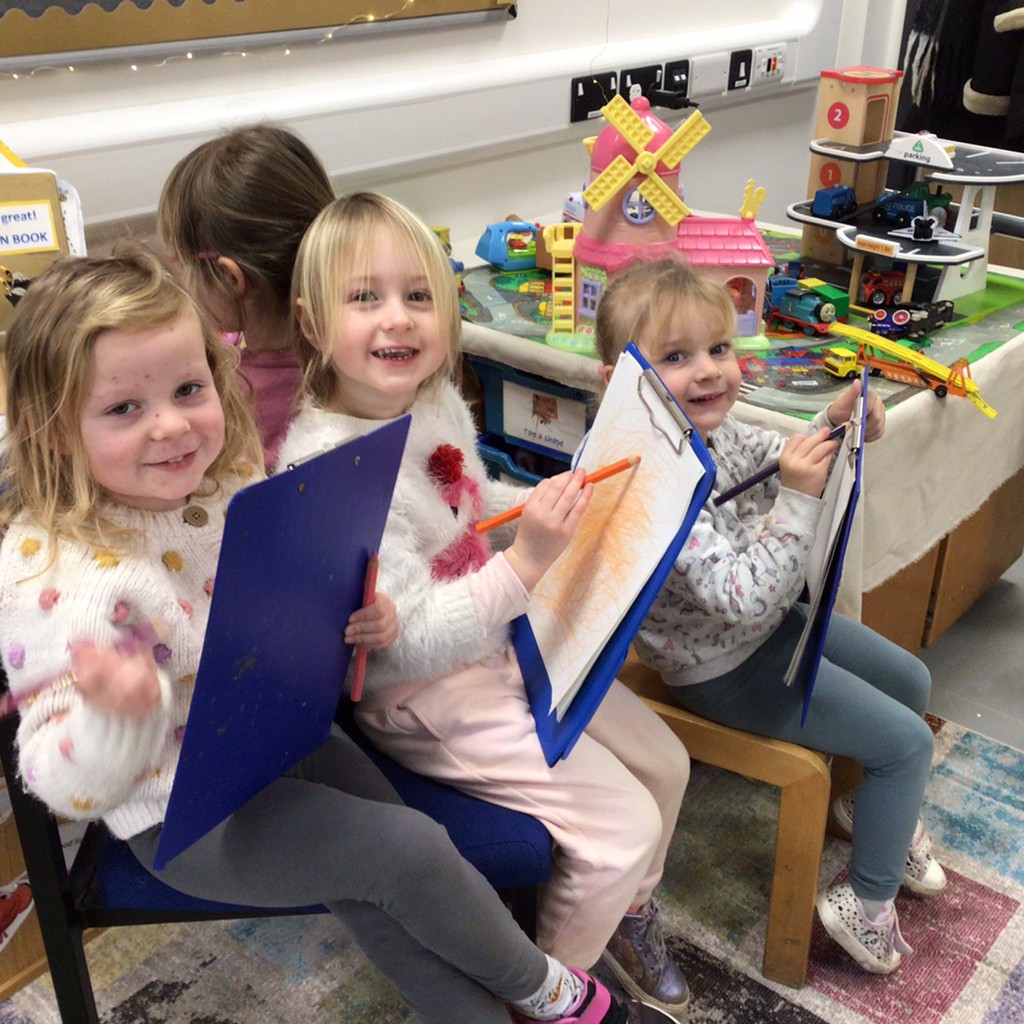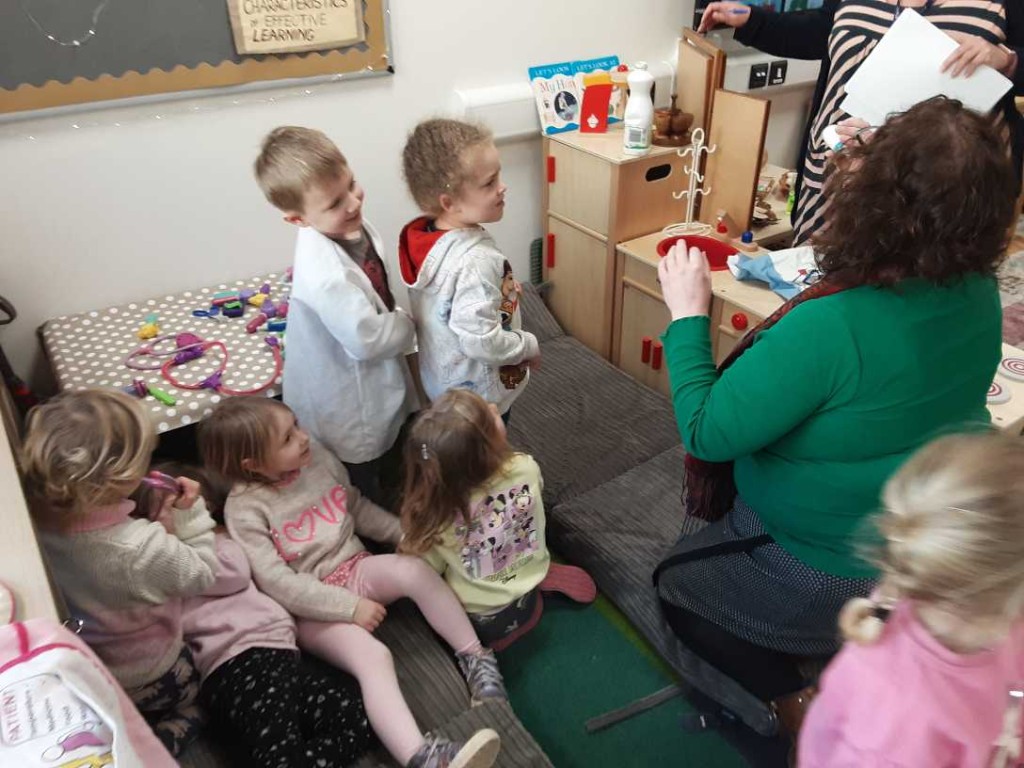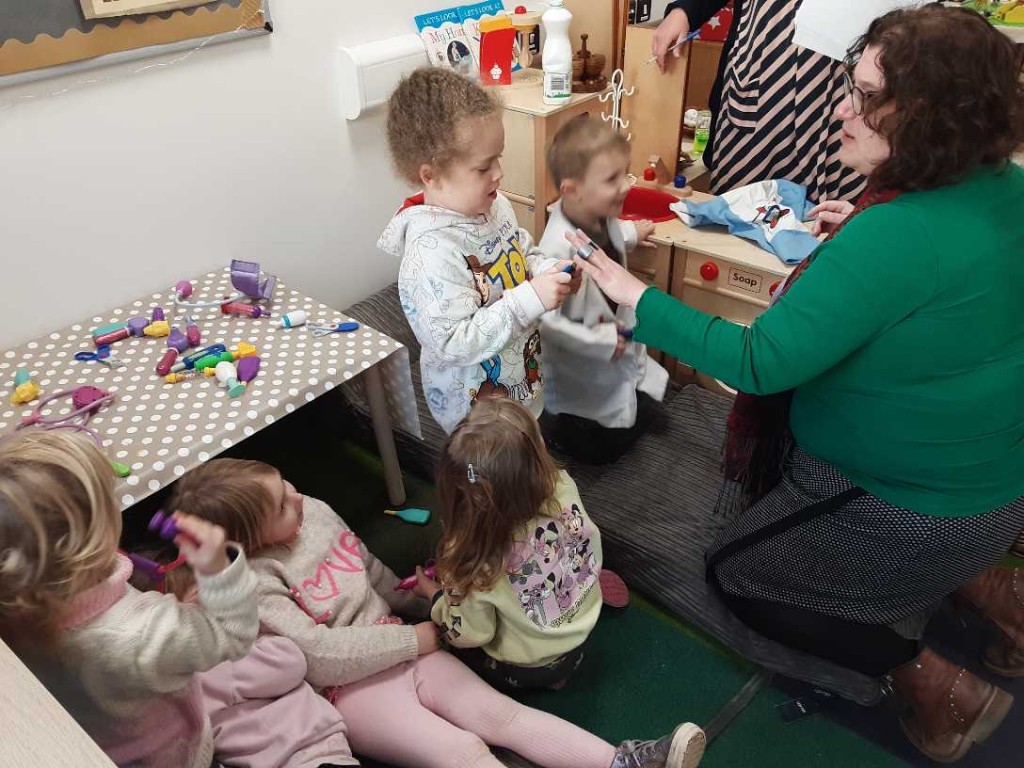 What have Little Stars been up to this week……
"This week in Little Stars Pre-school & Beach Class, a surprise visit from a Tiger who wanted some tea inspired much planning and preparation for a teddy bear's tea party. Children from Little Stars preschool and Beach Class (Reception) snuggled down together to share the wonderful story by Judith Kerr and this inspired them to join forces to write shopping lists for ingredients so they could bring their chosen recipes to life. Sausage rolls, cheese straws, rock cakes and a delicious fruit salad were amongst the treats cooked up by Little Stars & Beach Class children. No party would be complete without decorations, party hats, invitations and banners, so the children worked busily to craft these items in time for the teddy's arrival.
When the day of the tea party arrived, pre-school and reception children brought their toys from home and enjoyed a super afternoon party filled with tasty treats and party games. We love to work together across our EYFS Unit and we are delighted that our new school offers even more scope for this. Our Tiger and Teddy's tea party helped the children to see just how much fun they could have when working as a team" Mrs Haisell and Sadie