Photos from some of our Inspire Days….
OUR VISIT FROM IOW SPORTS STAR … ZAC LACEY
We had the privilege of a visit from Isle of Wight sporting star Zac Lacey who had returned from the Down Syndrome European Swimming Championships in Padova, Italy. Zac was part of the 33 strong Great Britain Team that won a total of 50 podium medals and become the top country in Europe to add to their World Title won last October in Portugal.
Zac, who turned 23 while in Italy, had a busy year swimming three major international competitions in the last 11 months. On top of this he has completed his lifeguard and sports instructor qualifications and has started work with the Isle of Wight Council's One Leisure.
Zac came away from the European Championships with two gold and four silver medals. The highlight was winning the 200m Butterfly which gave him the European crown to add to his World Title and he then went onto win silver medals in the 100m and 50m Butterfly, both in new personal best times. Zac was also part of the Mixed Medley 4 x 100m relay team that won Gold and part of the men's 4 x100m Medley relay and 4 x 200m Freestyle relay teams that won Silver medals.
Zac has been competing since the age of 10 and has had the privilege of working with many coaches on the Island, he is very proud to be a member of Seaclose Swimming Club. All of Zac's swimming is self-funded by Zac and his family along with some help from Down Syndrome Swimming Great Britain.
His visit was truly inspiring for  both staff and pupils!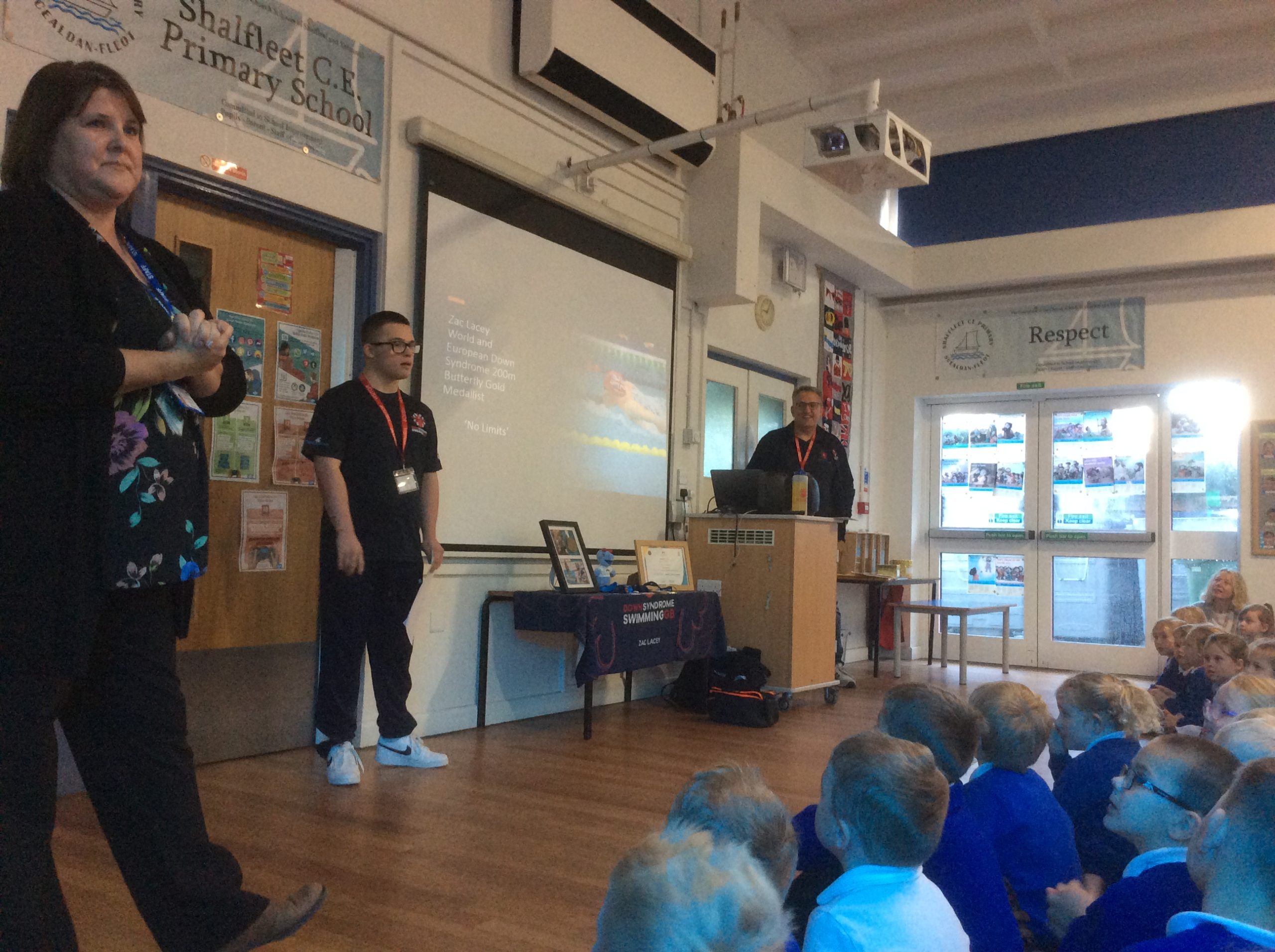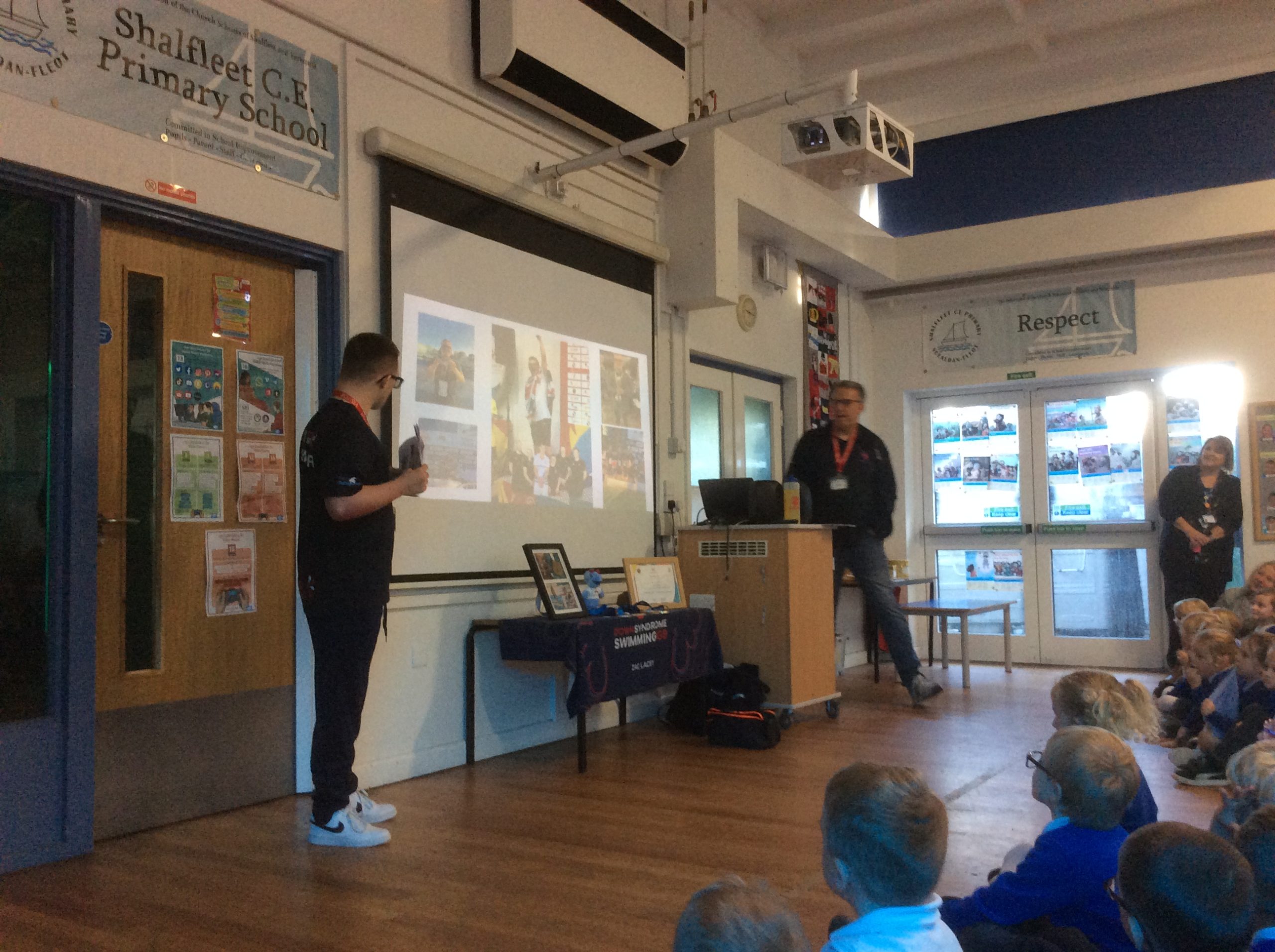 Bournemouth Symphony Orchestra's special visit to our school…
After the freestyle footballer, we had the amazing opportunity to listen to the Bournemouth Symphony Orchestra and their remarkable music. First, we were introduced to a man who talked a little bit about what the orchestra does and then we listened to the first piece of music the orchestra had planned to show us. The music was called Sea Shanty, it was stunning how they were able to pull off creating such an amazing tune with just a French horn, a oboe, a cello and a clarinet. After the song, the woman who played the oboe introduced herself) and she told us what wood her oboe was made from ( I think it was African Redwood) and then the woman showed us how she played it. After that, the orchestra played for us some more music, this time it was Wellerman. The man showed us some actions we could join in with and when it came to the chorus, we all sang along with the music. Then we were all introduced to the man who played the clarinet and he told us what his clarinet was made from and he played some music for us. Then the orchestra played We All Live in a Yellow Submarine. And finally we were introduced to the man who played the cello, he showed us the 2 different ways of playing the cello. The 1st way was to just run the bow over the strings, which were made of horse hair, and the 2nd way was to pluck at the strings with a finger. Then they said thankyou for letting them play at our school and that was the end of it.
By Daisy, YR6
OUR VISIT FROM FREESTYLE FOOTBALLER … ASH RANDALL
We had the privilege of a visit from a professional freestyle footballer, Ash Randall, who showed us some of his favourite freestyle tricks and showed us some which lead to him breaking (and setting) over twenty-five world records and has put him in the books of Guinness World Records at least three times. He showed us pictures of his accomplishments (and one of when he met Pele). He also picked some of us to try to do some tricks (which managed to go very well) and encouraged us to always try again. Then he even got Mr.Westhorpe and Mrs.Poulton to try some tricks and later got them in a little competition against Malachi (Year 6) to see who could keep a ball from touching the ground, eventually Malachi won. Then he finished with some more amazing freestyle tricks and that was  the end. It was an incredible experience and we give all our thanks to him.          
By Ryleigh Yr 6 Freshwater & Yarmouth                                                                                                                                                               
The IOW Parrot Rescue
Both schools had a wonderful visit from The Isle of Wight Parrot Rescue run by Lorna and Nicki. This is a non-profit organization that is there for any pet bird but they specialise particularly in parrots. A bird that comes into the rescue will enjoy a forever, knowledgeable home, either at the rescue or with one of their approved fosterers.
"Today Lorna and I went to Yarmouth primary and Shalfleet primary to say thank you for letting us have the pavilion, we had a lovely time there and met lots of really polite and interesting children. It was great we really enjoyed ourselves and the birds did too. Sometimes people wonder if its good for the birds meeting people, as birds are very social on character they enjoy meeting people and getting lots of fuss. We took Velcro with us and it's his first time being in a different place and he was ok first of all and then he wasn't happy as his chirps changed to his angry noises so we took him straight home, the birds are always no1 in everything we do. Verdi, Popeye and Ella loved the children." ….Lorna and Nicki
Rev Jackie Maw
Our first Inspire Talk of the year was led by Rev Jackie Maw. She talked to the children about her childhood, her schooling, some of the charity work she has been involved with over the years and her call to ministry. 
This was a really good opportunity for the children to get to know Jackie and ask her some interesting questions. Follow up work in classes focused on her call to ministry and the charity work/eco work Jackie has been involved in.
Earl Carpenter
Earl Carpenter (born 9 May 1970) is an English musical theatre actor, recognised chiefly for his work in London's West End. He is known for his performances as Javert in the stage musical Les Misérables and as the Phantom in the London production of The Phantom of the Opera.
He wowed the children with his amazing voice and showed them a video of when he played Gaston in Beauty and The Beast which the children loved. The children had lots of questions for him and were truly inspired.
Danny Briggs
Danny Richard Briggs (born 30 April 1991) is an English cricketer who currently plays for Warwickshire County Cricket Club, previously playing for Hampshire County Cricket Club and Sussex County Cricket Club. Briggs is a right-handed batsman who bowls slow left-arm orthodox. He was born at Newport on the Isle of Wight and was educated on the island at Carisbrooke High School. Briggs is the first international player to be born on the Isle of Wight. Briggs made his debut for Hampshire County Cricket Club aged 18 in 2009, since his debut he has seen success in first-class and Twenty20 cricket. In 2011, he became the youngest English spin bowler to take 100 first-class wickets since Derek Underwood. He made his full international debut for England on 21 February 2012 against Pakistan in the fourth One Day International at the DSC Cricket Stadium in Dubai.
It was amazing for the children to see how someone born on the Isle of Wight can go on to achieve so much in international sport.