curriculum
Physical Education & Computing
   Physical Education
National Curriculum Statement
Purpose of study
A high-quality physical education curriculum inspires all pupils to succeed and excel in competitive sport and other physically-demanding activities. It should provide opportunities for pupils to become physically confident in a way which  supports their health and fitness.
Opportunities to compete in sport and other activities build character and help to embed values such as fairness and respect.
Aims
The national curriculum for physical education aims to ensure that all pupils:
 develop competence to excel in a broad range of physical activities
 are physically active for sustained periods of time
 engage in competitive sports and activities
 lead healthy, active lives.
Our Intent
By the time our children leave our school, pupils are expected to know, apply and understand the matters, skills and processes specified in the relevant programme of study. 
Key stage 1
Pupils will develop fundamental movement skills, become increasingly competent and confident and access a broad range of opportunities to extend their agility, balance and coordination, individually and with others. They should be able to engage in competitive (both against self and against others) and co-operative physical activities, in a range of
increasingly challenging situations.
Pupils will be taught to:
 master basic movements including running, jumping, throwing and catching, as well as developing balance, agility and co-ordination, and begin to apply these in a range of activities
 participate in team games, developing simple tactics for attacking and defending
 perform dances using simple movement patterns.
Key stage 2
Pupils will continue to apply and develop a broader range of skills, learning how to use them in different ways and to link them to make actions and sequences of movement.
They should enjoy communicating, collaborating and competing with each other. They should develop an understanding of how to improve in different physical activities and sports and learn how to evaluate and recognise their own success.
Pupils will be taught to:
 use running, jumping, throwing and catching in isolation and in combination
 play competitive games, modified where appropriate [for example, badminton, basketball, cricket, football, hockey, netball, rounders and tennis], and apply basic principles suitable for attacking and defending
 develop flexibility, strength, technique, control and balance [for example, through athletics and gymnastics]
 perform dances using a range of movement patterns
 take part in outdoor and adventurous activity challenges both individually and within a team
 compare their performances with previous ones and demonstrate improvement to achieve their personal best.
Swimming and water safety
Pupils will be taught to:
 swim competently, confidently and proficiently over a distance of at least 25 metres
 use a range of strokes effectively [for example, front crawl, backstroke and breaststroke]
 perform safe self-rescue in different water-based situations.
Computing
National Curriculum Statement
Purpose of study
A high-quality computing education equips pupils to use computational thinking and creativity to understand and change the world. Computing has deep links with mathematics, science, and design and technology, and provides insights into both natural and artificial systems. The core of computing is computer science, in which pupils are taught the principles of information and computation, how digital systems work, and how to put this knowledge to use through programming. Building on this knowledge and understanding, pupils are equipped to use information technology to create programs, systems and a range of content. Computing also ensures that pupils become digitally literate – able to use, and express themselves and develop their ideas through, information and communication technology – at a level suitable for the future workplace and as active participants in a digital world.
Aims
The national curriculum for computing aims to ensure that all pupils:
can understand and apply the fundamental principles and concepts of computer science, including abstraction, logic, algorithms and data representation

can analyse problems in computational terms, and have repeated practical experience of writing computer programs in order to solve such problems

can evaluate and apply information technology, including new or unfamiliar technologies, analytically to solve problems

are responsible, competent, confident and creative users of information and communication technology.
Our Intent
By the time our children leave our school, our computing provision aims to have equipped them with the necessary skills to understand and access the modern technological world. They will have developed computational thinking, increased their digitally literacy and thus be prepared for their future work environment.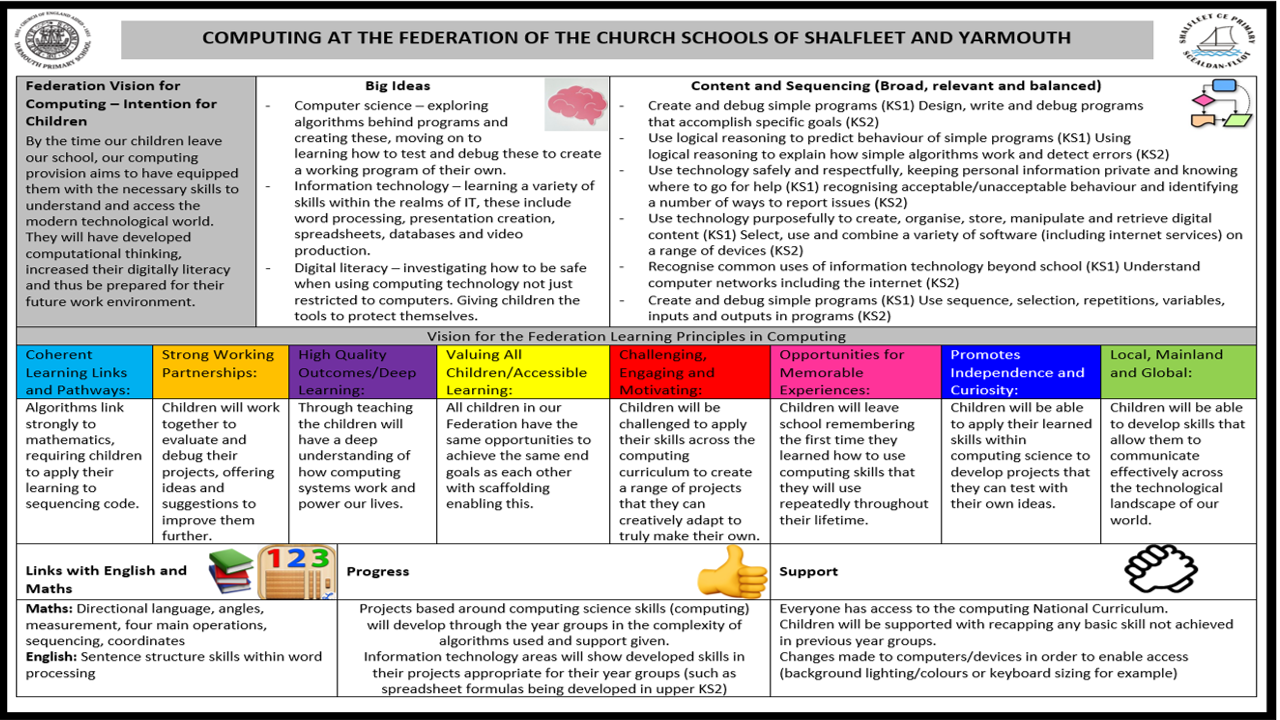 Progression of Skills
1.Information Technology
2.Computing Science
3.Digital Literacy (2 slides)
4.Vocabulary and Resources
5.Overview of coverage (Split into each half term)
Sport in the Federation
We aim to develop a broad and balanced physical education programme, which takes account of the needs, abilities and interests of all children.  All pupils undertake at least 2 hours of PE Activity per week.  Both Yarmouth and Shalfleet have achieved the Sainsbury's School Games Gold award for PE and extra-curricular activities.
We feel that sport is important for the development of individual potential, the promotion of good health, co-operation, team spirit, a sense of worth, enjoyment and involvement with the wider community.  The Federation has a dedicated Sports Coach who ensures that ALL children enjoy and participate in an enriched sporting curriculum.  The Federation also hold a Health & Fitness week each year in the Summer term.
In addition to our school hall where lessons in dance, gymnastics and PE are held, we have alongside the playground a large playing field.
Sports Crew
Children in Year 6 are members of the School Sports Organising Crew (SSOC).  They have a role to play in supporting sport across the school, e.g. school captain, photographers, reporters, warm-up leaders, playground sports buddies for KS1 and Reception children.
School Games Awards
We are delighted to announce that we, SHALFLEET CE PRIMARY SCHOOL, have achieved the School Games Platinum Award for the 2022/23 academic year. The School Games Mark is a Government-led award scheme launched in 2012, facilitated by the Youth Sport Trust to reward schools for their commitment to the development of competition across their school and into the community, and we are delighted to have been recognised for our success. We are extremely proud of our pupils for their dedication to all aspects of school sport, including those young volunteers, leaders and officials who made our competitions possible. As part of our application, we were asked to fulfil criteria in the areas of participation, competition, workforce and clubs, and we are pleased that the hard work of everyone at our school has been rewarded this year.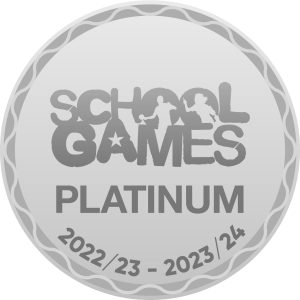 The Federation E Safety Overview
Online Safety In Our Curriculum
Online safety is given importance in both computing and PSHE lessons. In both subjects a wide variety of subject areas are covered. These are linked in with the objectives covered in Education for a Connected World (2020) and taught using resources from Project Evolve. These resources are regularly updated and, as well as the lesson resources, provide areas of discussion to develop and questions to deepen the children's understanding. Computing will deal with elements of online safety that is specifically linked into the knowledge of computing, e.g. how to identify copyrighted content whereas PSHE will focus on objectives that are linked to emotions when using technology.
Monitoring and Filtering Online Use
During computing lessons, teachers are advised, where possible, to set up their classroom so that the laptops are visible at all times. Children are never left unsupervised on computing equipment with an adult always in the room when they are on a device, whether this is in a lesson, during a break time or in after school club. All computers on our network are subject to stringent internet filters that block any websites found to have anything harmful or the potential to be harmful under pre-determined categories such as gambling, violence, pornography etc. This filter is updated regularly and the school can also manually block any websites that do not meet the requirements of the filters but could provide a distraction to the children's learning.
Main Sites Children Use
In computing lessons children will use websites pertaining to the intended learning objective, such as J2E Data for working on data objectives and Scratch for coding, for example. In other lessons, they may use a range of websites for research. It is recommended that teachers provide children with websites to use during the lesson, ensuring they have vetted these beforehand. This is to eliminate the unlikely possibility of our filters missing any harmful websites.
Interacting Online
Children do not interact with anyone else online at school. This is due to blocks on social media, app downloads and a ban on mobile phones. Children may use their email at school but this would be to send work to another student or teacher. This use would be supervised within lessons by an adult. Our monitoring of emails also means that emails sent with suspicious content (inside or outside of school) would be flagged.
Impact of the implementation of the Physical Education & Computing curriculum is measured in a variety of ways.
These include:
Pupil Conferencing
Work Scrutiny – alongside teacher's planning
Assessment data
Learning walks
Learning environment