Under 11's Girls Football Match
The girls did excellent in this match. We played St Saviours and we started off with the ball and went straight down to their half and we successfully got past them and Hanna
did an amazing goal. It went back to the middle and St Saviours started with the ball but not for long then Jas did an excellent tackle and took the ball down the pitch and passed
to Hanna who scored another excellent goal and it was back to the middle again St Saviours had the ball for a bit longer and Phoebe did fabulous tackle but St Saviours got
the ball back and took a shot but luckily missed the goal as it was saved by our fantastic goal keeper Isla-Mary. After that Isla-Mary did and excellent goal kick and helped with
Hanna's amazing goal. St Saviours dribbled the ball down the pitch and took a shot but missed. Lainey got the ball and did and an excellent pass to Georgia but she got tackled
and Bella did an outstanding tackle and got it down the pitch but before we knew it the whistle had blown and it was half time.
We then had our sub on which was Annabel and Phoebe came of we then started and St Saviours had the ball and Jas did another amazing tackle and passed to Lainey which did
a fantastic pass to Hanna which scored a goal. St Saviours did a tackle which travelled down the pitch again and Isla Mary saved the goal with a big kick, Georgia received the
ball and past the ball to Hanna and we had another goal it started again we tried having another shot which failed. We got a free kick and Hanna curved the ball in the goal then
Georgia then she did an outstanding dribble all the way to the goal and scored, after that we were passing the ball up and down the pitch until the opposite team hand balled it
and we got a free kick and Hanna took it and did a perfect goal and we did some more dribbling and before we knew it was over.
The score was 8-0 to Shalfleet.
The girls played amazingly
Thank you to our team: Isla-Mary, Hanna, Jas (captain), Lainey, Bella. Phoebe, Annabel and Georgia.
SCHOOL GAMES AWARD - PLATINUM
We are delighted to announce that we, SHALFLEET CE PRIMARY SCHOOL, have achieved the School Games Platinum Award for the 2022/23 academic year. The School Games Mark is a Government-led award scheme launched in 2012, facilitated by the Youth Sport Trust to reward schools for their commitment to the development of competition across their school and into the community, and we are delighted to have been recognised for our success. We are extremely proud of our pupils for their dedication to all aspects of school sport, including those young volunteers, leaders and officials who made our competitions possible. As part of our application, we were asked to fulfil criteria in the areas of participation, competition, workforce and clubs, and we are pleased that the hard work of everyone at our school has been rewarded this year.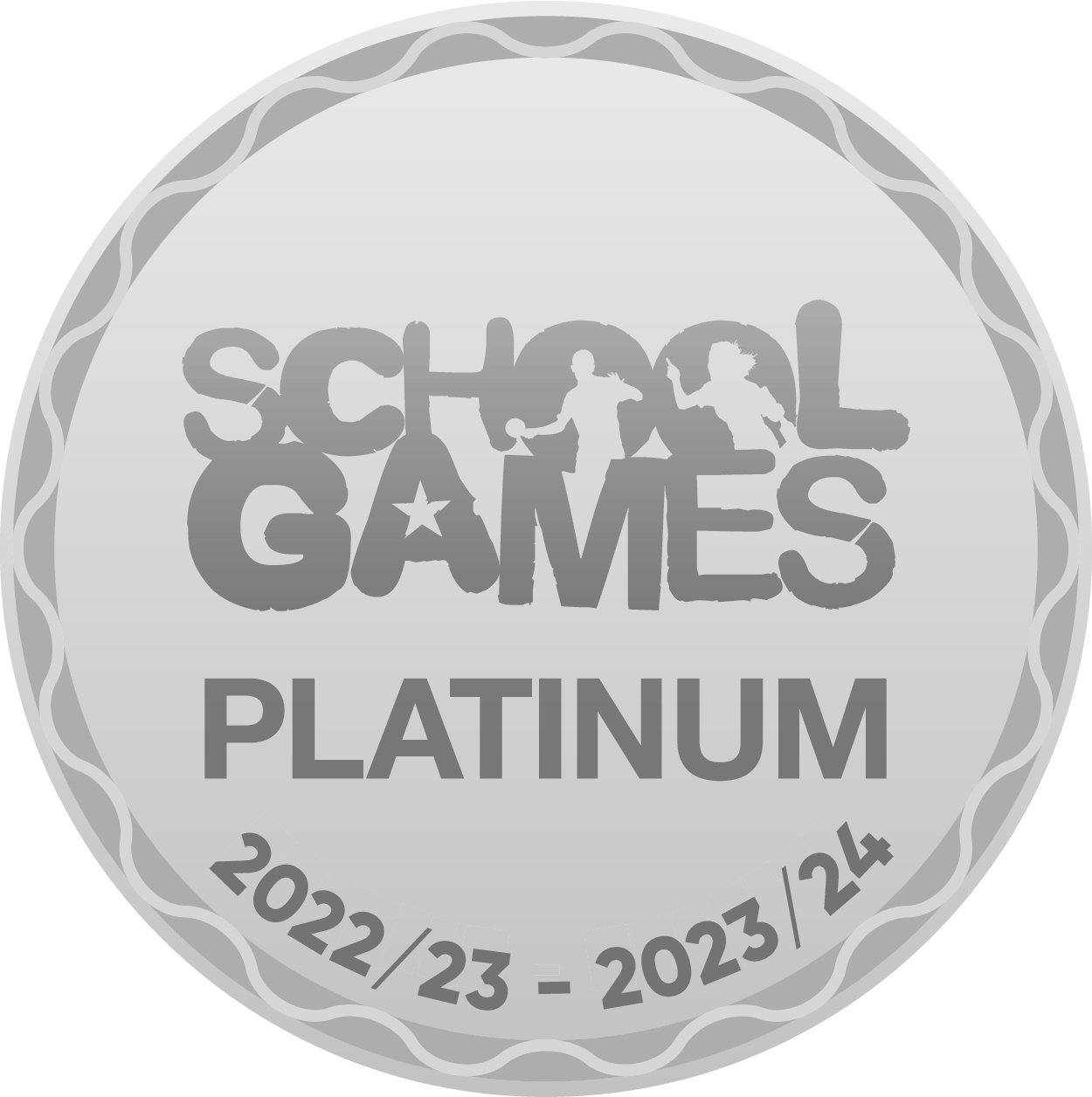 U9 Football Match - Shalfleet v Bembridge
The match was great it started 1-0 down but then out of nowhere Otto scored 3 goals and the opposite team scored against the whole team.
Suddenly, Baxter had a corner and crossed it into Charlie then he scored a header! At half time we had a team talk and we got back into play. Austin ran down the wing and scored an unbelievable goal. Baxter was subbed back on and we got a corner. Baxter took it and scored an amazing goal. Joey nearly scored but the keeper saved it.
The whole team played really well. Bembridge did well too.
The final score was 6-2 to Shalfleet.
Under 11's Girls Football Tournament – Game 1
Binstead 0 – Shalfleet 0
The girls did amazing for our first game and did well going up and down the pitch. They did well with staying in the other half and did many shots on target. The other team were very strong and took the ball up the pitch many times. We didn't score but the girls kept strong for the whole game and the other games. The girls where excellent at passing and tackling. Isla Mary did an amazing save and kept believing in herself. Suddenly the ball was shot at Isla and she did an excellent save. Isla kindly helped get the ball down the pitch and we did many good tackles Lainey got to the ball and booted it down the pitch Georgia did a good shot and tackle Hanna was excellent. Jas did a good shot and tackle. Then that was the end of the game.
Under 11's Girls Football Tournament – Game 2
We started off well the ball was going back and forth in each end but nobody had scored yet but our hopes were still up all of us were happy and excited. The other team were playing well we knew they were a strong team, Jasmine and Georgia worked well and travelled with the ball up to the other end and tried getting past the other team's defenders but sadly couldn't and lost the ball this happened twice. Isla Mary saved some great balls by the other team, but as quick as a flash the other team got past the defenders (Lola Annabel and Hanna) and scored this was sad but we were determined. In last few minutes we tried our very best but the game was over and we lost but it was a great game.
Northwood 1 Shalfleet 0
The team: Isla Mary, Lainey, Lola, Annabel, Jas, Georgia and captain Hanna
The under 11 Girls Tournament Game 3
The game started off by Queensgate getting the ball Georgia started to tackle and then got the ball she started to dribble the ball then one of the other players. One of the other team came running fast like a cheetah, before you knew it, she took a shot but Isla-Mary saved it – amazing save Isla-Mary! Minutes later, Georgia tackled the ball determined to score for our team, before you knew it Georgia took an amazing shot and she scored, the scores are now 1-0 to us just seconds later the whistle blew it was official we had won. Thank you so much Hanna, Jas, Lainey, Annabel, Lola, and Isla-Mary. Thank you, Lainey, for being our amazing captain.
Shalfleet 1 Queensgate o
At the end all the matches, Shalfleet came 2nd – what a fantastic achievement for a new team! Well done girls!
Swimarathon
Last month the
Jellyblobs 
team (see photo attached) were presented with a cup for swimming the most lengths in the Swimarathon within their age group of Any Age! The event raised over £1000 for two charities – Wight Brainy Bunch and The Abilities Dog Trust and the two schools which took part – Shalfleet Primary and Gatten & Lake. We received a cheque for £230.
A huge congratulations to all the adults and children who took in the event this year.
Football Tournament
Year 5/6 Girls' team came joint 3rd in the tournament. They played exceptionally well especially in the heat. Well done to all the girls.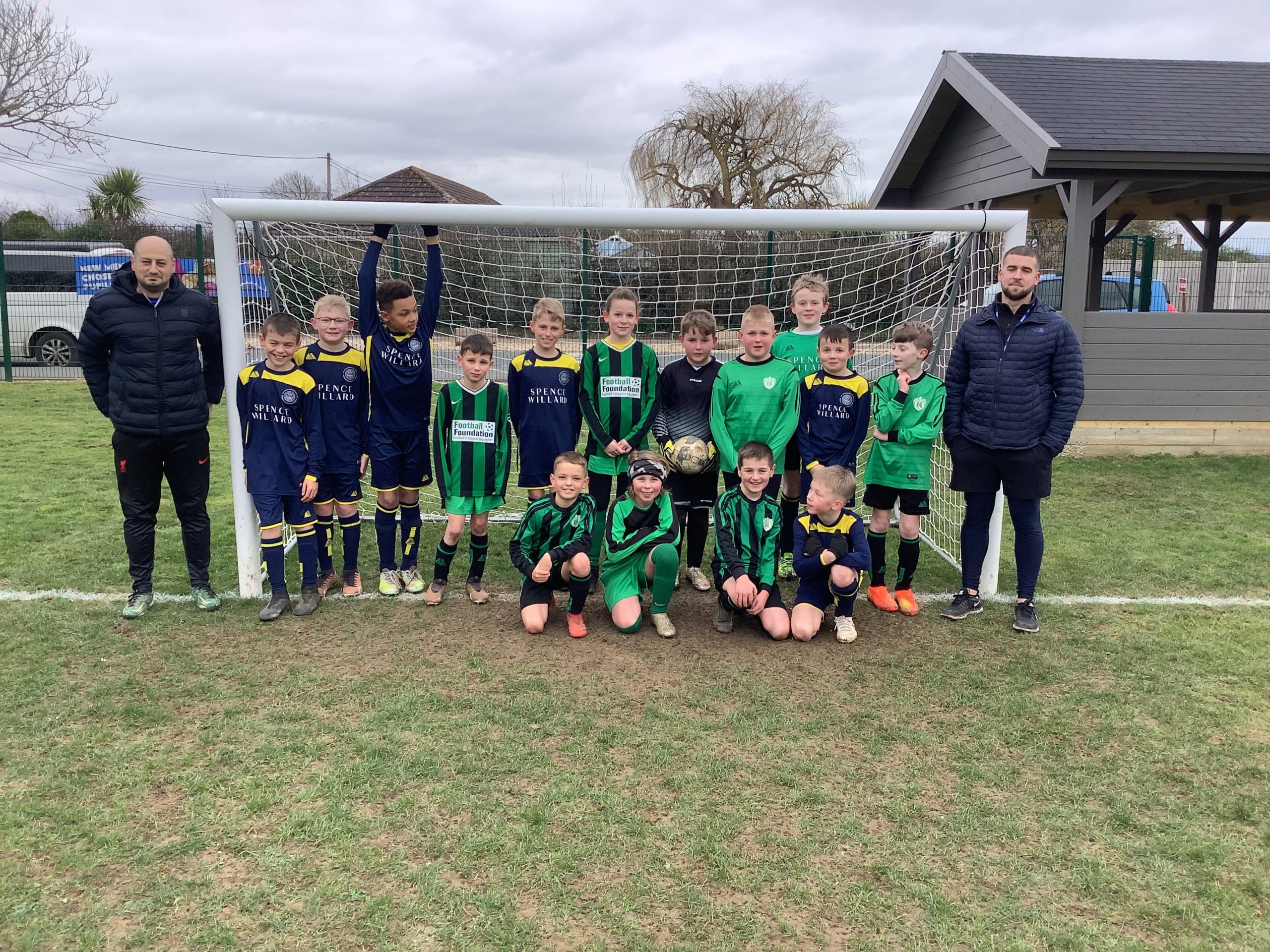 U11 Boys Shalfleet v Yarmouth
Yarmouth U11's travelled to Shalfleet for the next stage of their football season, the league format has finished and by finishing top of their respective league the team qualified for the quarter finals.
Yarmouth started well and quickly went two goals up, Malachi causing problems for the oppositions defence alongside Archie who both had several other shots on target. Ronnie
added a goal to take the team in at half time 3-0.
Yarmouth played very well and defended nicely against Shalfleet, a fourth goal came and the game ended 4-0. 
Well done to both teams!
Wednesday 25th January 2023 – U11 Football Match – Shalfleet v Brighstone at home
The pitch was a little squelchy, but the girls didn't mind and soon got into the game.
Shalfleet pushed forward form the start of the game, keeping the pressure on. Brightsone goalie did some great saves, Hanna kept getting the ball into their half and managed to score 1 – 0 to Shalfleet.
Shalfleet played the first half mainly in Brighstone's half, more goals for Shalfleet at the half time whistle Shalfleet 4-0 up.
After a team talk at half time, the girls were ready to start again.
Lexi who had had some great shots at goal, some wide and some over the goal, managed to trickle one past the goalie 5 -0.
Shalfleet defenders played a brilliant game and Isla-Mary did some great saves. Kept her eye on the ball all the time and encouraging the rest of the girls.
Hanna hit the crossbar, their goalie just getting a hand to it.
Brighstone got the ball up to score, yet another great save by Isla-Mary.
Hanna scored another goal, 6 – 0 to Shalfleet at the final whistle.
A great game and everyone who watched had some great entertainment.
Hanna, Lexi, Millie, Jasmine, Lainey, Pixie, Tilly, Isla-Mary (Goalie)
U9 Football Match - Shalfleet v Brighstone
Wednesday 18th January 2023 – U9 Football Match – Shalfleet v Brighstone
The match began with playing 7-side. There was excellent tackling from both sides. All the players where getting stuck into the game. Baxter was first to score for Shalfleet. A brilliant goal. Brighstone's goalie saved some awesome shots from Shalfleet.
Both teams kept up the pressure.
A superb pass from Freddie to Baxter on the wing to score another goal.
By half time the score was Shalfleet 5 Brighstone 1 Shalfleet changed the team around for the second half.
The second half was as intense as the first half, with some excellent tackling, and Shalfleet pushing forward more goals followed for Shalfleet Baxter scoring 5 goals, Georgia 1 goal and Otto 1 goal.
Brighstone scored a second goal in the second half.
Final whistle Shalfleet 7 Brighstone 2
A very enjoyable game to watch, well supported by family and friends from both teams.
Georgia, Baxter, Otto, Eli, Lola, Freddie, James (Goalie), Bella, Joey H and Annabel.
Winchester Games
Some of us were chosen to go to the Winchester Games, where we participated in a variety of sports. We began by doing a running race. Next, we did long jump to see who could jump the furthest, followed by javelin.
After that we got to play the bongo drums and learnt how to play a song. Then we went onto the activity field, where we ate our lunch and had a go on a tight rope. A rodeo bull and a surf board simulator.
Soon after we played dodgeball, where we were up against different teams. The final event was golf.
Overall, we really enjoyed the event and discovered new sports and experiences!
Thank you, Mrs Blackley, for taking us.
By Agnes W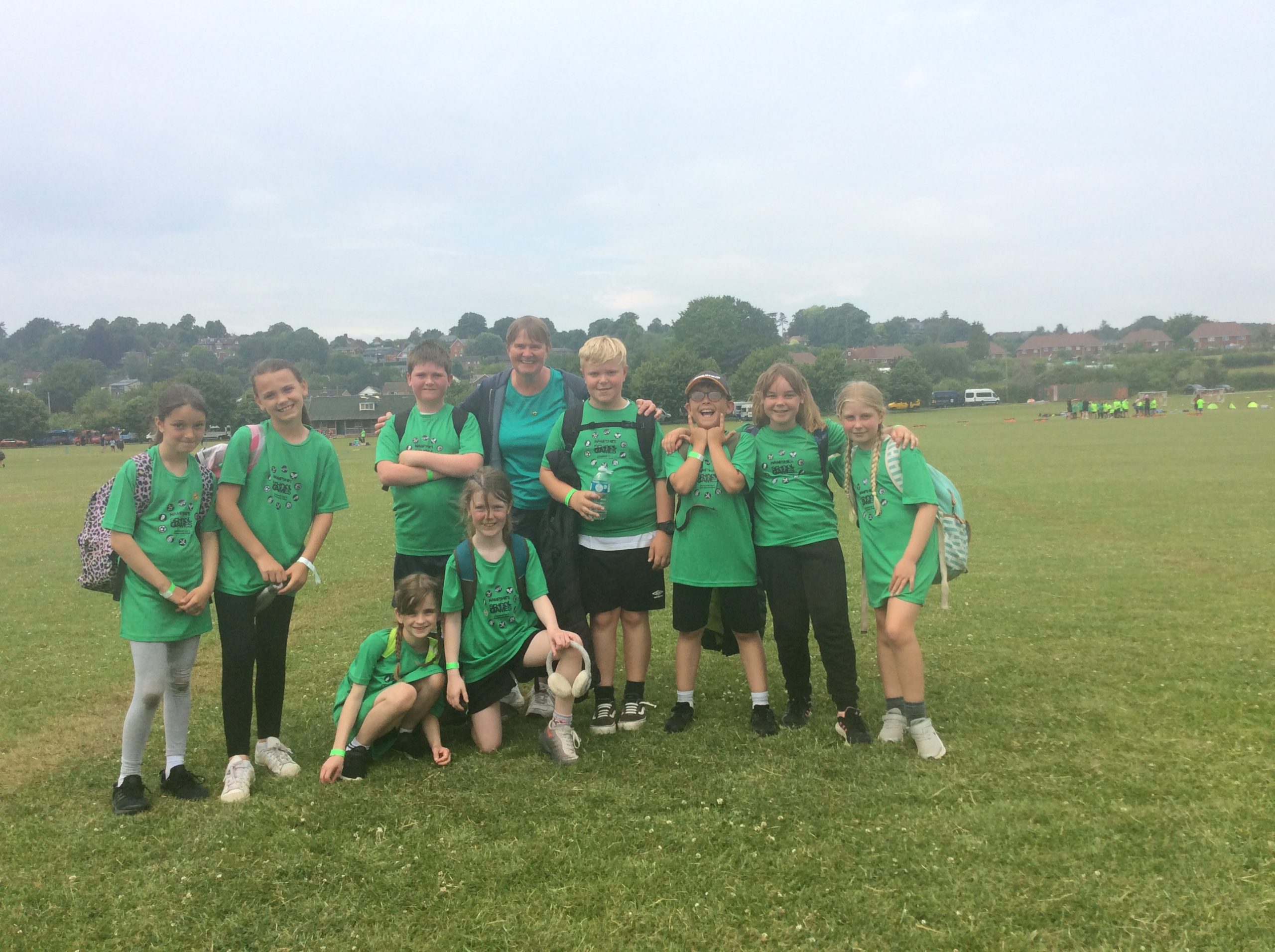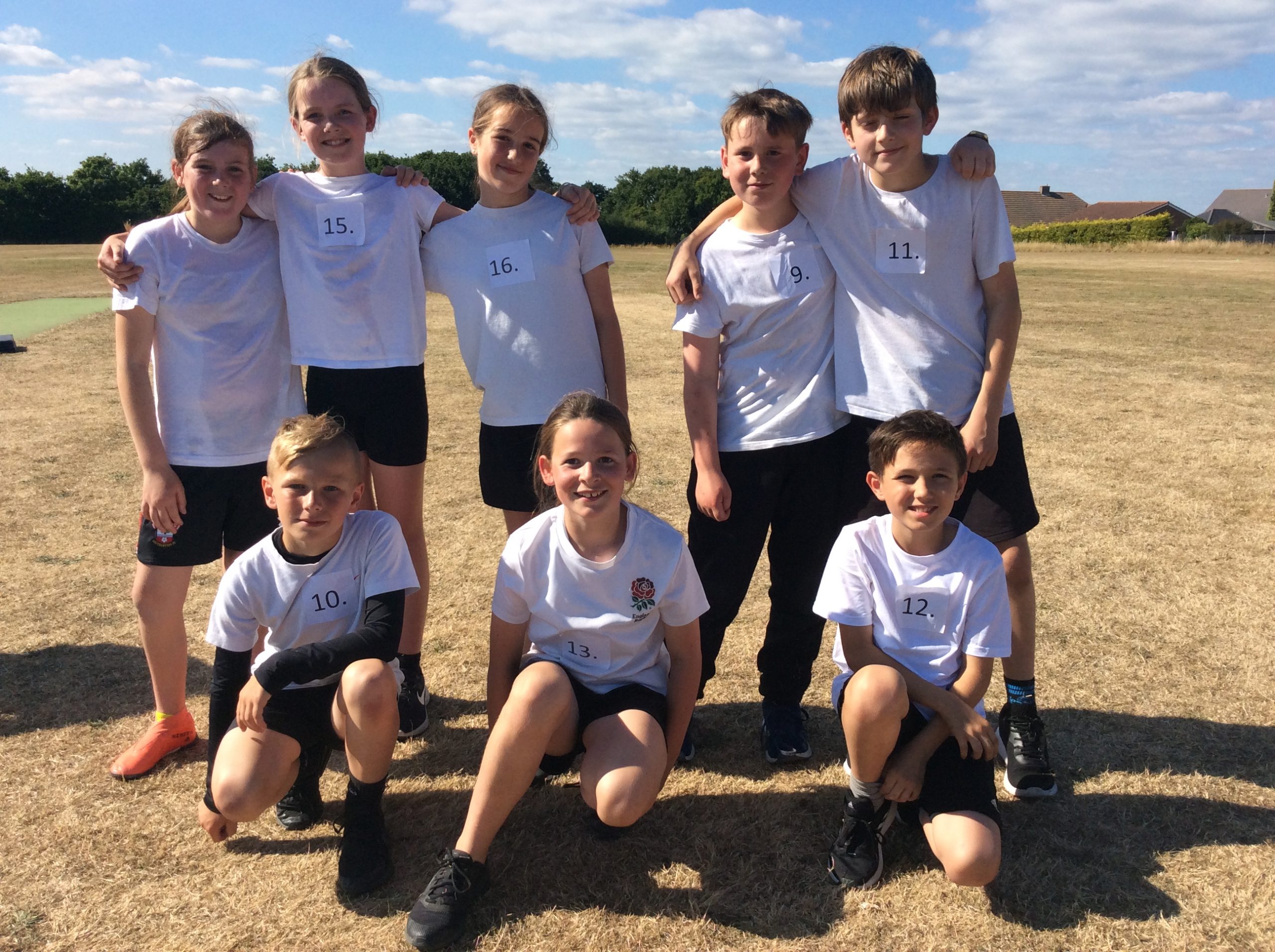 Quad Kid Competition
Last night the Year 5/6 team travelled to Gurnard to take part in the Quad Kid competition. This involved:
Vortex
75m sprint
standing long jump
600m run
In the scorching heat all of the team made an outstanding effort to perform at their best. It was hard going for all of the competitors, and spectators!
A huge well done to our team who showed respect and support for each other with a special thanks to Harry who was pulled into the team at the last minute to replace a pupil.
Team: Kai, Sam, Harry, Albert, Lexi, Bea, Maisie, Molly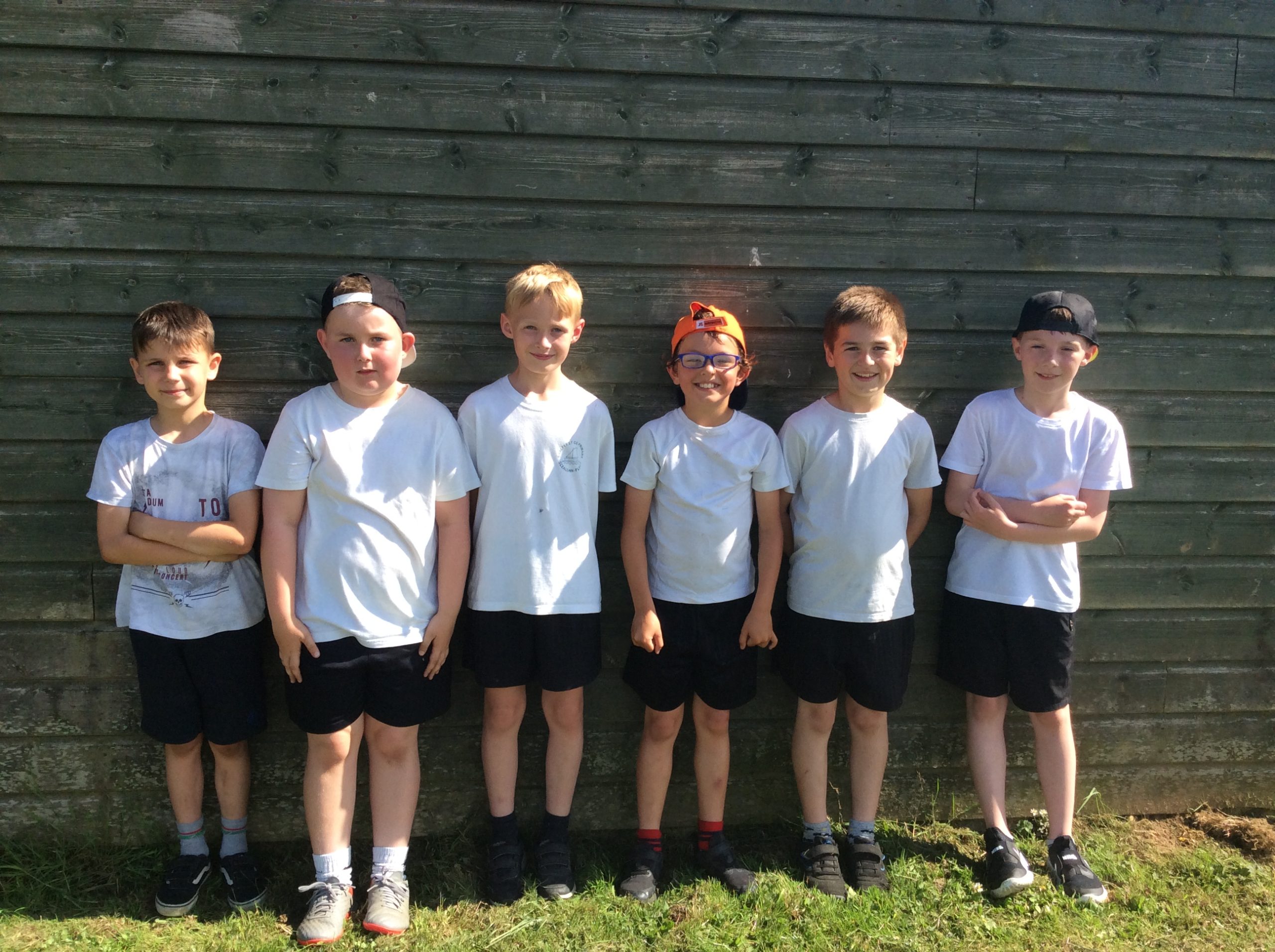 Shalfleet U9s Cricket Matches
Shalfleet played two games of cricket Wednesday 15 th June The games included 3 teams Shalfleet ,Brighston and Yarmouth Shalfleet played Brighston then Yarmouth.
The Shalfleet U9s batted first with Remi and Andrew and got 16 runs between them and didn't get bowled out once!
The next batters were Oscar and Harry they played really well and also didn't get bowled they got so many runs that we didn't even know!
After this it was Ben and Luey between them they got 20 runs they also got it out of the boundaries. Now it was Brighstones turn to bat with Andrew bowling first hitting the wicket once with the rest of the team fielding. 
The rest of the team was moving around bowling and fielding,finally reavling the scores 207 Brighstone 232. Shalfleet we had won the first game!
Shalfleet vs Yarmouth
The Yarmouth team batted first making some good runs with Luey bowling he hit two wickets then Ben hit 3 wickets making Yarmouth lose 15 points.Then it
ended with Andrew bowling. Next Shalfleet were batting with again Andrew and
Remi they did well and didn't get bowled out once. Then it was Oscar and Harry they did as well as Remi and Andrew again not getting bowled out.
Finally it was Luey and Ben batting they did well to and didn't get bowled out once then the scores were 210.
Yarmouth 248 Shalfleet we are in to the next round!!!
By Ben and Oscar
U11 Girls Cricket
Monday 13 th June 2022
U11's Girls Cricket Match
On Monday 13 th June the U11's Girls Cricket team play against Gurnard Primary. We bowled first and we started off good at bowling but we didn't get anyone out. At this point Gurnard had 253 runs. We were batting next. In this time, we made some brilliant hits, we also hit some 6s and 4s. After all of that effort and concentration the final score was 253-233 to Gurnard but this didn't matter because we all had a great time and we all enjoyed it!
The Team was: Maisie, Molly, Karla, Daisy,
Bea, Fiona, Zara and Sachi
Handball Festival
On Thursday the 9th June we went to Queensgate to play in a handball festival. We played six games with the first one being in the wrong league so it didn't count. We were a strong team although we were beaten a few times. The games were split into two halves, with the first half being boys' verses boys and the second half being boys' verses boys. In the boys' team William, Harry and Sonny showed excellent passing through all of the matches and Sonny scoring some of the goals. In the girls' team Bea, Esme and Molly all stood out with some amazing goals. The goalkeepers for the boys were Frank and Zac with Zac being the stronger keeper and for the girls Maisie showed great effort to defend her goal. Yarmouth were three down but at the last minute Alfie, Jack, Kai and Hannah stood in. Shalfleet played really well coming in joint 2nd with Niton.
The team was: Sonny, Harry, William, Will, Charlie, Zac, Frank, Maisie, Bea, Esme, Molly, Isla, Fiona, Zara and Daisy. Part of the Yarmouth team were Jack C, Kai, Alfie P and Hanna
U11 Cricket Shalfleet v Binstead
Under 11's Cricket – Shalfleet V Binsted
On Friday 11th June the U11'S played a cricket match against Binstead. First Jasper and Toby batted, Toby then he hit an amazing four. Then when Jasper took the bat he stuck to defending his stumps, but then let down his guard and got bowled out. Then William and Molly batted. Next William wouldn't stop hitting sixes. Molly
struggled to hit the ball but then got out. Billy and Alfie P were next to bat, Billy went first and hit a four, but then got bowled out so Alfie hit a four and a six. Sonny and Maisie were next, Maisie batted first and hit two fours then Sonny hit two sixes.
Then it was our turn to field and Binstead went into bat, we were unfortunate to not catch many out, but Toby did manage one!
The final score was Shalfleet 147runs and Binstead 145 runs.
We were through the semi-finals!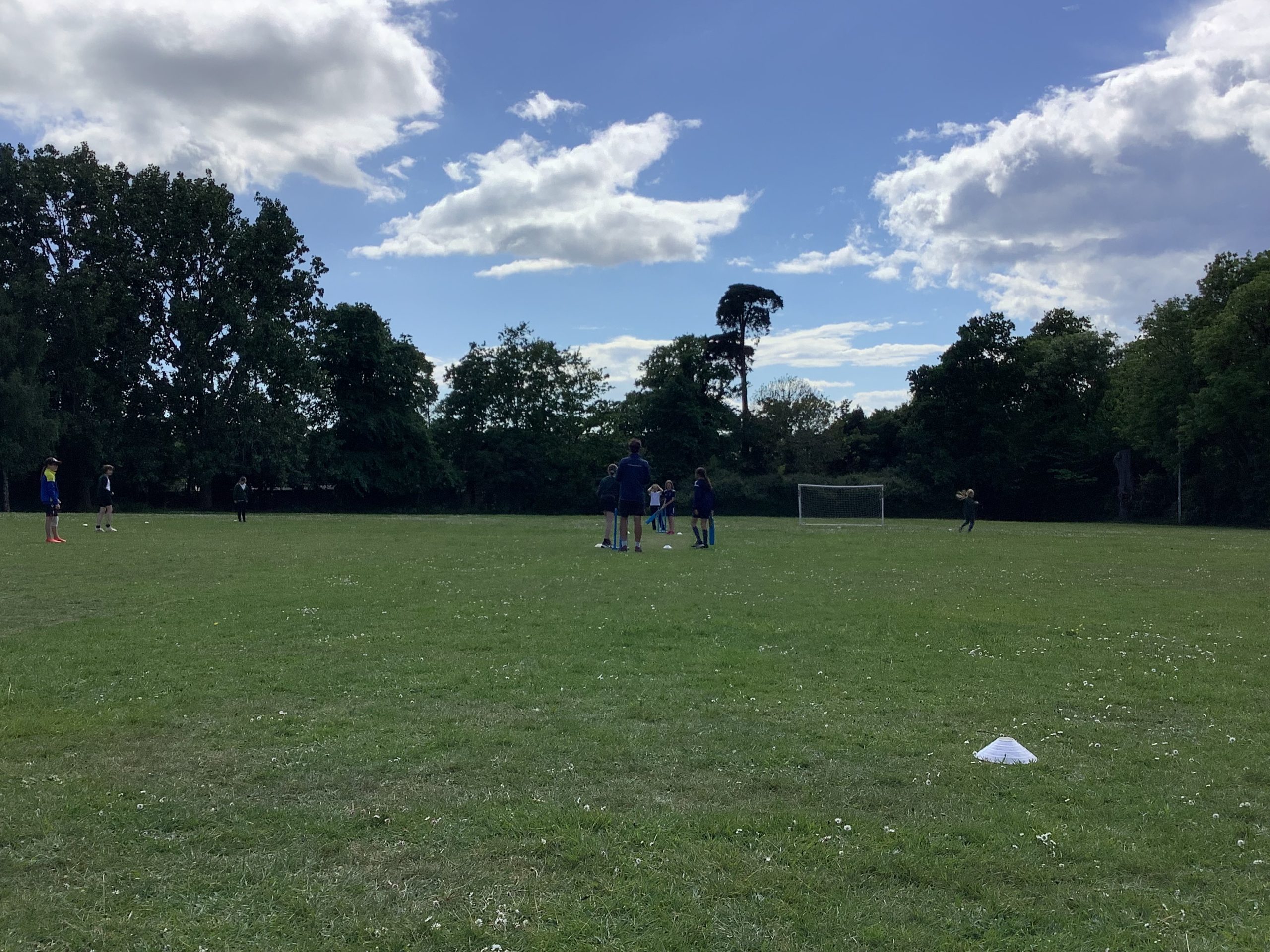 U11 Cricket
On Wednesday 18th May, Shalfleet U11's competed in a cricket tournament with two other teams, Yarmouth and Lanes End. We played Lanes End because they were the first to arrive. We decided who would bat first by Mr Westhorpe flipping the bat. Shalfleet won the toss so the captain decided to bowl first. Our team was full of incredible bowlers so they weren't too worried! Then after a few minutes and a lot of wickets, we were up to bat. Our first batting pair were Billy and Karla who were doing really well, after those two the next pair went into bat were William and Leo – they managed to get lots of runs. The next air of batters were Toby and Maisie, who couldn't stop whacking the ball, then the final pair were Sonny and Jasper who had some tremendous hits.
Then Mr. Westhorpe told the teams the score. With Lanes end getting a score of 200 and Shalfleet getting a score of 245.Then Lanes end played Yarmouth but unfortunately Yarmouth lost. Then it was Shalfleet's time to play Yarmouth with the captain deciding to bowl first. We had amazing bowlers so it wouldn't be to hard. After that we were up to bat with the same batters as last time we had some amazing hits from all the batting partners but unfortunately Sonny hit the only ball over the fence so we had to call the game early. With Yarmouth getting 237 and Shalfleet getting 266 so Shalfleet progress to the next round.     
The team: Sonny, Toby, Masie, William, Billy, and a big thanks to Leo and Karla for their first sports tournament.    
Tuesday 24th May 2022
U11's Girls Cricket Fixture
Shalfleet vs Holy Cross
We started off batting first. With Holy Cross not being very good at bowling, this meant that we were able to score lots of runs. Our pairs were, Fiona and Karla, Molly and Sachi, Zara and Bea, Daisy and Maisie. Next we were fielding; Zara caught some good balls and Fiona and Maisie were victorious in hitting the stumps with their bowling! We won this match 217-252.
Shalfleet vs Godshill
We started off Bowling first this time. With Godshill getting a lot of runs in. Which meant we needed to start getting some people out. We all bowled amazingly! The Bowling order was Bea, Karla, Molly, Zara, Daisy, Sachi, Fiona and then Maisie. We won the match 256-266.
After all of our hard work we managed to win the tournament! We all had a great time and enjoyed ourselves.
Island Basketball Tournament: Wednesday 4th May 2022
The Basketball at West Wight sport Centre was tough and we played many teams.
We drew against Cowes, lost to Newchurch and drew to Greenmount. We then played nine acres and won 16- nil.
Over all, we came 5th on the Island
Team: Alfie S, Alfie P, Sonny, Billy, Zara, Molly, Molly-Mae, Summer, Daisy, Bea & Zac.
U9 Shalfleet v Yarmouth Girls Friendly
U9 Girls friendly football match report: Friday 29 April 2022
Shalfleet vs Yarmouth
In the first half Yarmouth scored a goal it went under Isla-Mary's arm. 1 – 0. We kept up the pressure and our heads high, Jasmine had the ball, took it up towards their goal, gave Hanna a great pass, she scored, 1 – 1.
After kick off Hanna got the ball up to Yarmouth's goal and scored again, it was 1-2. Then Hanna got the ball up again and scored for the third time. Yarmouth kicked off and Yarmouth got passed our defenders and scored then they took the ball off us and scored it was 3-3. This was a super goal as it was kicked down the field and the striker chipped it over our goalie's head!
Just then Hanna scored again it was 4-3 – what a nail-biter! Half time… We had a good team talk and after that we were determined but Yarmouth scored it was 4-4. The pressure was on, and Hanna scored it was 5-4 then we all tried so hard but Yarmouth scored it was 5-5.
The whistle blew, the game was over and it was a draw 5-5.
It was a brilliant match with our team playing well especially with our new players Daisy and Bella in defense.
At the end we all came together for a Federation team photo and we all congratulated each other, supporting each other for the efforts both teams had put into the match.
Team: Isle Mary, Hanna, Millie, Jasmine, Rosie, Daisy, Bella, Georgia.
U11 Mixed Football Finals
On Monday 4th April 2022 the U11 mixed football team played against Newchurch. We knew from the start that it was going to be a tough game because they had destroyed us before. We started off with a strong defense and as Alfie, Lexi and Zara came on, they were all raring to go! We were battling hard and then our keeper booted the ball to Oskar, who shot and scored and as a bonus it went through the keepers' legs!
Newchurch tried and tried but our keeper faced them like a tank (not letting anything through him). The full-time whistle blew, we shook hands and were awarded with medals and Newchurch were also awarded them. Shalfleet had done it… We won 1-0
Our team had won a lovely shiny trophy!
Team – Sonny, Alife, William, Maisie, Toby,  Kai, Oskar,  Jack, Zac, Lexi and Zara.
Sports Award
Well done to Mrs Blackley who won the
Isle of Wight Sports Foundation award
for Outstanding achievement. This
award was presented to Mrs Blackley
on Thursday 31st of March, for making a
different in school sports.
Well Done!
U9 Shalfleet v Wootton
U9's Football Match
Shalfleet v Wootton
The game was on today (Thursday) after school as the pitch was a little drier than yesterday. Both teams started well. Shalfleet in green strip and Wootton in yellow with good passing and tackling by both teams.
Shalfleet scored the first goal, 1-0, play progressed well Shalfleet scoring another three goals; 4-0 by half time.
In the second half both teams, were eager to get going. Wootton started to push forward and managed to; 4-1 now. Shalfleet stepped up the pressure and another goal to Shalfleet 5-1, final whistle.
What a fantastic game, even the Wootton's manager gave praise to the boys for their excellent football skills.
Hockey
Hockey Friday 11th March
Shalfleet's Hockey team had a hockey festival and played a variety of matches; at the start we struggled with the mouth guards but we got there in the end.   Our first match was against Bembridge it was a tricky match, but we held on and it was 0-0, so not the worst score!  
We had Zac and Molly up in striker Alfie, Zara and Albert were in midfield last Sonny and Toby back in defense doing a fantastic job but everyone did amazing and played their part in the team effort.   In our second match we had some cracking goals by Molly; we played Ryde School B and won 2-1 so this gave us a new vigor and a drive to carry on – it was cracking and it was our best match yet, but wait you didn't think that was it did you?  It was our last match on pitch 3, we had Newchurch we both played amazingly, it was tough but we didn't let any goals in neither did they. We tried and tried then the full-time whistle blew, it was 0-0. We moved to the next round after we came second in our group  and continued to play with three more matches. We played really well and came 5th overall with only one loss.  
Y5 & 6 Basketball
On the 10th February Shalfleet School competed in a basketball tournament at Medina High School. The team consisted of 12 players Sonny, Molly, Daisy, Molly-Mae, Zac, Alfie S, Jack C, Billy, Summer, Beatrice, Zara, and Harry. We competed against 5 other schools, the games were 7minutes long and had 5 team members on court each half, which were swapped around at half time and each match allowing everybody to take part.
Everybody played really well and working as a team, knowing everyone's strengths and weaknesses. We managed to win every game and therefore going through to the next round. The team were so pleased with what we achieved.
The basketball coach who was there watching even commented on how well we used the space and our passing and bouncing skills.
Huge thankyou to Miss Isaac and Miss Lucas for taking us and training our team.
By Sonny
U9 Girls Football
The u9's girls football team from Shalfleet had a match against Northwood Wednesday after school.
It was a bit windy and the first match they had had in a while. The ground was very soft and muddy and the pitch was on a bit of a slope. Both teams played very well, and good skills in passing and tackling. Isla-Mary saved some good goals.
The first half ended in 0 -0
Shalfleet girls came out for the second half full of enthusiasm, Georgia received the ball in the middle of the field with no one from Northwood on her tail, she shot for goal, but it was stopped by their goalie,
Georgia then received the ball again, took it further towards the goal, had a shot…saved again.
Georgia then received the ball for the third time and this time hammered it home for a Goal. 
The rain started but this did not deter the girls and they held back Northwood, Isla-Mary continued to save any attempts at goal.
The game ended 1 – 0 to Shalfleet. The girls were extremely happy with their win.
Team: Hanna (C), Millie, Jasmine, Lainey, Connie, Isla-Mary, Georgia, Piper
Wednesday 16 February 2022  
U11 Mixed Football Team
On Wednesday 16th February the U11 mixed football team played a match against Northwood Primary. We kicked off but unfortunately Northwood got the ball and scored! We kicked off again and yet again Northwood got the ball, but luckily our defenders guarded our goal (which definitely helped our goalkeeper)!
After that we scored our first goal that boosted our energy levels! Northwood kicked off yet again and our midfielders got the ball; we had a shot, it didn't go in though. Then the half time whistle blew!
After half time, Northwood kicked off, we got the ball immediately and Sonny scored and in the final minute Northwood went on one final counter attack but Shalfleet stopped the ball with a slide tackle!
The final score was 2-1 to Shalfleet. We came top of our group.
The team was:
Sonny, Toby, William, Austin, Oscar, Lexi, Maisie and Zara
Just want to say a huge thankyou to Zara, Maisie and Lexi for dropping in at the last minute because some people couldn't make it!
Friday 11 February 2022-U11 Girls Football Match
On Friday 11th February the U11 girls took part in a football match against Nettlestone. In the first half Nettlestone took a strong lead by 2 goals to nil, with about 5 minutes before the half-time whistle blew, Shalfleet scored their first goal of the match, we weren't quite there yet but we all still had faith! After half-time we were on the ball and ready to score some more goals, just as it happened, the score was 2-2. Then Nettlestone flew in and unfortunately found the back of the net! Shalfleet got another goal (which was a own goal scored by their defender) but yet again Nettlestone found their way through our defenders with two goals (were not quite finished yet!) With one minute left before the ending whistle blew, Nettlestone scored another goal. So, at the end the final result was 6-4 to Nettlestone! As a team we all played amazingly!
The team were:
Lexi, Maisie, Tilly, Flo, Ellie, Zara, and Franki
Just wanted to say a huge thankyou to Franki and Flo for stepping in at last minute. A huge thankyou to Mrs Blackley and Mrs Blackburn for putting us together we make a great team. Hopefully we will see Franki in a Shalfleet kit again soon!
By Maisie
Shalfleet v Yarmouth: U11 Boys
On the 28th of January, Shalfleet played Yarmouth in a cup match. In the first half Yarmouth kicked off with some great chances but thankfully for Shalfleet, Sonny saved all the shots. Then the ball came to Toby who smashed the ball up the field which went to Archie (Yarmouth)
who crossed it into Ollie (Yarmouth) who shot and missed because Sonny made a great save. Then Sonny picked the ball up and threw it as far as he could straight to Oscar who ran up the field crossed it in to Jack who scored. The referee blew the whistle for half time. 
Shalfleet got the ball and did some amazing passes to Oscar, he scored. Then Yarmouth
dribbled all the way to the goal but before they could score, Toby came in and got the ball and passed to Zac who passed to Kia then to Alfie who crossed it to Jack who scored again.
Then the ref blew the whistle for full time.
The score ended 3-0 to Shalfleet.
The team: Sonny, Toby, Austin, Zac, Jack, Kai, Oskar and Alfie.
Shalfleet V Nettlestone U9 Boys
In the first half, both teams played well with Nettlestone having a few shots at goal. Oscar, our goalie brilliant as ever, saved everyone. At the end of the first half it was 0-0.
Shalfleet upted their game in the second half and Freddie scored the first goal for Shalfleet after two minutes. This was his first ever goal in a match! Remi then went on to score the next goal and in the last second, Harry scored the third goal. Louie played really well on the left wing too.
The final score was Shalfleet 3 Nettlestone 0.
Team: Luey, Harry, Oscar, Remi, Casey, Ben, Freddie, Louis
Newchurch v Shalfleet U9 Boys
In the first half we were playing well as Luey scored an own goal for Shalfleet. Minutes later though, Oscar put in a through ball to Harry and Harry scored. At half time, we all had a drink, then back on the pitch. Louie had a couple of good chances on goal but was unable to score. Remi kicked the ball to Oscar, who was running down the wing and Oscar crossed the ball to Harry. Unfortunately, Harry missed. The whistle blew and the score was Newchurch 1 Shalfleet 2.
Team: Luey, Harry, Oscar, Remi, Leo, Ben, Freddie, Louis
Indoor Athletics
Indoor athletics Wednesday 12th January 2022
On Wednesday Shalfleet took part in the indoor athletics competition. The events were: speed bounce, chest push, triple jump, standing long jump, javelin and vertical jump. We all took part in different length relay races. We competed against four other schools and really worked hard as a team. In the end all thanks to Sonny, Franki,  Alfie, Maisie, Toby, Albert, Lexi ,Austin, Summer, Bea, Molly, Zac and Paige , who was a reserve, we came 2nd and that took us to the Island finals! What a fantastic achievement!
Speed bounce= Toby and Maisie
Chest push= Lexi and Alife
 Triple jump= Franki and Sonny
Standing long jump= Summer and Zac
Javelin=Molly and Austin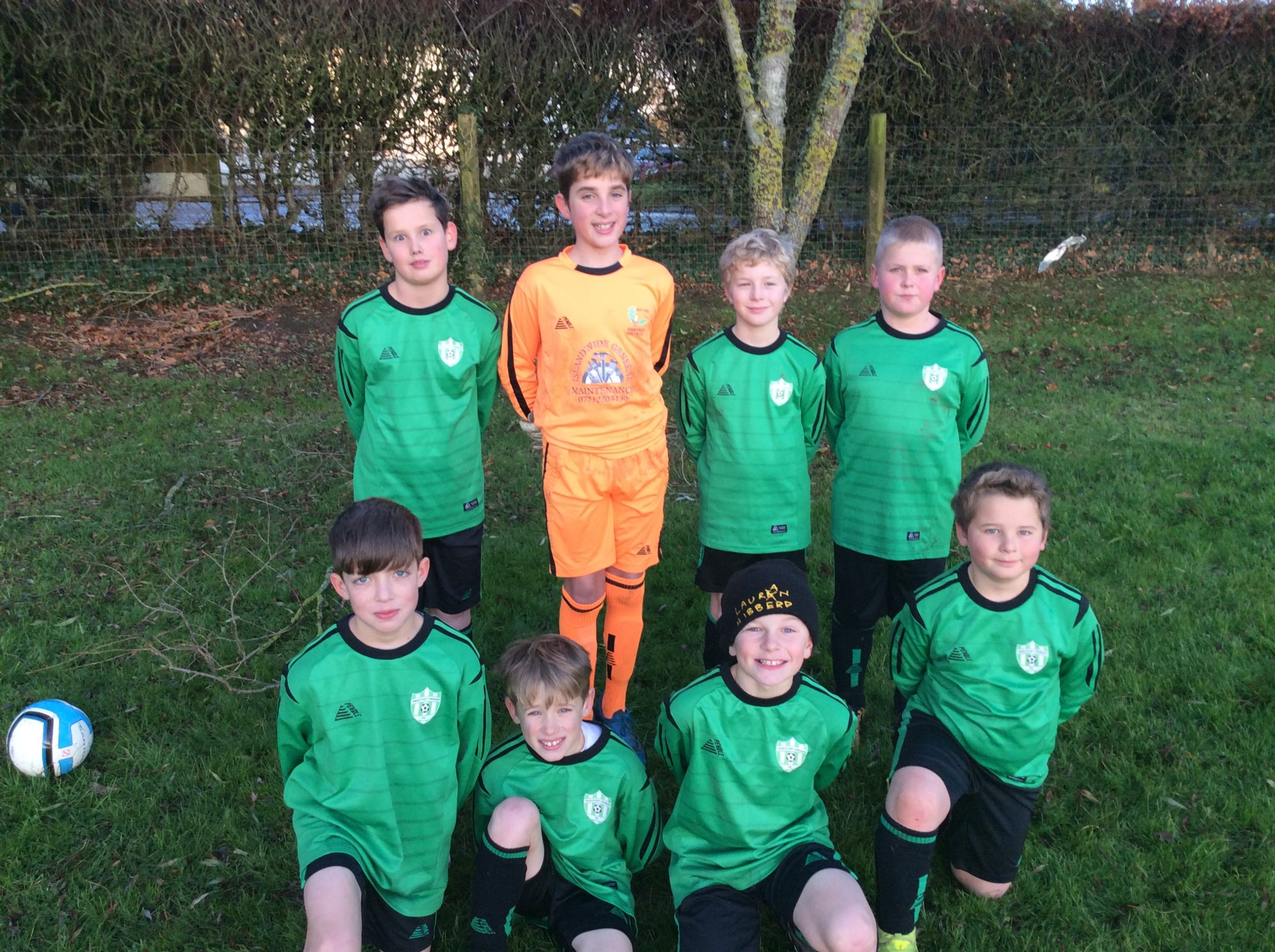 Shalfleet V Godshill
Shalfleet 7-1 Godshill
Shalfleet are through to face Yarmouth in the next round of the cup after a resounding victory over Godshill. A hat trick from Oskar, 2 headers from Jack and a goal a piece from Sonny and Toby saw the team through.
Team. Sonny, Toby, Jack, Kai, Austin, Oskar, Alfie, Zac.