Pearl of Africa Children's Choir
We recently had the privilege of having a visit from The Pearl of Africa Ugandan Children's Choir. Pearl of Africa is a non-profit organization who aim to break the cycle of poverty for Ugandan children by investing in education, health, water and sustainable food programmes, in consultation with their Ugandan partners. https://pearlofafrica.org.uk/
The choir spent the day at both sites, teaching the children singing, drumming and dancing workshops before giving the school children and their friends/ families an uplifting, energetic evening performance at Freshwater and Yarmouth CE Primary! A fabulous time was had by all! Thank you to everyone involved in making the day possible and to everyone who came and supported!
Here are a few quotes from the staff and children:
It was really good. I liked the clapping -Bruce
The dances were amazing – Annaleigha
They were amazing! They sung acapella using only drums to keep in time. It was fabulous! – Mrs Harris
The exploded into the hall with so much confidence, they were so inspiring and left us all feeling elated – Mrs Whitehead
Golden Hill Fort Federation Outdoor Learning Day
Kings coronation in Yarmouth Square
Thank you to all of you, that were able to join us at the Kings Coronation singing event in Yarmouth on Sunday. It turned out to be a lovely sunny day and the children were all amazing. They sang 5 songs & the national anthem, beautifully.
Well done!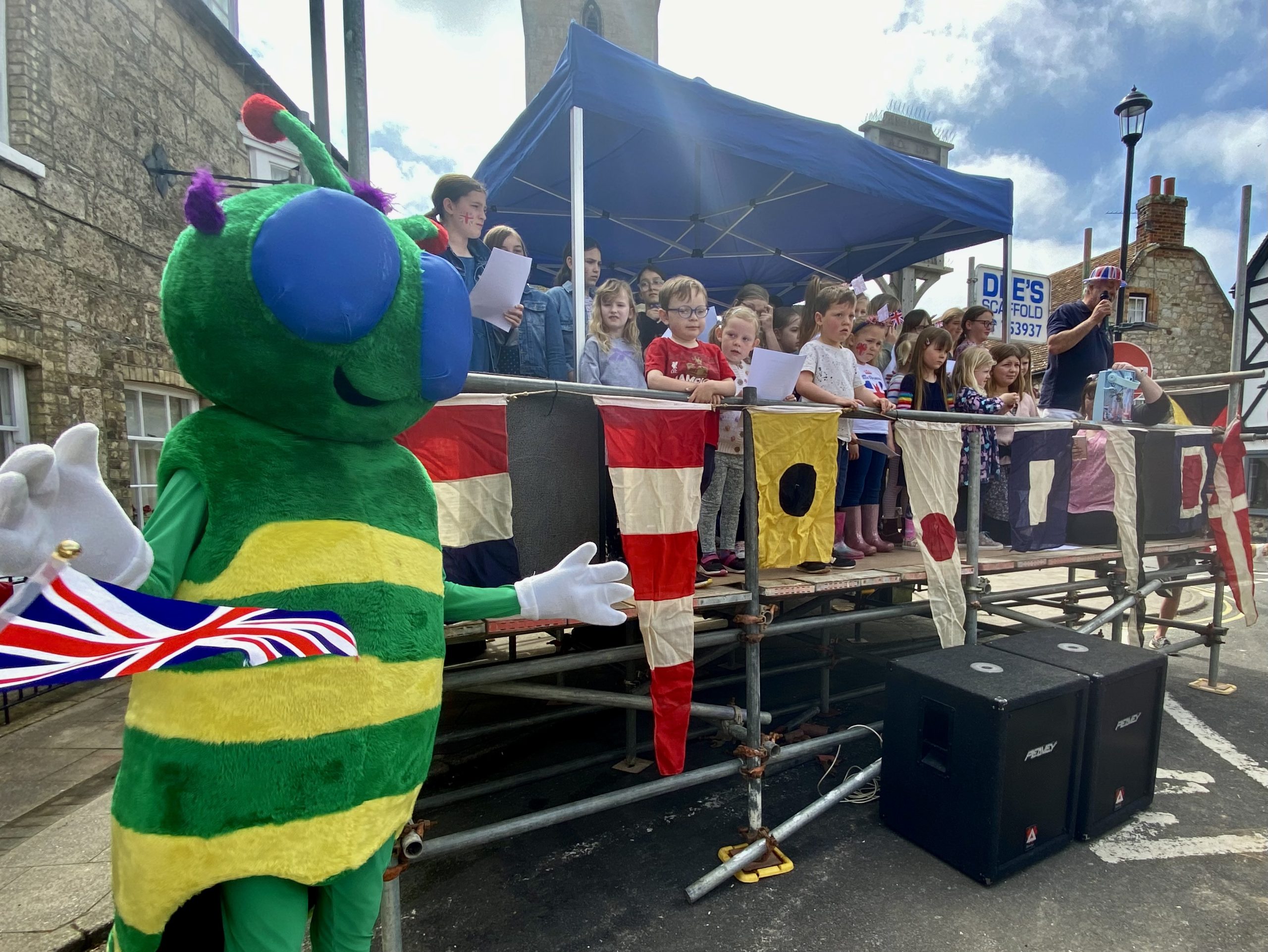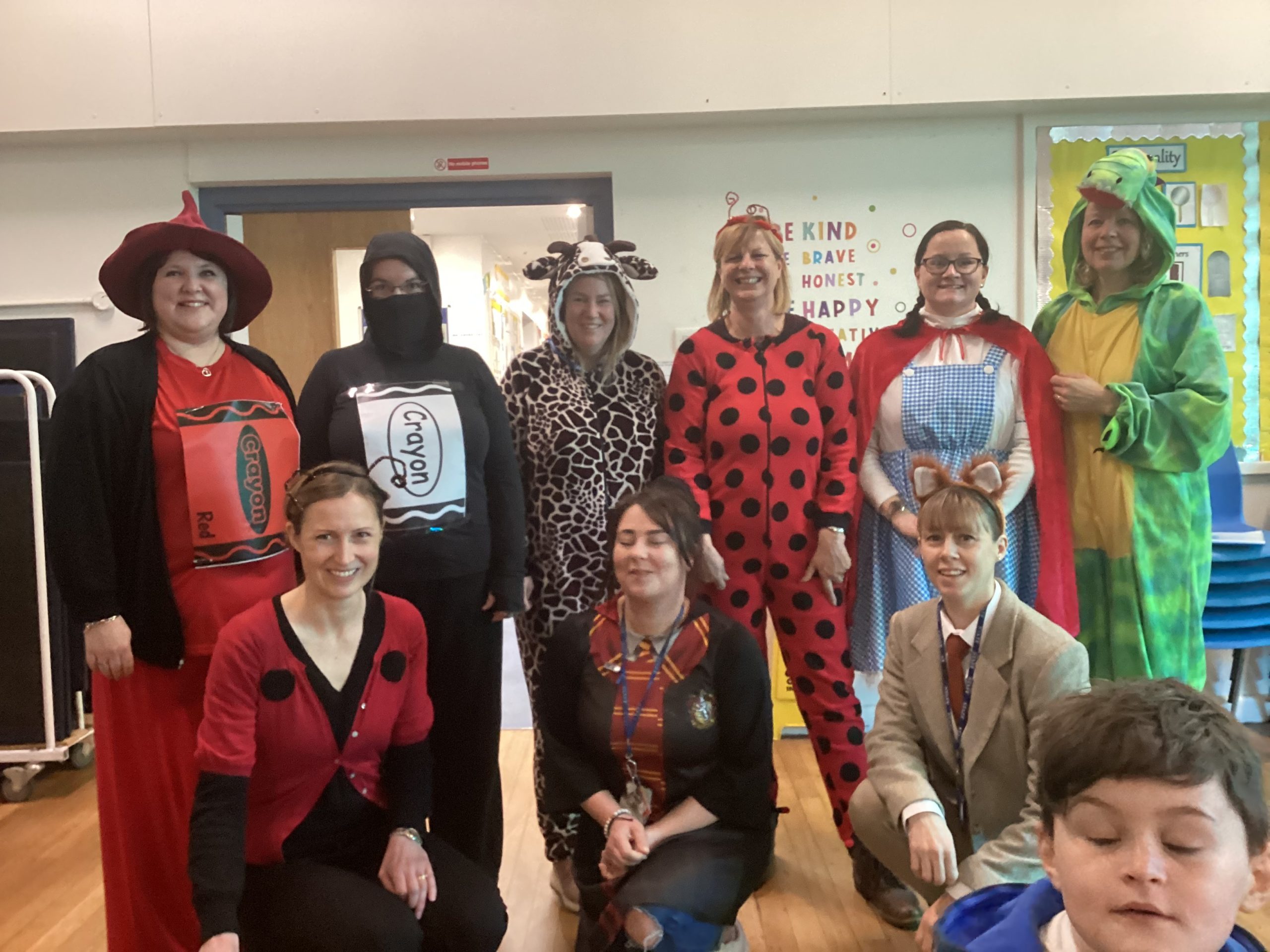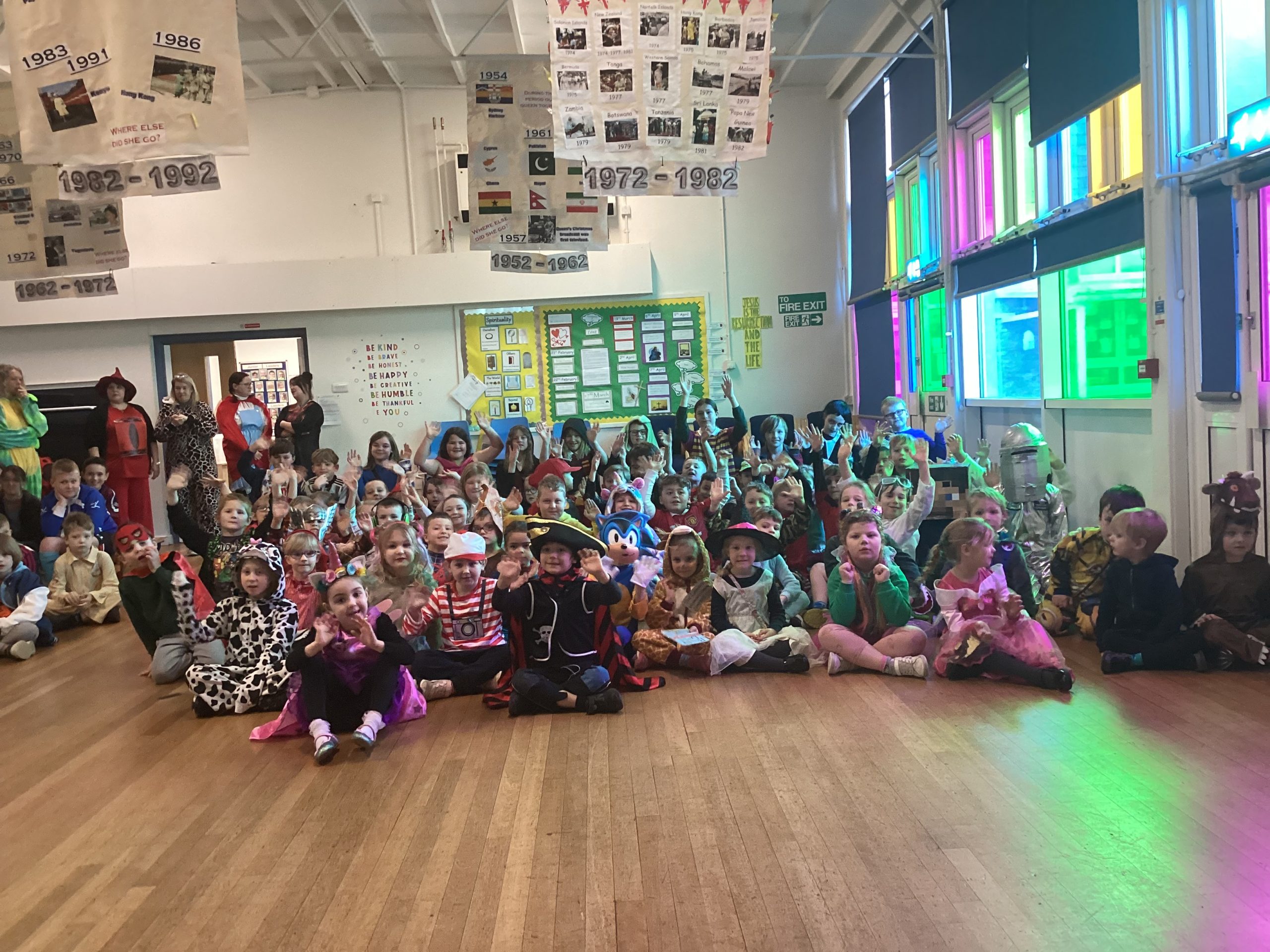 Harvest Festival
We collected 13 boxes full of food which we donated to the Food Bank. The ones pictured are just a few! The children also made Vegetable and Fruit Sculptures.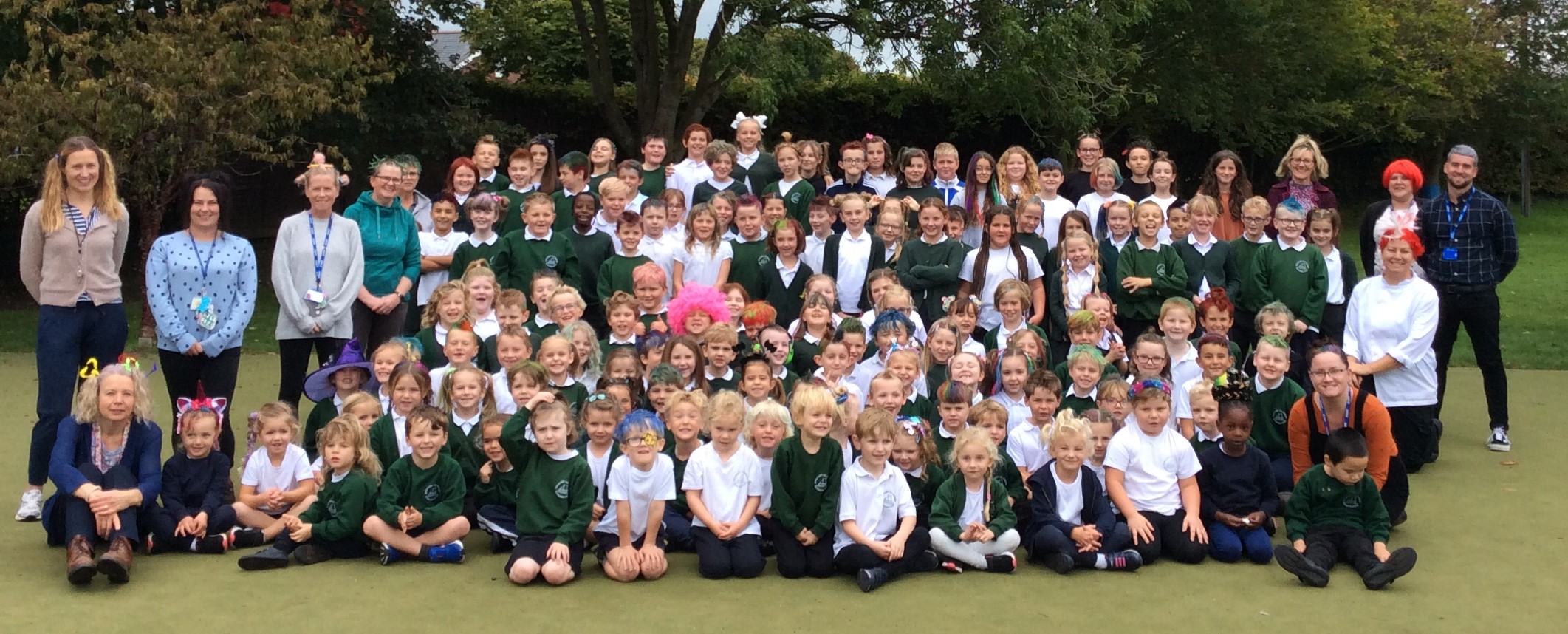 On Friday 30th September, Year 6 children had the opportunity to be taught lifesaving
CPR skills by the Ambulance Service. They were taught the signs to look out for, what to do
to keep themselves and others safe and then how to use a defibrillator and to give chest
compressions. All of the children enjoyed the experience.
Here are the photos of our school play – Through the Decades. It was a look through the decades, what had happened, been introduced and what was on the music scene. Each decade 1950s to 2020s was accompanied by a song and a dance routine performed by a small group of year 5 and 6 children, with the remainder of the cohort singing in the background!
The show was finished off by everyone standing up to sing the National anthem!
The children did an amazing job, one that we are all exceedingly proud of! Well done Year 5 and 6.
Jubilee Banners
Every class was asked to study a decade of the queen's reign, starting with year 6 looking at her first decade, 1952-1962. With a canvas, they were then asked to decorate it with events from that period.
School Chef of the Year Competition 2022
Please join us in congratulating Wendy Lohse Shalfleets own, for becoming the second finalist for the 2022 School Chef of the Year Competition.
Wendy was crowned the South-East champion on Wednesday ( 4th May ), following the regional heat in London.
Wendy cooked dishes with a Balinesian theme that met government school standards & cost requirements in front of a judging panel.
The competition included the top school chefs from the entire UK.
PEACH – Relationships Art Exhibition at Quay Arts
In collaboration with the Executive Head-teacher Group, IWC Public Health worked with key stakeholders to co-produce and develop a new 'whole-school' framework for Island primary schools. This partnership, known as PEACH: Partnership for Education, Attainment and Children's Health focuses on four domains:
Personal, Social, Health and Economic education (PSHE)
Physical activity
Healthy Eating
Emotional Wellbeing and Mental Health
Excitingly, the 'Relationships' Art project allows us to bring PEACH into the wider community, showcasing and celebrating both the great work that takes place in Schools and the creativity of our Island pupils.
The exhibition brief for Schools was "creatively demonstrate what 'Relationships' mean to you? This could be around friendship, family, relationship with oneself or even linked to community and wider planet through the likes of the Island's UNESCO biosphere status or COP26 agenda."
Earlier this year both Yarmouth and Shalfleet schools were invited to take part in an exhibition in collaboration with PEACH and the Quay Arts Centre, in Newport. Schools from across the Island took part, interpreting the theme of "Relationships". As one of our school values, it was a theme close to our hearts and the children had a wonderful range of ideas and interpretations.
It was an amazing opportunity for some of our most talented artists from all year groups to see their artwork in a real gallery. I also managed to work with Reception at Yarmouth to create the beautiful heart of handprints, something the children really enjoyed. The children were involved at every stage of the process, from brainstorming ideas and deciding on materials to designing and painting the final pieces. Each week children gave up their time to meet and work together on their artwork.
They all worked so hard and can be very proud of their achievement. It was a proud moment for me to see their work in the Clayden Gallery at the Quay Arts Centre and to receive such wonderful feedback from those who had managed to view the exhibition with their families.
By Gemma Whitehead (Y4 Teacher at Yarmouth)
Green Fund
Wightlink has announced that 15 Isle of Wight primary schools will receive a share of around £10,000 from the ferry company to support local environmental projects. Our schools were lucky enough to secure funds from this project………..Thank you, Wightlink!
As one of the first to benefit from Wightlink's new Green Fund for Schools initiative, we will be looking to set up support projects that bring lasting environmental benefit to our schools and communities. Over the coming months, we will be looking at ideas like reduce energy consumption, encourage and facilitate recycling and at ways in which we can create new and improved habitats for wildlife.  
Yarmouth Duck Race
On the 16th April Yarmouth held their Duck Race. Children from both schools entered a competition to design a duck. Jen Allen who runs the Carnival Committee judged the competition. The winners were the Ukrainian Flag Duck designed by Freddie R at Shalfleet and the patchwork duck designed by Freddie G at Yarmouth. 
Tree Planting in celebration of the Queen's Jubilee
Rachel from Natural Enterprise in association with  the Isle of Wight Royal Agricultural Society came to both schools to plant trees as part of the Queen's Green Canopy for the Jubilee.
At Yarmouth, we have planted an Oak tree that we will move to our new site in Freshwater next year. The tree was planted by the Year 6 children so they will have an ongoing connection with the new school. Who knows, perhaps one day they will be able to tell their children about the history of this special tree.
The tree we planted at Shalfleet was grown from an acorn from a 700 year old oak tree at Nunwell. We will be able to watch this tree grow and nurture our own little acorns for many years to come.
We were very proud to help celebrate the Queen's Jubilee by planting our trees. Do look out for them when you are visiting our schools.