Welcome to The Federation of the Church Schools of Shalfleet and Yarmouth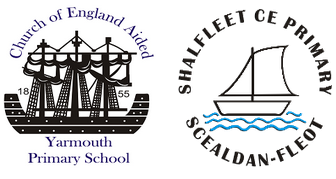 "Achieving Together for a Brighter Future"
Shalfleet CE Primary School Portal – Click Here
Yarmouth CE Primary School Portal – Click Here
Please Note: This website is still under development, thank you for your patience while the website is being updated.
The Federation of the Church Schools of Shalfleet and Yarmouth are two Primary Schools both based in vibrant communities in the west of the Isle  of Wight. The Federation has been in existence since 1st September 2010, has one Governing Body and recently moved to one Headteacher. We have worked exceptionally closely together, successfully expanding to provide education as full 4-11 primary schools on both sites. We have improved and extended our buildings, developed the curriculum and further raised standards of attainment. Both schools are rated 'Good' by Ofsted.
Our warm and caring ethos supports and develops our children to become confident, caring and successful individuals. Setting them up with the skills and values that they will need to achieve their full potential now and throughout their lives.
"Thank you for visiting our website!"