Rugby Skill Training
Blue Class PE
On Wednesday afternoon our U9 team travelled to Brighstone for the semi final of the rural league. It was a cracking game. Yarmouth took the lead when Oli scored his first ever Yarmouth goal, only to be pegged back as Brighstone scored 2 in reply. Right on half time Archie equalised with a great finish. At the start of the second half Brighstone re took the lead and it looked liked we would be out. But the team had other ideas and rolled their sleeves up, literally in some cases, and fought back. Ronnie equalised again after a great run and finish, then after a goal mouth scramble Archie got his second to put us in the lead. Brighstone piled on the pressure looking for an equaliser but we held strong and now face the tough task of Shalfleet in the final.
Well done team, who win the sports award for their efforts this week.
Team. Henry, Seth, Louis, Oli, Evie, Ronnie, Archie, Daisy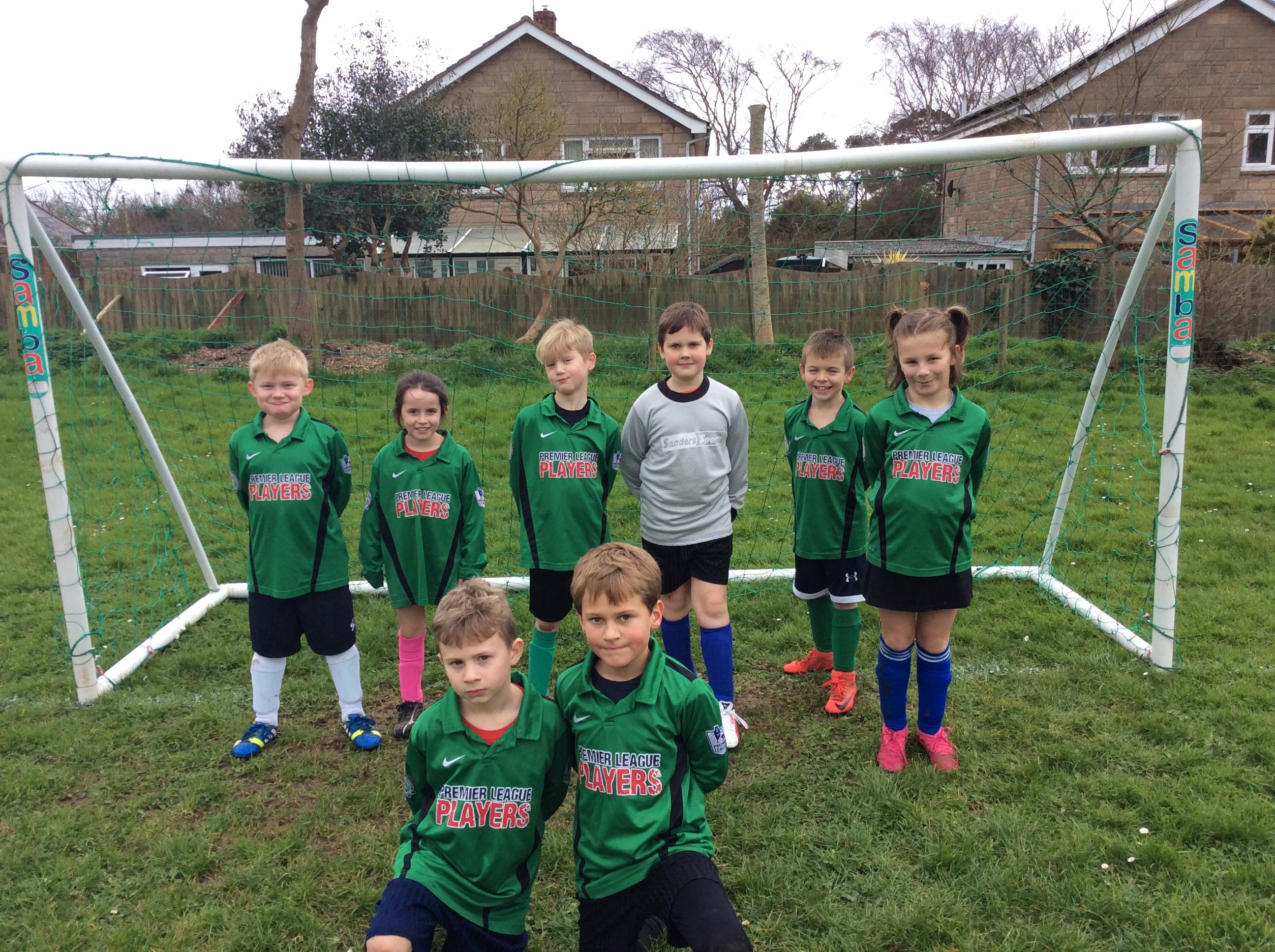 On Wednesday afternoon our year 3 team entertained Godshill in a league match. We started off well after Ronnie scored when getting the ball from a quick throw in. We created a few more good chances but couldn't take them, and Godshill equalised with a great finish. In the second half we scored again through Henry, but again Godshill fought back, meaning the game finished 2-2
Team. Oli, Seth, Louis, Henry, Ronnie, Archie, Evie.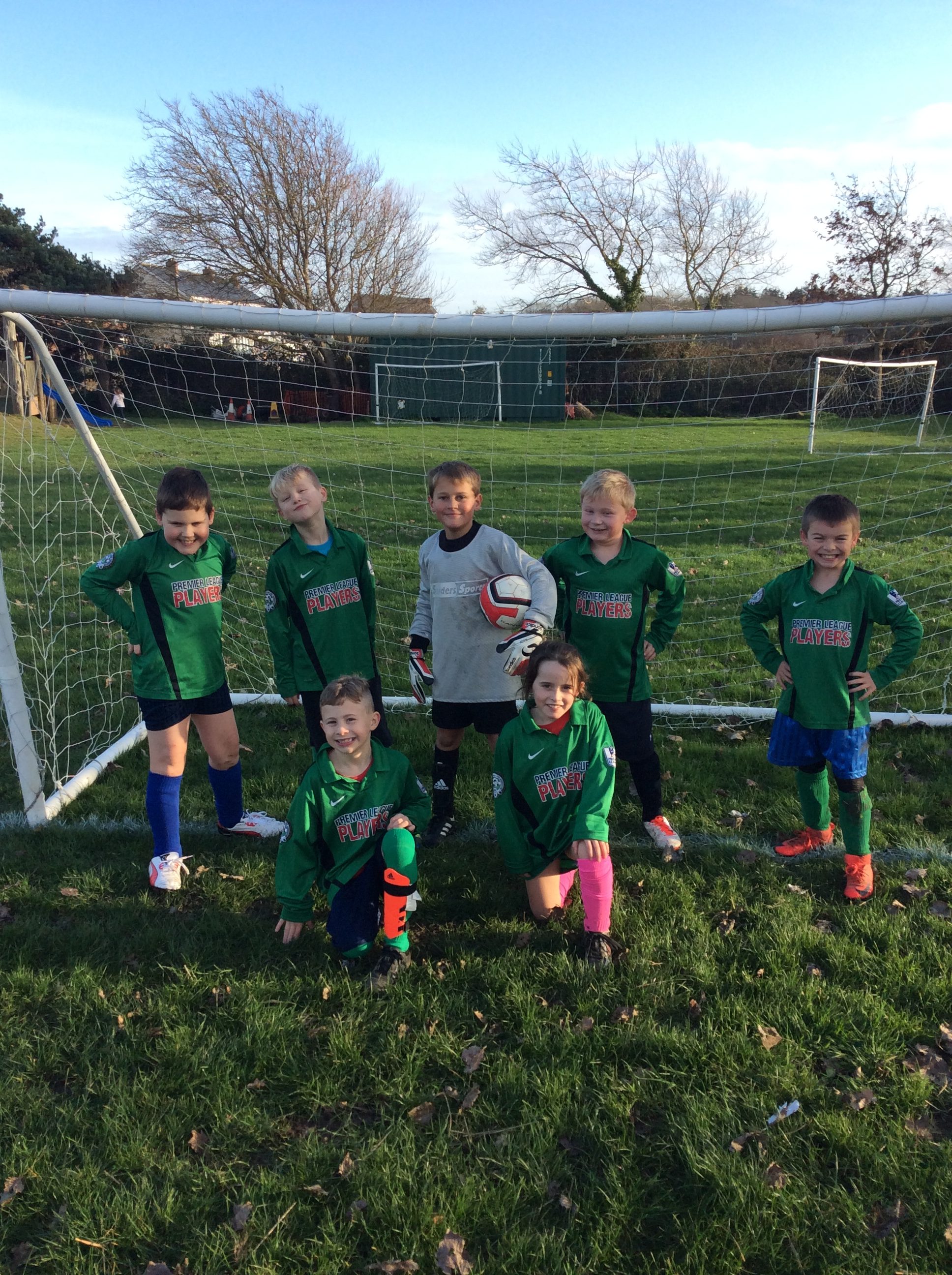 On Friday our under 9 team travelled to Brighstone for their second league game of the season. Having narrowly lost the first meeting we knew it would be a tough game. We started off well creating a few good chances, but the Brighstone keeper kept us out.everyone was working really hard, Louis and Seth doing some great defending, with Daisy, Ronnie, Archie and Evie, chasing down Brighstone at every opportunity. Despite our best efforts it was 0-0 at half time.
The second half was very similar, Henry in goal for us was very cool under pressure, but again it was us creating lots of chances but being stopped at the last. Finally we got our goal, Archie with the finish. Then the floodgates opened, Ronnie with 2 and Archie with a great run and finish made it a final score of 4-0. Jubilant scenes at the end as we celebrated our first win.
Well done to the team, great effort and enthusiasm from them all means this week they are the winners of the sports award.
Team. Henry, Evie, Daisy, Seth, Archie, Ronnie, Louis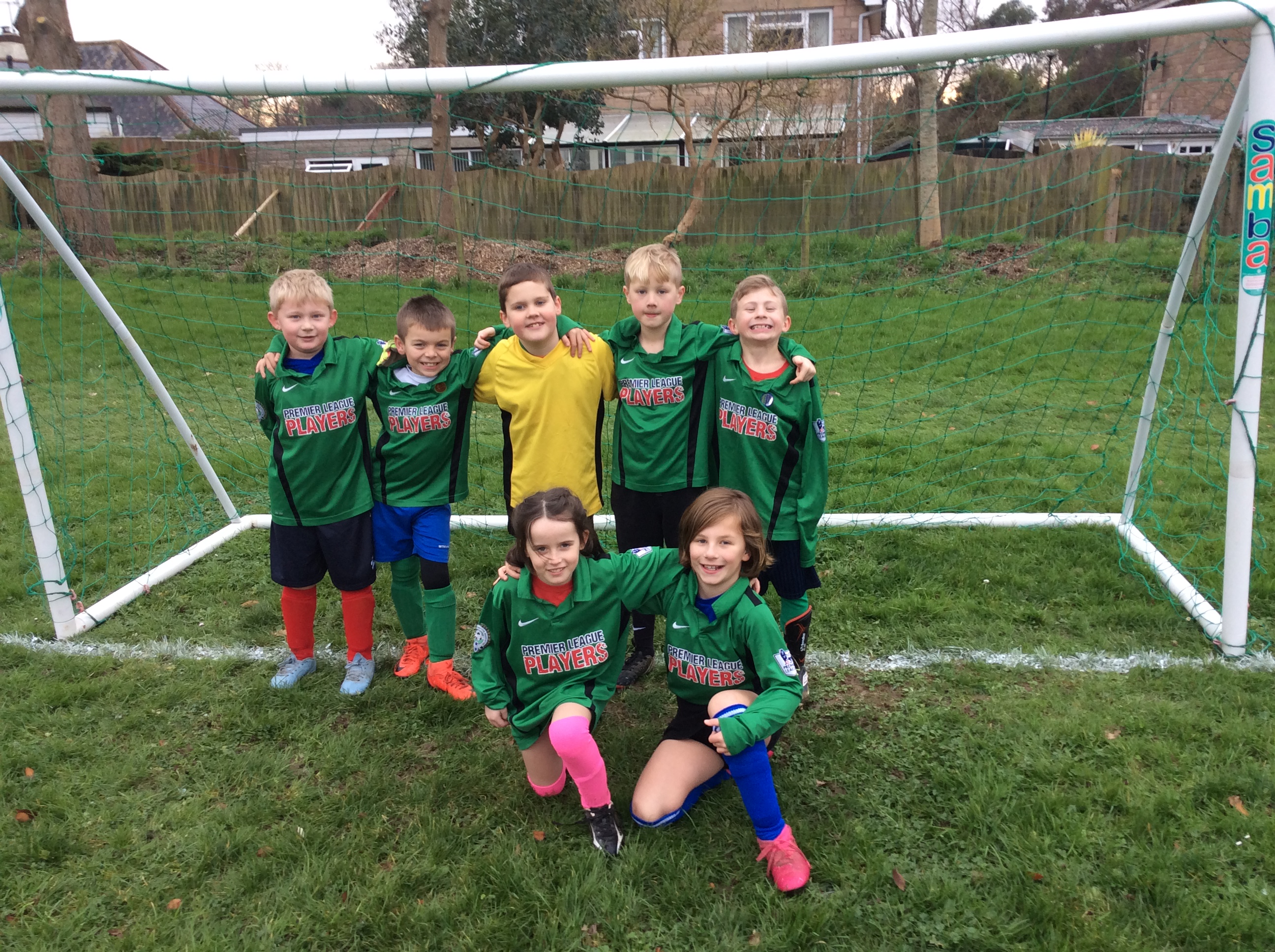 On Tuesday afternoon Yarmouth U9 girls made the short trip to our federation friends at Shalfleet. After our victory against Brighstone a win today would mean that we were in the final. After a tense start we relaxed when Daisy opened the scoring. More attacks were stopped by some good defending by Shalfleet, but at the other end Ellie in goal and her defenders had to be aware to stop them scoring. At half time we had kept our 1-0 lead.
In the second half it was a similar story, both sides with good pressure, but this time Evie scored the goal, losing her boot in the process. Shalfleet kept going and it took a couple of good saves from Elana, now in goal to keep them out. At the final whistle the girls celebrated and they now know they are in the final against Brighstone.
This is a great reward for all the hard work the girls have put in at football club and in the matches. Well done girls.
Team. Ellie, Izy, Lilly-Mai, Molly, Sophia, Evie-Leigh, Elana, Jeanie, Daisy.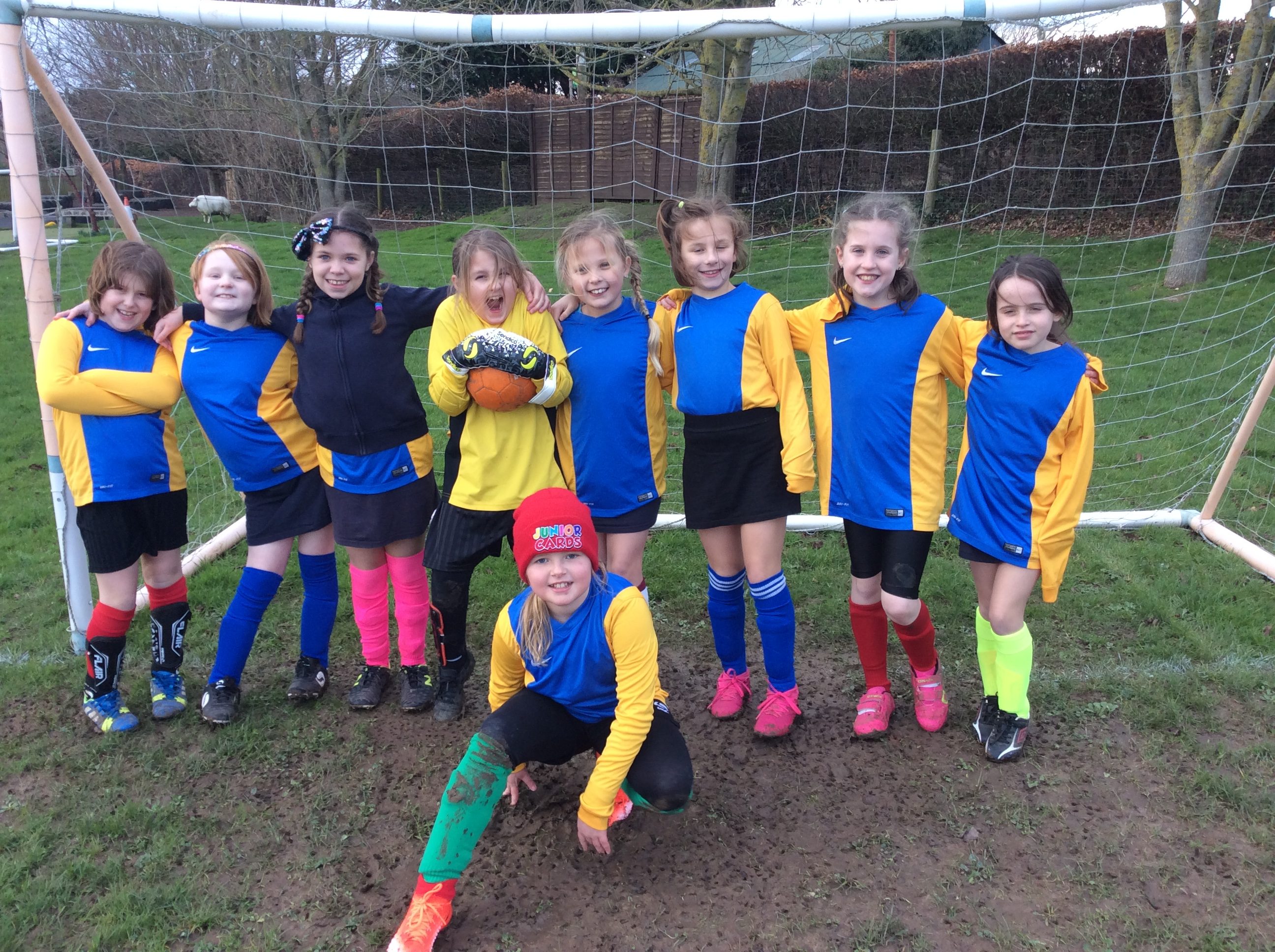 On Wednesday after school our under 11 team travelled to St Blasius for the second league game of the season. We started off well, scoring an early goal when Ocean followed up after Toby's cross had been blocked. Then St Blasius came on the attack, good defending from Oscar, Izzy and Joe stopped them some times but when they broke through Gabe was there with save after save. We nearly scored again after a long throw from Dom put Ocean clear, but their keeper saved. At half time it was 1-0. In the second half more defending and great saves from Gabe kept St Blasius at bay until they eventually equalised near the end of the match. A great effort by the team to get their first draw of the season. Well done.
Team. Gabe, Joe, Izzy, Ocean, Dom, Oscar, Toby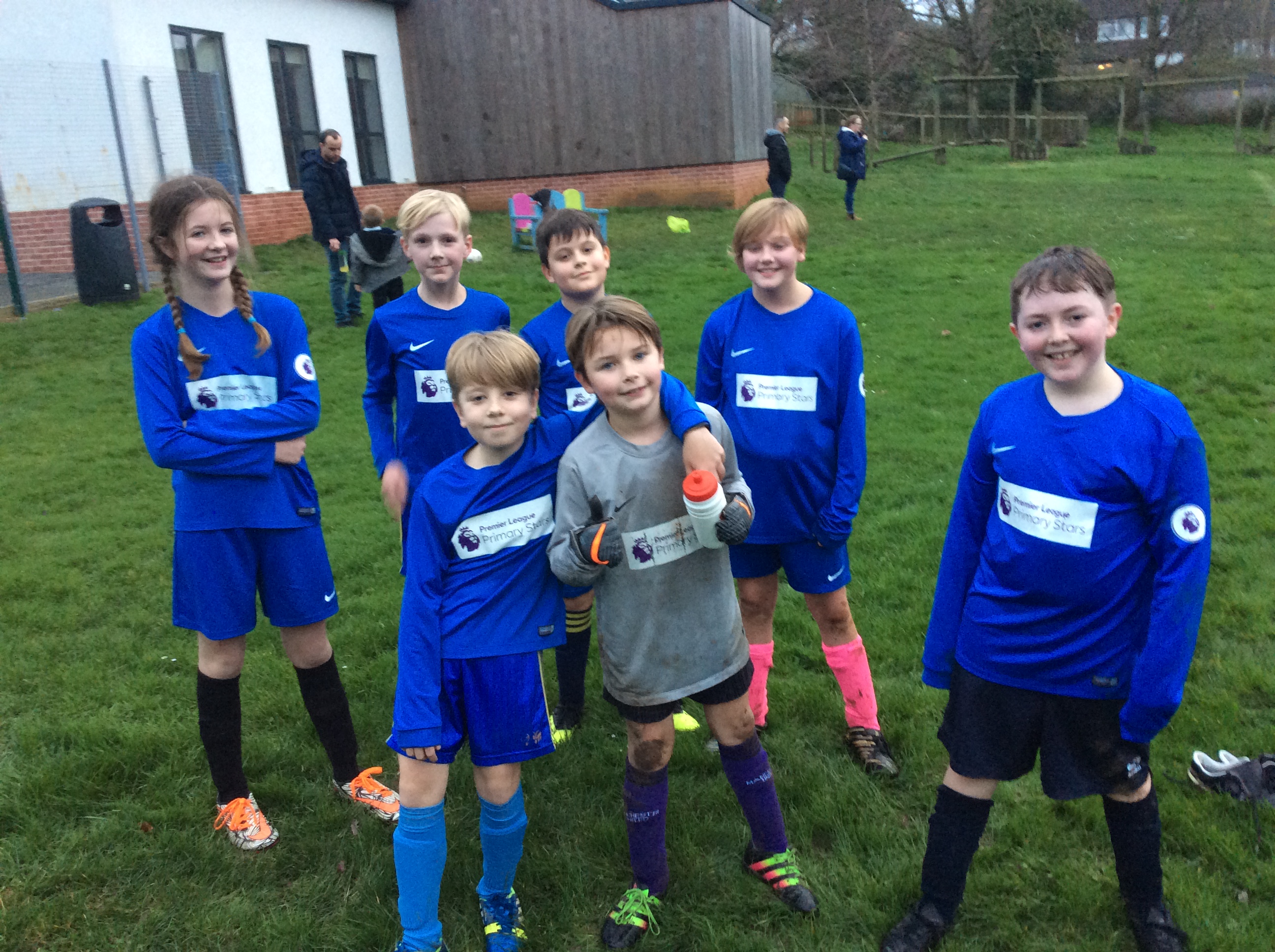 On Friday teams from Yarmouth and Shalfleet travelled to Shanklin fc to take part in the island cross country relays. With 744 children taking part it was a massive event, with some fantastic runners involved, but our children were not overawed. They all showed great determination and team spirit, cheering each other on and running to the best of their abilities on a very muddy course. The children were a credit to the federation with their behaviour throughout a very long day.
Teams. Elana, Evie, Daisy, Archie, Ronnie, Oliver, Seth
Grace, Izzy, Ocean, Alesha, Toby, Oscar, Gabe, Max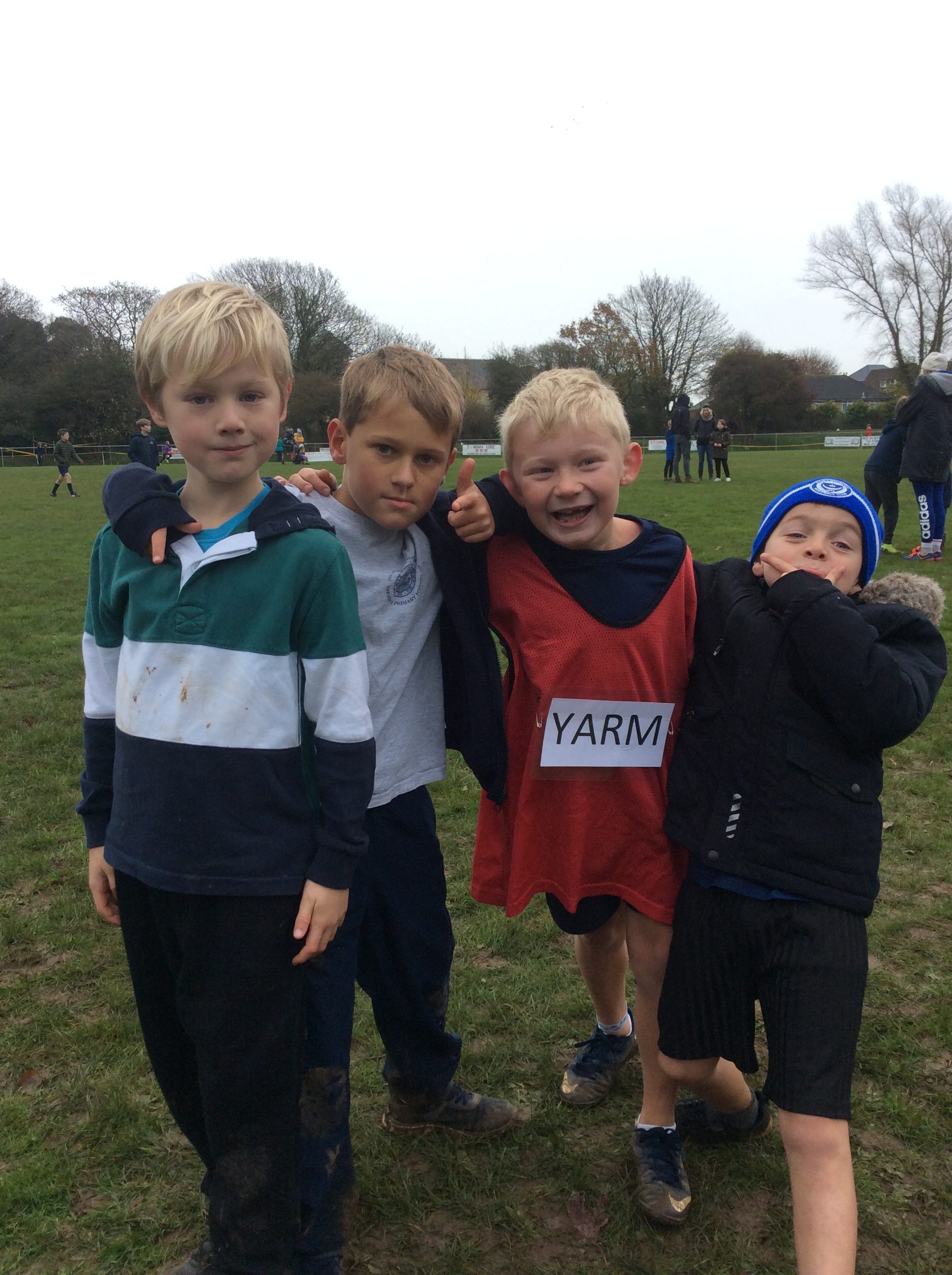 On Monday 11 November our under 9 girls football team headed to Brighstone for the second league game of the season. Having been defeated last time out the girls knew it would be a tough game, but they were focused and ready! The game started with Brighstone on the attack but our defence stood strong. Then, after some good tackling in midfield Molly found herself in on goal. She made no mistake and put us into the lead. Back came Brighstone, and equalised. Half time 1-1. The second half started and we were on the attack, handball in the Brighstone box and a penalty to us. Up stepped Elana to take the penalty and smashed it home, celebrating with a cartwheel! The game flowed with chances at each end, Ellie making some good saves to keep our lead. We couldn't find a third goal to give us breathing space, but at the final whistle the girls cheered to celebrate their first ever win.
Team. Ellie, Lilly-Mai, Izy, Daisy, Sophia, Evie, Jeanie, Molly, Elana.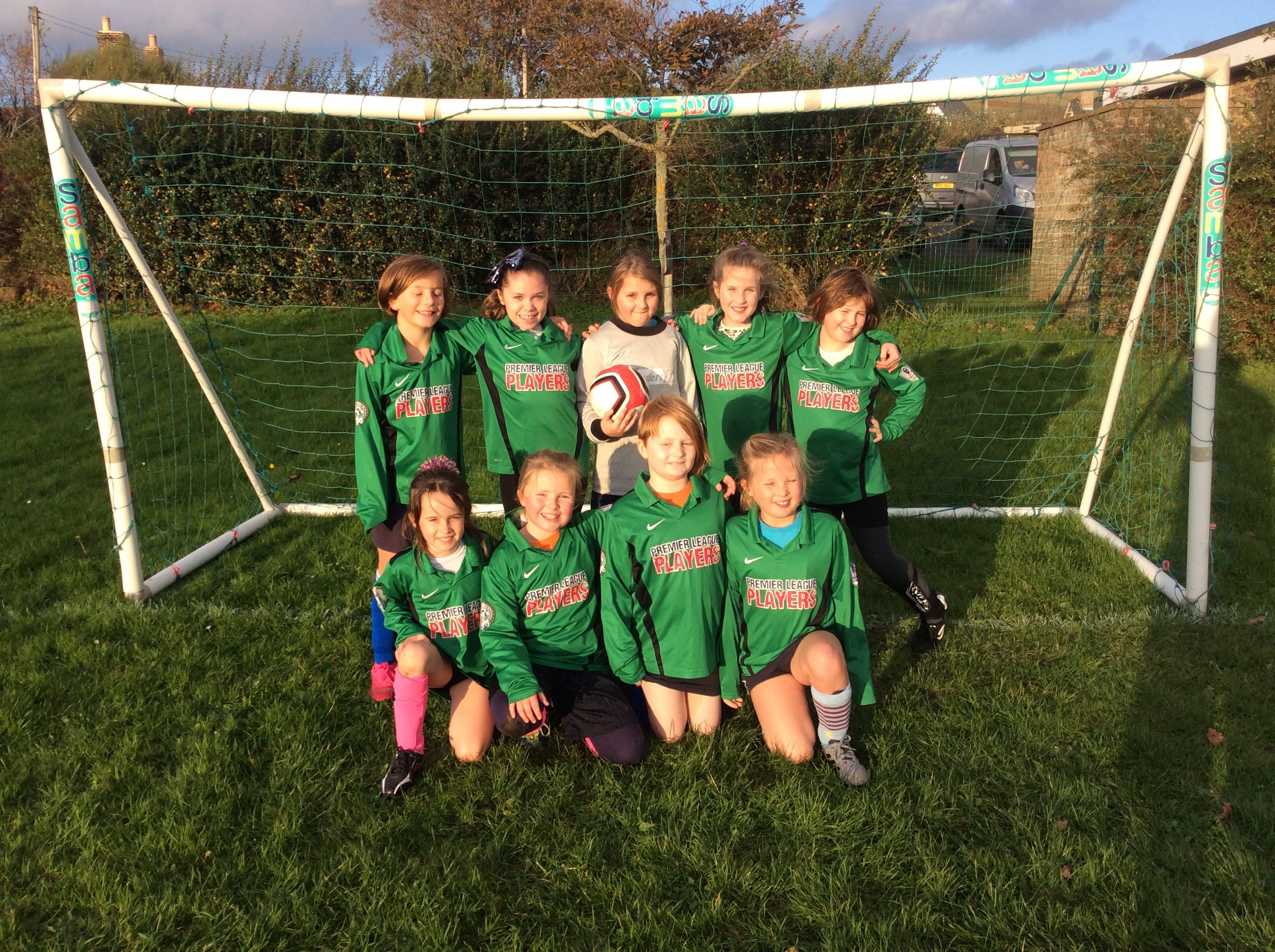 Hampshire Games
On Thursday last week four children from Yarmouth along with 8 from Shalfleet made up a federation team to represent the island at the Hampshire games. It was a massive achievement for the school as the event had over 2000 children taking part. Our event was multi skills. The event as looking for children to show the Hampshire games values of honesty, passion, respect, determination, teamwork and self belief during a number of events. The morning consisted of 7 different events testing different skills, including archery, cycling and running. Points were awarded for many reasons, all the children were commended for their teamwork and independent thinking. After the scores were added up we came third!! It was a great day and the children were fantastic representatives for the federation and the island.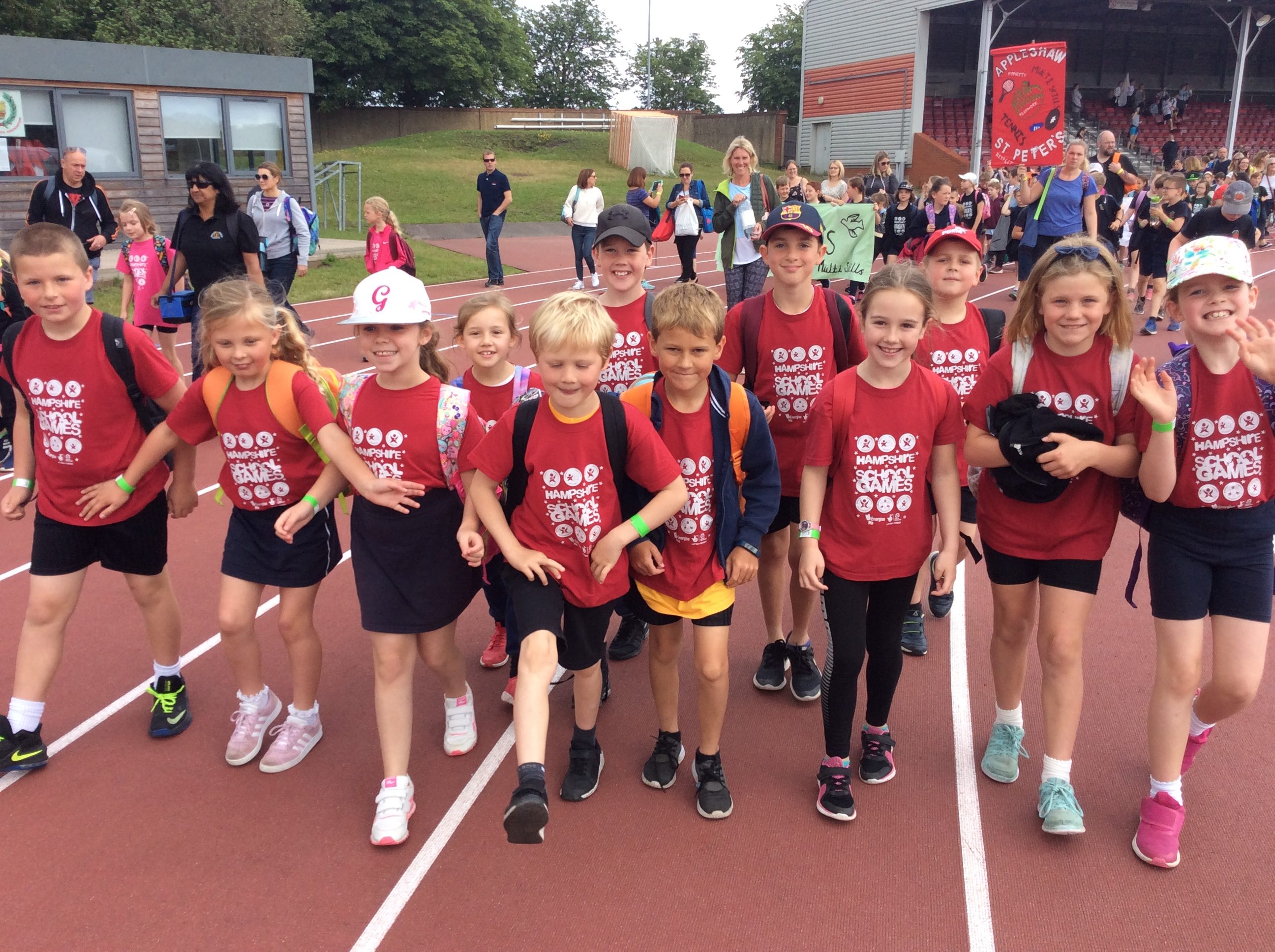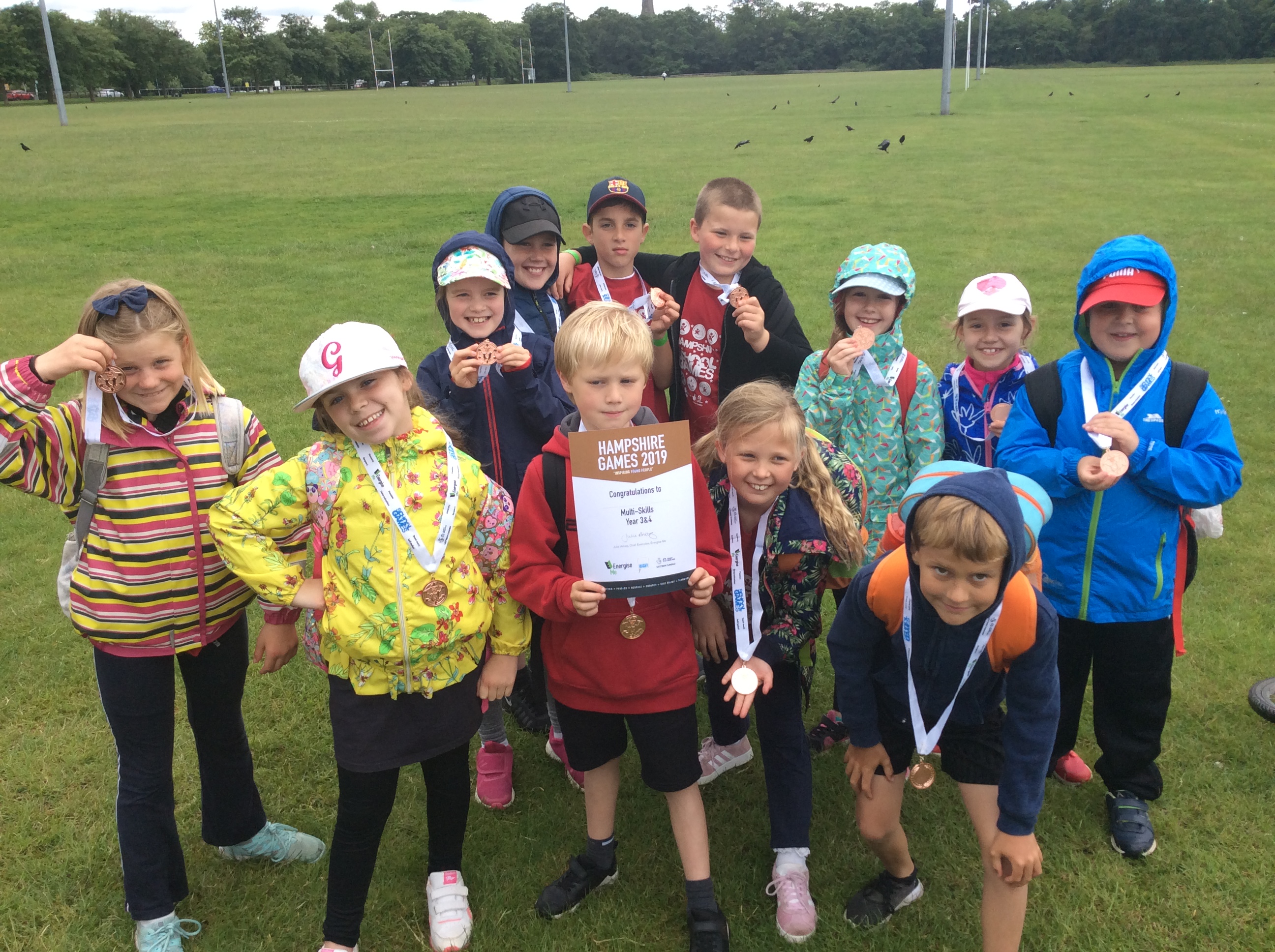 Hampshire games Multi skills – Once we arrived we were greeted by a massive parade. Then we got took to a big field. Our first event was grabbing beanbags and placing them in hoops to make a face. Next events was self-belief with a bat and ball playing simple games. After that was riddle solving. The next activity was a throwing and teamwork tennis based game. Following that was bike riding and running with an obstacle course within the game. Archery was after that. At the end of the day, they were awarded with a definitely deserved bronze medal. We had a brilliant, fun but exhausting day!
By Danny, Jasmine, Sam and sports leader Daisy.
Hampshire games hockey 2019 – On the 20th of June 6 brilliant hockey players arrived at the Hampshire games, to play top quality teams. Our first match is always our weakest and we realised how high the standard were, our second match was more aggressive because we knew we had to win to get to the next round. But we drew the next two matches. Our final match in that round it decided to rain but despite that we won.
We got through to the next round and we were the only island team to do so. We all played very strong in our last few matches and came 5th out of 40. We all really enjoyed our day out and were very impressed with ourselves.
By Erin and Jess
Shalfleet primary under 9 cricket tournaments
The cricket team was 6 year 3 pupils played a cricket tournament at Lanes end primary school. There first match they played against Carisbrooke primary and Shalfleet won 235 and they got 203 runs. The second game they played Brighstone and they won again by 244 and they got 229. The last game they played they were very nervous because Lanesend won all the games before but the Shalfleet team beat them by 253 and they got 219.
They had so much fun and they would love to do it again.
By Sonny and Toby
Tuesday June 11th
On Tuesday afternoon we traveled to Arreton cricket club, to play Primary school sporting giant Newchurch in the quarter final of the girls cricket cup. Olivia won the toss and Yarmouth batted first. Amazingly none of our team were out and we set a good total of 241 for Newchurch to chase. It started well, Tawnie getting a run out first ball, all the girls bowled well, putting Newchurch under pressure, two further run outs followed, one from Ocean and a brilliant throw from Olivia. It remained tight right to the end, Sky bowling the last over really well, and a great catch from Tawnie meant we were still in with a chance. Unfortunately though, Newchurch finished their innings on 245. This meant we lost by just 4 runs, a great effort against a very good opponent.
Team. Sky, Ocean, Bella, Issy, Tawnie, Jamie, Olivia, Maia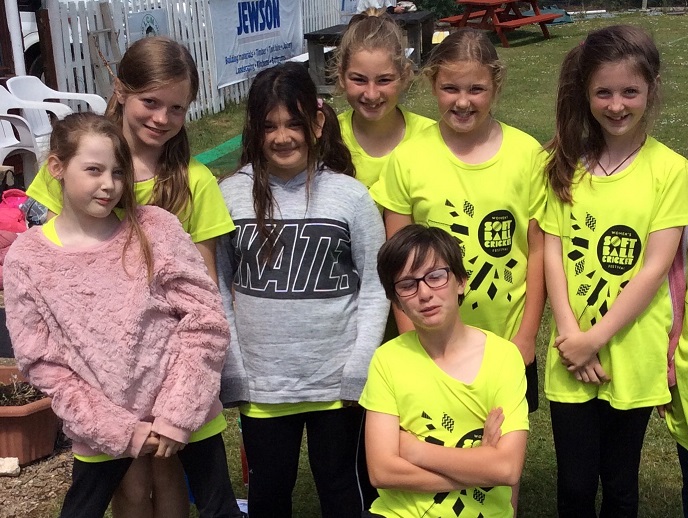 Under 11's Girls Cricket
On a sunny Thursday afternoon Yarmouth Under 11 girls entertained Shalfleet and Brighstone in the opening round of the island cricket competition. First up we played Brighstone. We batted first, Sky and Jamie getting us off to a good start, and we set a good total of 261 for 2. We batted very sensibly, taking no risks, with Ocean, Maia and Paisleigh all hitting the boundary. It was then our turn to bowl. Some excellent performances with Sky and Izzy bowling particularly straight. Two excellent run outs by Olivia and Ocean, with Paisleigh also bowling someone out, meant that we restricted Brighstone to 251 for 3 and won the match. Next up we played Shalfleet. This time we bowled first, Shalfleet got off to a good start, but another run out, this time from Tawnie, slowed them down, Paisleigh bowled another and then Olivia and Ocean bowled out the last 2 overs for just 4 runs
leaving Shalfleet with 246-2. Batting second Shalfleet started really well, putting us under pressure, but we battled back and the game was really tight and even up until the last over, when some good batting from Ocean saw us over the line winning by 9 runs, with 255-1. This means we go on to face Newchurch in the next round. The girls all did a fantastic job, and they are continuing to represent the school brilliantly in sport this year.
Team. Jamie, Maia, Sky, Tawnie, Izzy, Paisleigh, Olivia, Ocean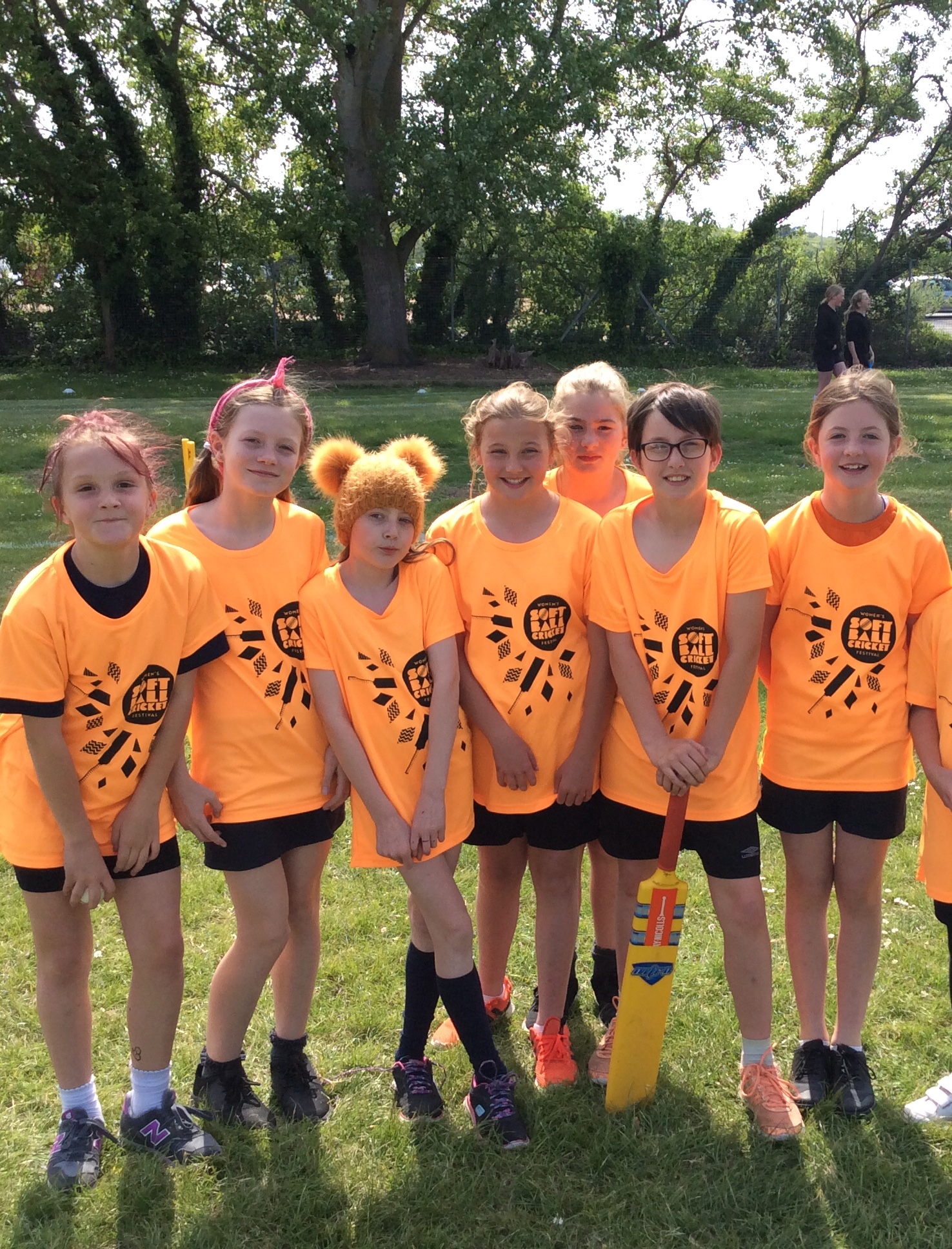 Under 11's Rural League Final
On Monday April 1st our under 11 girls travelled to Queensgate for the rural league final where we faced our local rivals and federation friends at Shalfleet. The game started off in a cagey manner with Shalfleet having a lot of the ball, however Maia and Paisleigh defended resolutely to keep them out. Yarmouth couldn't get into their stride and were met by some firm defending whenever we tried to attack. Shalfleet deservedly took the lead when a corner was tapped in at the near post. Credit to Yarmouth as we kept battling, Olivia chasing everything in midfield on a day that was so hot the lucky hat had to be dispensed with early on! Izzy replaced Tawnie in goal as we searched for an equaliser, which came after a quick throw from Olivia found Ocean, who turned brilliantly and finished at the near post. Charlotte replaced Sky to give her a rest and chased everything getting in some good tackles.
HT 1-1 Still not playing with as much confidence as they should we started the second half in the same manner as the first, and Shalfleet again took the lead after a long shot eluded Izzy. The girls dropped their heads and it looked as though the game was slipping away, Shalfleet attacking, but the defence standing strong. This drove everyone on and with only 2 minutes left Olivia sent Tawnie free down the right, who put in a great cross for Ocean to fire home the second equaliser of the game.
FT 2-2 The game went into extra time, and for most of it, a draw seemed the likely result, however Tawnie had other ideas, and after getting the ball from Sky, she ran free to score again. There was still time for another long shot from Shalfleet, but this time Izzy was equal to it. The final whistle went and the girls had done it!
FT 3-2 Team. Tawnie, Olivia, Ocean, Maia, Sky, Paisleigh, Isabella C, Charlotte.
On a windy Friday afternoon Yarmouth girls took on St Blasius in the semi final of the rural league competition. The conditions did not help with either team to play football, and after a few chances each Yarmouth got a free kick just outside the box. Up stepped Ocean and placed it in the corner. 1-0 up and more chances came and went thanks mainly to some good saves from the St Blasius keeper. This meant the half time score was 1-0. The second half was a similar story, Issy replaced Tawnie in goal who took her place in midfield. Some good play gave Sky a chance that went just wide, but the pressure soon told, after some good tackling by Olivia ocean set Tawnie free and that made it 2. Shortly after Tawnie made the game safe after some more good passing. Paisleigh and Maia defended resolutely to keep the teams clean sheet intact. The icing on the cake came after a quick throw from Charlotte released Ocean to score her second and the final goal of the game. The team now face either Brighstone or Shalfleet in the final on April 1st. Well done girls.
Team. Tawnie, Ocean, Paisleigh, Maia, Sky, Isabella C, Olivia, Charlotte