Welcome to Years 3 and 4 – Blue Class
Welcome to Blue Class 2020-21! We are really looking forward to teaching your children this year and all of the exciting things we have planned.
Staff – In Blue Class, the staff team are Miss Parsons and Mrs Munn (HLTA).
Morning routines – The children will be greeted in the playground at 8.40am by a member of our class team. Registration is completed upon entering the classroom at 8.50am. Should you wish your child to attend morning club, this is available from 8am.
End of day – At the end of the school day (3pm), the children will be taken to the gate in the playground for collection. If someone is collecting your child for you, please make sure you have notified the office or we will not be able to let your child leave with them.
PE – We will be doing PE on Tuesday afternoon and Friday morning. The children are encouraged to come to school wearing their kit so they do not need to change here. For health and safety requirements, please ensure your child can either remove their earrings, or provide them with surgical tape to cover them. If your child has long hair, it should be tied back and out of their face.
Drinks – We recommend that your child brings in a named water bottle to drink throughout the day. They will be fully accessible in the classroom at all times.
Snacks – If your child would like a snack at break time, this will need to be provided from home. Being in Key Stage 2, we no longer receive free fruit. This has to be a healthy snack such as fruit or a cereal bar. No crisps or chocolate coated items please.
Reading – This is a vital part of your child's learning. We will hear your child read in groups or individually every week. To support your child, we ask that you listen to them read as often as possible at home and question them on the text. Please record every time you listen to your child read, or they read to themselves, in their reading record.
Homework – Each half term, your child will be sent home with an optional topic related homework task. This will help develop their independent working skills as well as support the work we do in class.
Spelling homework will be sent home every Monday with a variety of tasks and activities. They will be informally tested in school during that period as there will not be a formal weekly spelling test.
Maths homework will be in the form of times tables tasks and will be sent home on a Monday and expected to be returned by Friday morning. Please make sure your child is practising their times tables as Year 4s must now undergo a national test at the end of the year. They will be bringing home a log in for Times Tables Rock Stars and Prodigy if they do not already have one as these are excellent ways for them to practise at home.
Thank you for taking the time to read this! Hopefully you have found it useful, however if you wish to discuss anything further, please come and see me at the end of school.
Yours sincerely,
Blue Class Team
Please click to download – Blue Class Long Term Plan 2020-2021
Blue Class MTP Autumn 1 – Gracious Greeks
Making Our Greek Buildings….
Greek food and Dancing….
Our Trojan War!!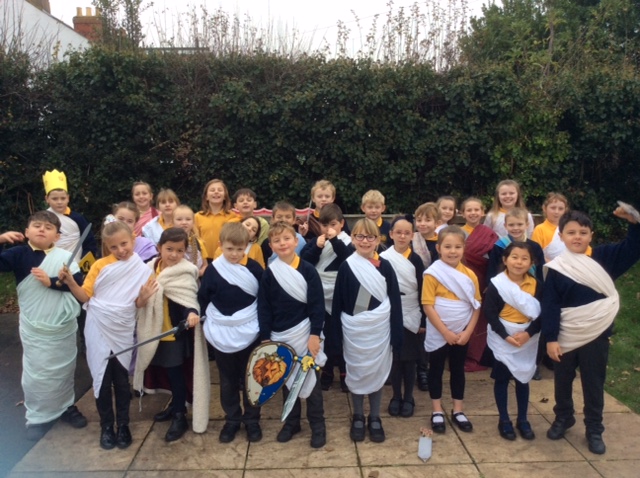 Some of the results of our Greek pottery…
Our sequencing for ICT linked to our every day lives….
Blue Class MTP Spring – A Trip to the Med
Please click on the links below to access details of our curriculum & planners:
RE Yarmouth KS2 Long term plan
Spelling Progression Map for the Curriculum
Numeracy for Key Stages 1 and 2
A great website for suggested reading books – https://schoolreadinglist.co.uk/