Basketball year 5 and 6
Overall we came 2nd and only lost one match against Brighstone. We won against All Saints, Yarmouth and ST. Georges. Shalfleet played as a team and most of us scored at least one basket each. We played some high quality basketball and the next basketball event everyone hopes we win! By Jess and Joe
Football
On Thursday 7th of February Shalfleet played Queens Gate home. Shalfleet took kick off Queensgate scored which left Shalfleet 1-0 down. The second half started later on in the second half Shalfleet scored a comeback which made it 1-1. The match ended 1-1. By Oliver and Sony
Girls Football
5th February 2019 – We played Godshill at our home ground. This was one of our best matches we have played as a new team. Our goals were scored by Erin and Aimee. Both sides played well and by the end we had come to a draw. Overall we worked as a team and played our best. Well done teams! By Jess & Maisie
KS 1 Archery Competition
KS1 took part in an inter house archery competition. The children have been practicing in PE all half term and it certainly showed with some excellent bowmanship. The competition was very tight with 2 teams Kingfishers & Eagles coming joint 3rd on 18 points. The other 2 teams were very tight and it went right down to the final couple of shots, with Woodpeckers (34 points) just pipping Robins (31 points) by 3 points. Well done to all who took part.
Y2 Archery
Y2 Gymnastics
Y1/2 multi skills report
Year 1 and 2 had a fun time on 16th of October. They had to do different activities of sports. The sports leaders took them around the different activities. Such as the first one was they had to through hoops on to a cone if they got it on a green cone it would be 5 points if it was on a red cone it would be 10 points. The second activity was you had to through a Frisbee between cones the points were 1 2 5 10. The third activity was they had to through balls in to a bucket they had 5 terns each 1 point each ball. And the last activity was they had to through 3 beanbags animals in to hoops there was 3 hoops the middle hoop 10 point the second hoop was 5 points the lasts hoop was 2 points. They had so much fun the winner was woodpeckers.
By sophie
Y5/6 Tag Rugby – 12th October 2018
The year sixes were separated into their house teams and played tag rugby games against each other. The sports leaders refereed and recognised that the scores were extremely close. When the scores were announced the children were very pleased. The winners were Kingfishers, the points will go towards the house cup. The children really enjoyed the event, they were all very good.
By Daisy
Sailing at UKSA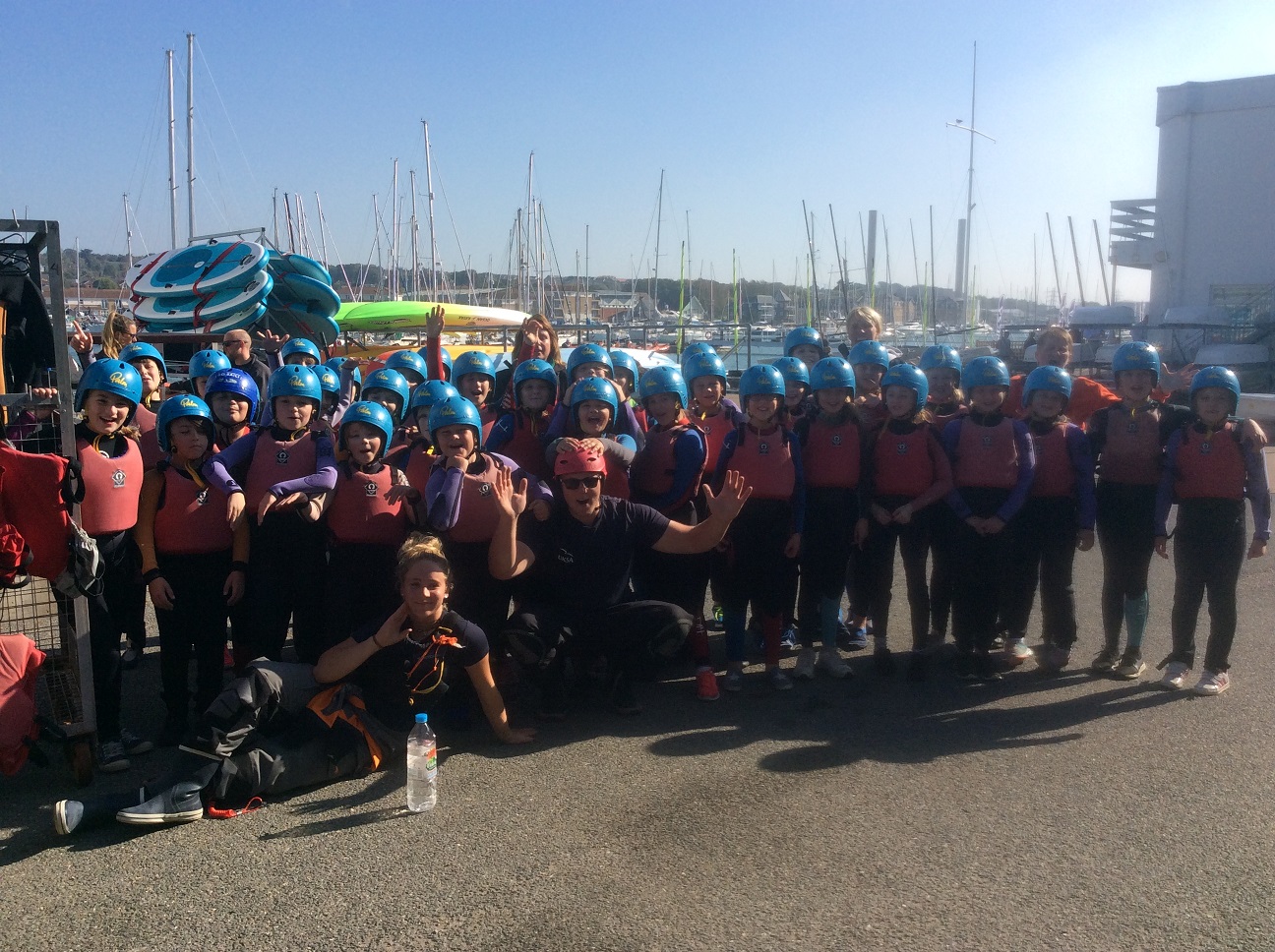 Tag Rugby – Shalfleet A arrived at the Tag Rugby Tournament and went straight into a game and won but came out shattered but they didn't give up they went straight back into a game they won the game. Now they have a two match rest. After that they won another two games this put them in the Semi-Finals. We won both of our games and went through to the Finals. We managed to win so Shalfleet won the Tag Rugby Tournament! Next the Island Finals! By Oliver
Tag rugby tournament Team B – On October 3rd 2018 was a tag rugby tournament, where different schools came together to Play in matches against each other. Shalfleet had two teams, team A and team B. Both of these teams attempted to win this tournament and with great success team A did. Team B tried as hard as they could and drew some and lost some. By Joe
On the first of October 2018 Shalfeet played in a friendly football match at Yamouth School, they played 6 amazing matches and won all but one which they drew. The games were 5 minute matches and were great entertainment. The referee was Caelen and the Shalfeet team was Sonny, Alfie, Ollie, Oliver, Lucas, Harvey and Charlie. By Caelen
Under 9's Football – Tuesday the 2nd Shalfleet played Brighston in a league match in Brighston home ground it was an amazing game to watch especially because Shalfleet scored 12 goals and Brighston did not have a shot on goal. The Shalfleet players were Sonny, Alfie, Lucas, Harvey, Charlie, Toby, Will and Oliver. By Oliver and Caelen
Mixed Football Tournament – At the mixed football match everyone played well. They got to the semi-finals, but lost 2-0 to Arreton. It was their first football tournament as a team, so they played really well and their effort and confidence was amazing! Their defence was very strong and the other teams had to work hard to get their goals. A really well done! By Daisy Thurman
In the under 11's mixed friendly football match against Yarmouth, Shalfleet succeeded in the match. A few minutes into the game Shalfleet scored which put Shalfleet ahead then Yarmouth scored twice which put Shalfleet behind then after half time Shalfleet got back into the game and it took a few minutes but eventually Shalfleet scored again Shalfleet scored 3 more times after that. Then Yarmouth scored 2 more times. Shalfleet won 5-4. By Sophie and Ollie
Y6 Swim Safe
Quad Kids
Scooter Training
Dodge ball – Last Monday we traveled by bus and had our lunch in the park. We went to play dodge ball at All Saints School. Yarmouth were there too. We were split into two teams with one of us being the referee. It was great fun playing against the other schools. There wasn't an overall winner but we won all of our games and our other team won most of their games too. It was really hot but great fun!
by Tom & Serena
Girls Football – On Thursday we went to Lanesend School to play a friendly football match. It was the first time we had all played together. Although we lost 5-0 against island finalists we enjoyed the chance to play and learnt more about playing as a team. We are looking forward to our next game!
by Jasmine
Y6/Y2 Sports Day – Today the children from Year 2 in Yarmouth & Shalfleet came together for a sports day run by the Year 6 children at Shalfleet. They were able to have a go on hockey, golf, basketball and an obstacle course in the morning and had fun races in the afternoon. The Year 6 had great fun organising it although they found it tiring teaching all morning! All the Year 2 pupils enjoyed their day and gave a big thank you to the Year 6 children. By Elena
Cricket Festival – On Monday 21st May some Year 6 girls played in a cricket festival against Cowes & Yarmouth. We beat Cowes but unfortunately we lost against Yarmouth. As captain I think my team played really well. It would be really nice if we could have another game with other teams!
By Daisy
Year 3/4 Tennis Festival – Monday afternoon 6 Year 4 children and 2 Year 3 children went with Mrs BLackburn to Westbay. The other school was called All Saints and we competed against them. There was a girls and a boys team from Shalfleet. The girls team won and we all got medals – we really enjoyed the afternoon.
By Ellie-Mae & Keisha
Fencing – a chance for year 6 to try a new sport!
Krav Maga – new sport
Please see our report and photos of the new sport Krav Maga. It's the first lessons in UK and indeed in Europe of its kind. It's a self defence for children with a particular emphasis on fun games and how to look after themselves from 'bullying' tactics.